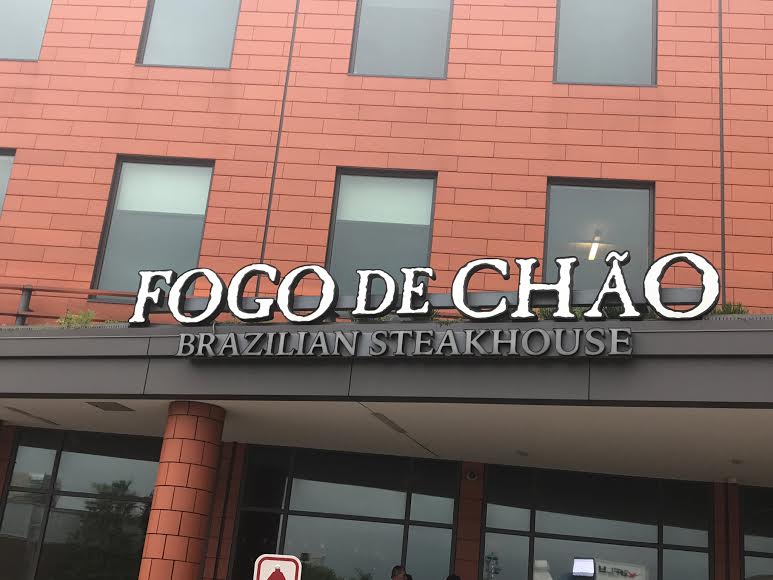 I recently read an article about how women should order their food on dates. I was actually screaming at the screen about the condescending tone of the article and the stereotypes of women eating salad and "clean" food when they go out.
It challenged me as a food blogger to go on a girl's weekend and go out to dinner at the least likely place you'd fine two women dining without their men…a Brazilian Steakhouse (Fogo de Chao, 5460 Park Place, Rosemont, Illinois.).
If you aren't familiar with Fogo de Chao, the restaurant was built around the traditional "churrasco" style of cooking where creatively seasoned meats are skewered, grilled to perfection and served table side. Sounds manly, doesn't it? Did I forget to add the meat is endless? Girls don't eat a lot a meat, right? OH YES WE DO…and WE LOVED IT!!!!!!!
Quick synapsis….The meat gaucho (meat cowboy) comes to your table when you signal with a red/green coaster that you are ready to try something new. They describe what they are serving and slice it in front of you. You grab it with little tongs and enjoy! (And when your coaster is green, they mean business. These guys zipped around the room and tables so quickly it was a challenge to get good pictures.)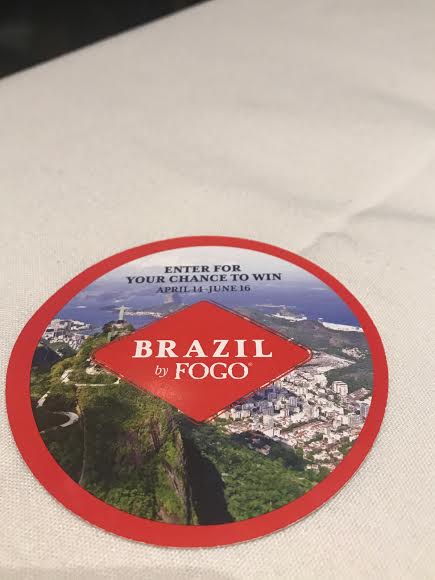 I'm getting ahead of myself let me start with the beginning of our meal. When we got to Fogo de Chao, we noticed a HUMONGOUS Market Table. It can be ordered by itself for lighter eaters or with your full churrasco experience. (More on this later.)
The Market Table is an adventure in itself. This is the kind of "bar" I want to go to when I'm hanging out with the girls. I was mesmerized with the charcuterie, Brazilian antipasti and salads. The Market Bar also respects each season and adds a few special dishes to highlight what is at its best during that time of year like the carrot ginger soup or the watermelon and feta salad.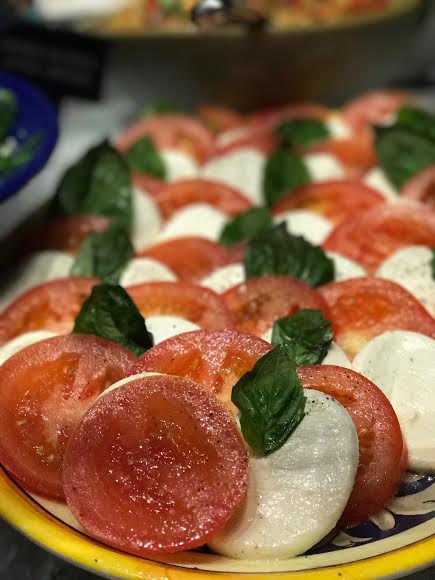 I tried the black pepper candied bacon, tomato mozzarella salad, prosciutto, the Monte Caputo, marinated artichokes, sundried tomatoes and fire roasted bell peppers. (I didn't actually eat any salad but my friend loved the dressing on the arugula salad.)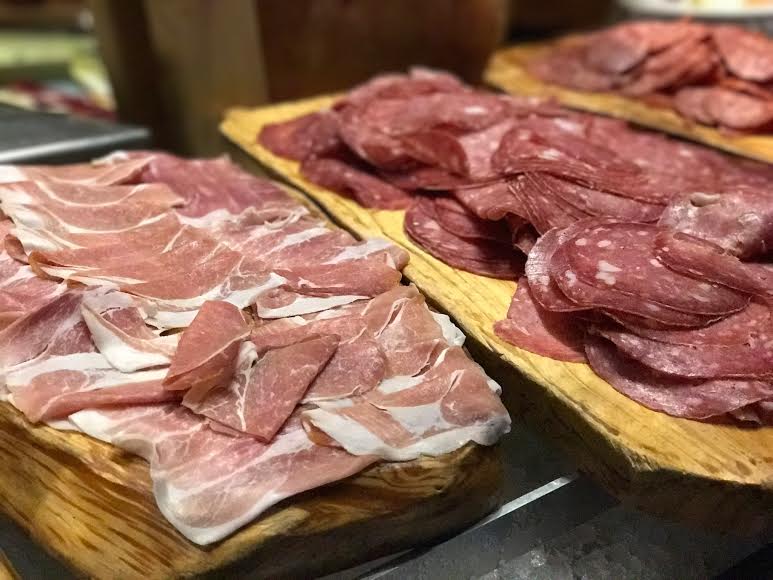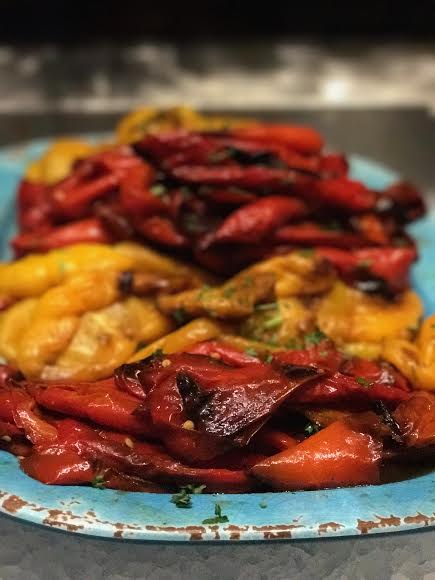 I wanted to go back and try the smoked salmon and the Fogo Feijoada (which was a black bean stew) but I had to remind myself as tempting as it was…this was a marathon…not a sprint so don't go crazy.
We were ready to get to the part of the meal that has made Fogo de Chao famous…the meat! I flipped my little coaster over to green and next thing I know a gaucho was at my table with Fogo de Chao's signature steak (Picanha) which was lightly crusted in sea salt and thinly sliced pieces of top sirloin. It is the meat that is the backbone of the Brazilian Steakhouse experience and it was delicious but not necessarily my favorite.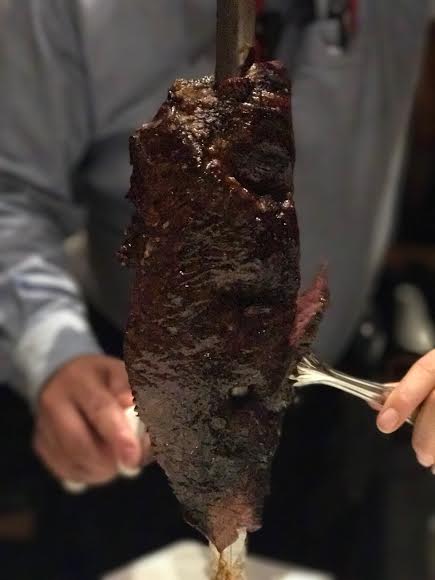 To my surprise, my 3 favorite items were the chicken seasoned with what tasted like a lemon pepper, the Lombo (pork medallions coated in parmesan cheese and then grilled) and a grilled smoked pork belly with grilled pineapples and this AMAZING balsamic drizzle. (This was the dish I could have gorged on but I only had 2 or 3 helpings…no one was counting.)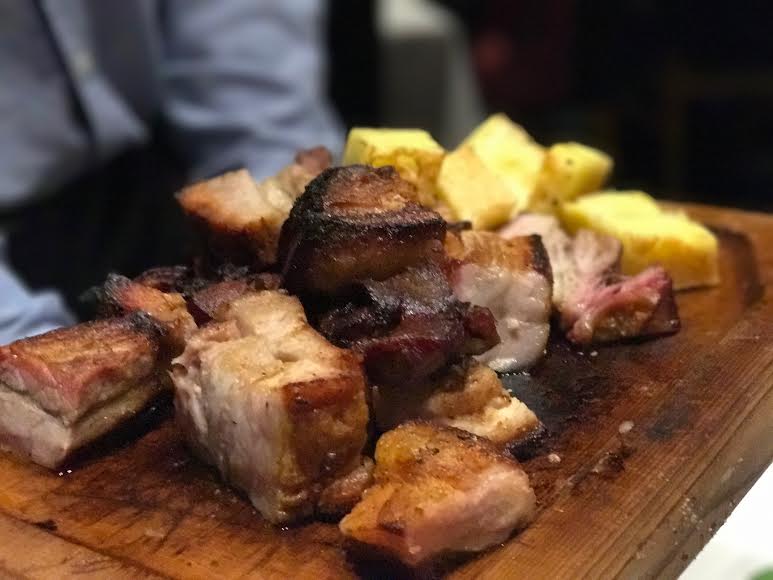 I also liked the pork ribs a lot because there wasn't the "basic BBQ sauce" that I usually associate with a rib. It had some sort of magic seasoning on it that made me want to lick my fingers…but I stopped myself.
If all of that isn't enough, there are a plethora of sides like caramelized bananas and polenta. Make sure you get to try the PÃO DE QUEIJO which were these little poufy rolls made with parmesan cheese and sweet/sour yucca flour. I try not to eat too many rolls but these Brazilian popovers were outstanding.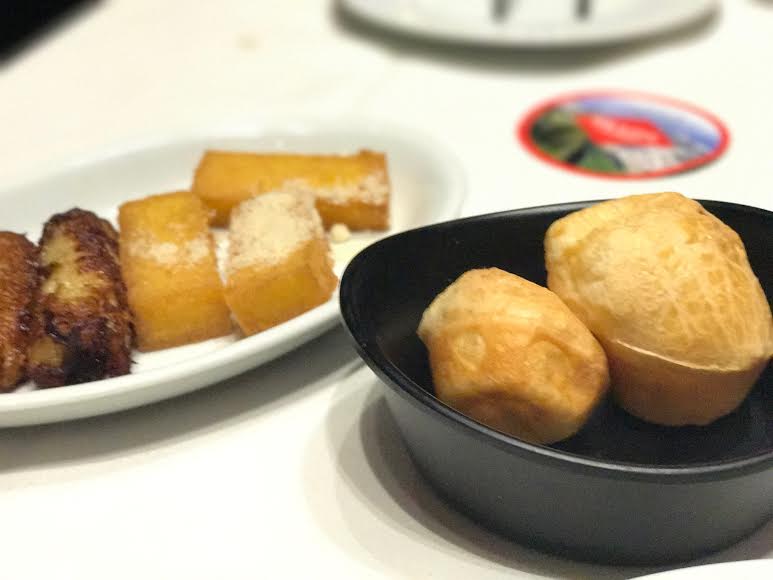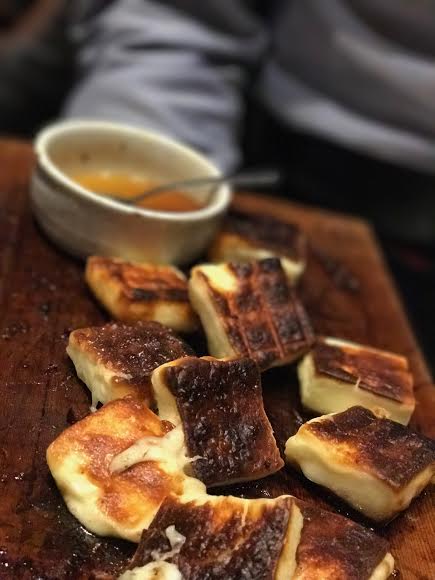 And this might be ridiculous for me to say…but save room for dessert!!!! Technically it isn't included in your churrasco experience BUT it is worth every extraordinary bite! We shared the crème de coconut…shredded coconut baked in condensed milk/cream topped with vanilla bean ice cream and a little lime zest. It was like a coconut crème brulee…..I've never had anything like it. Wow!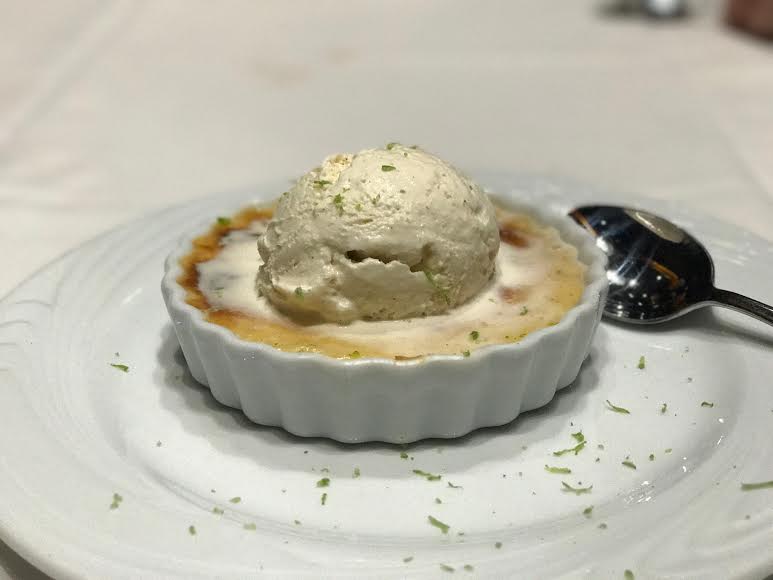 Fogo de Chao is paced as fast as you want it. Even though the guys are moving quickly throughout the room, you control when you get served more meat which is nice. I will say it was confusing when the shrimp cocktail lady walked by and offered us a shrimp cocktail because fish/seafood were not included in the churrasco experience from what I understand but everyone is great about answering questions. (There was also the tequila guy who had a pretty cool set up tequilas for those of you who imbibe…I stuck to their great non-alcoholic menu.)
Full disclosure…I was scared of the "meat" part of my meal. All I kept thinking is that I was going to feel gorged on all the options and leave the restaurant looking 3 months pregnant with a case of the meat sweats. That was far from the truth. Yes, Fogo de Chao is "all you can eat" but it didn't mean I needed to eat it all. I left feeling really comfortable and great about each choice I made and I want to go back with a group of friends or my hubby to try more of the delicious options. This is the kind of restaurant that will allow you a new great different meal each time you go.
I'd recommend reservations because Fogo de Chao was HOPPING. They are open for lunch and dinner but as always check their website the hours. I'd also recommend checking out the menu before you go in because it goes into far more detail than I am able to accomplish.
My only complaint would be that if you aren't familiar with the area, Fogo de Chao in Rosemont is a bit challenging to find. So, look for the Aloft hotel and park at the gigantic Parkway Bank Park. (Fogo de Chao's website says this is complimentary but we had to pay for parking which is expected when going to larger area to dine.)
Thank you to the managers (Merhawit, Diogo & Ronaldo) at Fogo de Chao for setting up and hosting this amazing girls night, our servers (Edwardo and the talented Jhonatan Marin (google his music!), and our favorite gaucho, Nico.