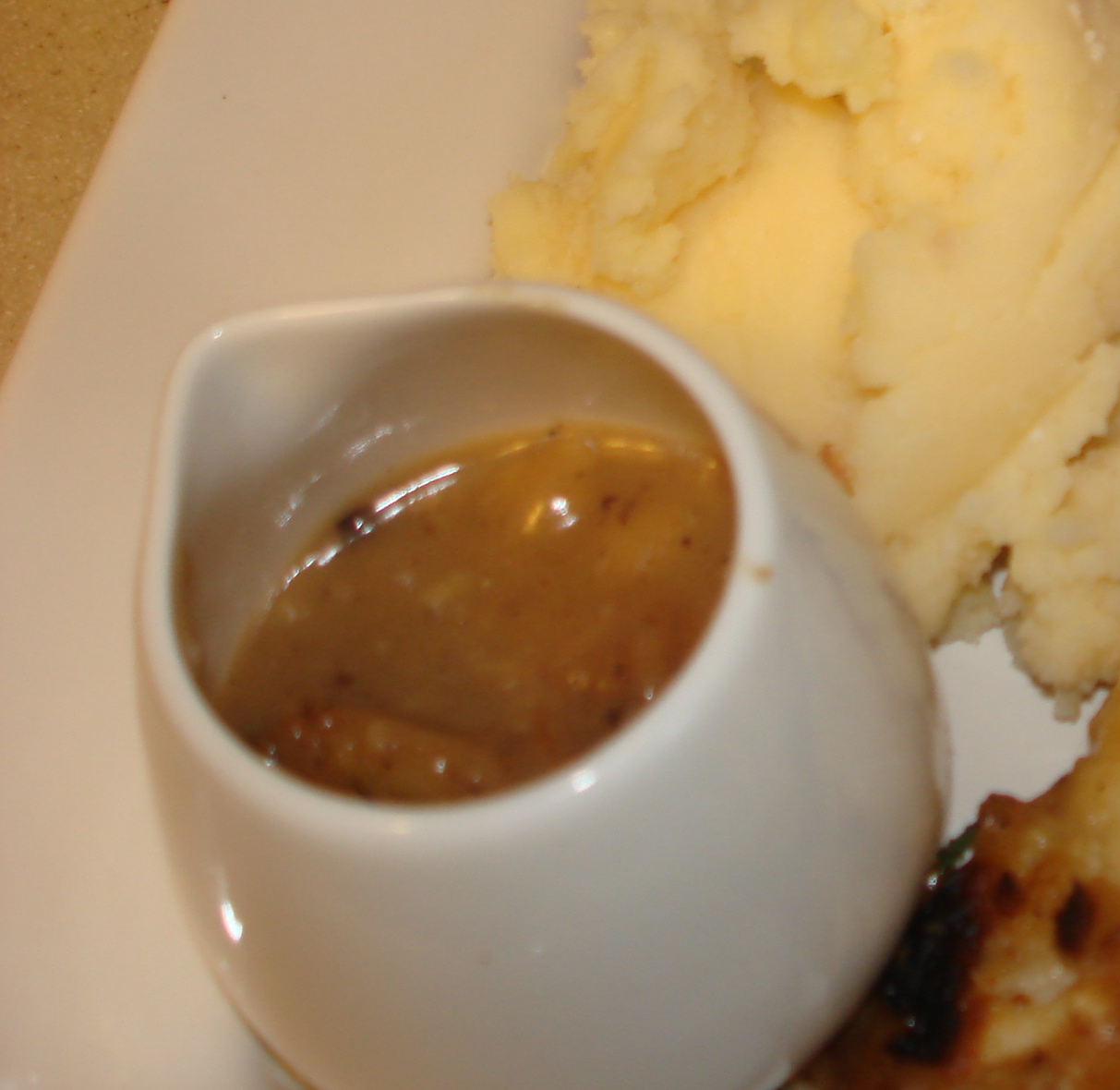 Choo!  Choo!  All aboard for the gravy train!!!  Thanksgiving is in less than two weeks and there is one thing I demand be made by scratch and that is the gravy!!  It is one of the easiest things to make and one of the tastiest!  It can revive a dry turkey, enrich the flavorless potatoes, and hide that weird mystery dish covered in Ritz crackers your Aunt Thelma brought.  (And no, Aunt Thelma isn't just a fake name for one of my aunts.  It is the fake name for my mother in law! ) 
The first stop for the gravy train is your roasting pan.  Think of the roasting pan as your locomotive, your gravy won't go anywhere without it.   Everything in that pan would be the fuel to get this train running.  (I now have the Doobie Brother's "Long Train Running" in my head).
You need to measure out how much fat you have in the pan so the drippings must be poured into a large measuring bowl.  (Everyone has one of those Pyrex glass-measuring cups.) Don't forget to remove the cooked turkey first so you don't derail this whole thing by dropping it on the floor!  (This will be your turkey's resting time so put it on a platter, cover it, and set it aside until your gravy is ready.)
The hardest part here is separating the good brown liquid to the luxurious fat.  When you pour your juices out, let them settle a bit and you will see a natural separation.  The fat will be on top and the savory liquid will be on the bottom.  You can separate them with a spoon or a gravy separator by skimming the top.  Don't worry if it isn't perfectly separated, you aren't being graded.  (Unless I am eating your food and then I will eventually talk about you in my blog.)
Before you get rolling, get your ingredients measured out.  The math is simple.  You need 2 Tablespoons fat (butter or turkey fat) and two Tablespoons flour to every 1 cup of liquid (drippings, stock, broth.)  This will be equivalent to one cup of gravy.
Let's say your turkey did not leave a lot of cargo to make gravy.  You don't need to jump off the train and use the store bought bottle you've had in the cabinet since 1998, just substitute butter for the fat and broth for the liquid!
Once you have things measured out, the train is ready to leave the station.  Take your roasting pan with all it's brown goodness stuck on the bottom and get it back on the stove over medium-low heat.  (The brown stuff is technically called fond.  It is delicious and will add great depth to your gravy. )
Add your fat back to the pan and let it get hot.  With your whisk in hand, slowly add your premeasured flour.  Whisk it in while pulling the fond off the bottom of the pan.  (Think of the fond as the luxury car of your train.  You don't HAVE to ride on it but it sure makes the trip nicer.)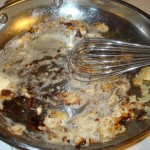 Next stop; make sure your flour gets cooked.  It should be getting slightly brown and have a nutty almost pie scent.  The color should deepen.  This usually takes about 5 minutes.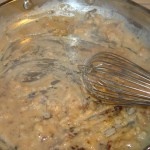 All aboard, next top liquid!  Raise your heat a smidge and SLOWLY whisk in your broth.  The liquid will deglaze (remove all your brown goodness from the bottom of the pan) and your color will deepen even more.  Don't be scared of the lumps, think of it as train graffiti.  It gives your gravy some character.  The important part is not to have huge flour clumps.  (I've been known to have a bottle of wine next to my gravy station for the deglazing.  Some of it actually gets into the pan.  CHEERS!)
Your gravy should look a bit liquidy at this point.  Keep stirring it over the medium heat until it thickens up.  (This is a good activity to ask your brother in law to do with his big strong muscles or in my husband's family his sister, who has bigger biceps than all the men.  I'm not being snitty…she's got some guns!)
Final stop for this train is the seasoning.  You can't reach your destination without some good seasoning.  Taste your gravy.  What does it need?  Salt?  Pepper?  Love?  Whatever it is, add it.  I like to also add some of the seasonings that are on my turkey like sage or thyme.  Remember you want to compliment the turkey, not overpower its flavor.
So did you enjoy the ride?  Do you now think you have the ticket to ride the gravy train?  Just so we are clear, here are some important points:
2 Tablespoons of flour, 2 Tablespoons of fat, 1 cup of liquid will equal 1 cup of gravy.
Remember to whisk while you are adding your liquid.  It will result in smoother gravy.
If you really are worried about someone (Aunt Thelma?) will criticize you about lumps, just strain it!
If your gravy is too thin, just let it cook longer.  Don't be tempted to add more flour or cornstarch.  You will end up with a clumpy mess.
If it is too thick, just add some more broth.
Put some love in it and everyone will think it's great!
Speaking of trains (gotta love my obvious segue ways), if you are getting a little batty from the weird fall weather why don't you take a TRAIN to Chicago and check out the new brunch at WAVE, located at 644 N. Lake Shore Drive?  I mentioned in a previous post that they were starting a new amazing brunch and I wasn't lying. I was sent their press release this morning and I know I'll be planning a visit soon!
Here is the scoop:
"Get a taste of Chicago with Chef Subido's neighborhood-inspired selection, including Hand-Rolled Ravioli with Stewed Tomato Sauce, Italian Cured and Dried Sausages, Cheese and Marinated Vegetables (Little Italy); Gourmet Taco Bar, Chilaquiles with Housemade Chorizo (Pilsen); Mini Banh Mi Sandwiches and Dim Sum (Chinatown and Little Vietnam); in addition to brunch standbys, like Omelets, Eggs Benedict and Brown Derby Cobb Salad.  Get your sweet fix with our selection of Coffee Cakes, Cupcakes, Fruit and Mini Yogurt Smoothies.
Get an extra boost with Remedy's Medicinal Tea Bowls, touting dangerously delicious flavors, spirits and "remedies," including calming, antioxidant and digestive varieties.   Or check out the Bloody Maria Bar, where guests can choose their preference in hot sauce and garnish for a completely customized cocktail.  And engage in some music therapy during your meal as you enjoy the beats of local DJs all day long!
Remedy: Cure for the Common Weekend will be offered from noon to 8 p.m. on Sundays starting this Sunday, November 13.   For $29 per person, guests receive access to the brunch buffet, as well as one complimentary Bloody Maria.  For more information, visit WAVE's Web site. "