Being that this whole blog thing is still new to me, I feel that I am still trying to figure things out to make it perfect.  With that said, I should have posted the recipe for the artichoke/spinach dip.  I came up with this recipe last year during the Superbowl when my husband, Earl, asked for snacks at halftime.  I wasn't really prepared for snacks so I raided my well stocked pantry.  Luckily, I had enough ingredients on hand to make a decent dip.  So football fans will appreciate the name I gave my dip…"Hail Mary Artichoke/Spinach Dip".
| | | |
| --- | --- | --- |
| Hail Mary Spinach-Artichoke Dip | | |
Author:
Ingredients
7.5 oz jar of artichoke hearts, drained and chopped
10 oz spinach, cooked, drained and chopped
6 oz cream cheese
1/4 ricotta cheese
1/2 cup asiago cheese
1/2 tsp red pepper flakes
1/4 tsp garlic
Instructions
Mix ingredients until everything is well incorporated.
Place in an 8 x 8 ceramic dish
Bake at 350 until bubbly about 15 minutes.
I looked at the dish of leftover dip yesterday and was really trying to be creative.  I had a hard time not just plopping on the couch with a bag of Bugles and digging in.  I acquiesced and went back to my original thought of pasta.  It was a true miracle how I came to my dish of artichoke/spinach stuffed lasagna noodles.  Okay, it wasn't a miracle but it was pretty exciting when the box of lasagna noodles fell out of the pantry as I was digging around for ingredients and inspiration.  I felt it was a sign from the pasta gods.
The recipe (if you can call it that) was simple.  I cooked the pasta and spread the dip on it and rolled it up and placed it in a small ceramic dish.  I always have homemade spaghetti sauce in the freezer so I thawed it out and poured it over the noodles.  Topped with a little mozzarella and parm, baked at 350 for 30 minutes and I had dinner.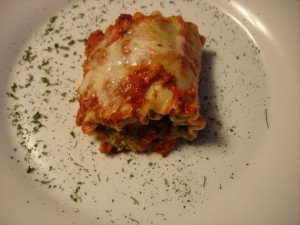 It was pretty tasty.  The creaminess of the dip made it a rich but it wasn't heavy.  The red pepper in the dip may have been a little strong but I like spice so it worked for me.  My husband, on the other hand,  had to drink a big glass of milk to cool his mouth.
I, by no means, consider this a "foodie" dish but it was a great way to use up some things I already had in the house.  Thanks for everyone's support on this blog.  I am having fun and hope to keep making it better with each attempt!