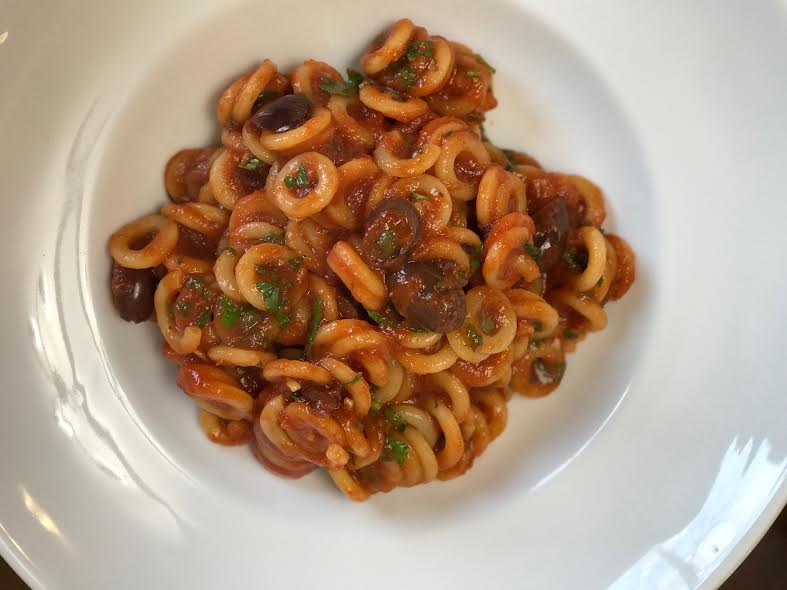 One of my favorite and most time-consuming hobbies is reading about origins of food. Given the vast amount of information flying around these days, it is sometimes hard to decipher what is the truth and what has been creatively changed for an entertainment value.
I like to think that here at Felt Like a Foodie that I keep a good balance of truth with a little novelty. (And I think I'm pretty good at blatantly saying when I make up a story….like today…this is all make believe…or is it???)
I wanted to talk about some of the history behind the infamous "whore's pasta" and the influence it had one of the world's most famous chefs.
Pasta alla puttanesca (whore's pasta) is a debated topic among anyone who loves a good hearty sauce. It has long been believed that this was the sauce the "ladies of the evening" would put on their windowsill to pull in clients.
The stories say it was the aroma of the slow cooked tomatoes with lots of garlic that would make the men turn their heads. Once the men would walk down the alley (I literally mean alley…that isn't a euphemism for anything dirty), they would get a little taste for free.
"Mmmm, is that saltiness from olives, capers or maybe anchovies?" That first bite was all it took to lure them into web and from there they were helpless.
Most of the tales I have heard in the past left the rest to imagination….but there is part of this storyline that many people don't talk about and that is the fact that nothing naughty happened in those rooms. Nothing….it has all been a made up. (Kind of like this blogpost.)
Part of that story is true…the smell of the sauce was bait BUT what happened in those little villages is something that happens in homes all over the world. The men would come in, eat too much and fall asleep. That is it!
The men would awake so embarrassed of their missed "romantic" opportunity that they would just give the lady some money for the food and to hush her up a little so she wouldn't tell his male cohorts that he was out cold the entire time. It was brilliant.
But plot thickens when a guy named Artie got in on this action. He noticed his friends would leave these houses of these "whores" with rounder bellys and a little red sauce on the crooks of their lips. When these friends would tell them about their big conquest, he could smell the garlic and the sweet aroma of truth that was hidden in their breath.
Artie decided that this shouldn't just be a woman's business and he wanted in on the action.
Artie made his puttanesca sauce and it was outstanding. It was rich with sweet tomatoes accented with pungent chunks of garlic and umami of anchovy. Salty bites from little perfect capers and big slices of olives. It smelled great to him…it smelled like money.
He did a few test runs and his friends loved it. The problem was that he wasn't keen on having his friends loafing around his house all day in their food comas. He wanted them to take the food and go.
Artie thought that with his great sauce he could take the deception out of this whole business. He would make a flavorful sauce and put it on a pasta shape that you can scoop out easily out of a can. This way you could buy it, take it home and sleep on your own bed without all the shame.
He bought some Anelletti (little rings), added the sauce and popped it into a can….it was outstanding and a huge success locally.
His best friend thought he was genius and told him "Boy, oh, boy Chef Artie, you make better spaghetti than the "ho's"….and the rest is history.
Spaghetti Ho's
Ingredients
5 cloves garlic, chopped
¼ tsp red pepper plates
6 anchovies, chopped
1 Tbsp Tomato Paste
24 Ounce Passata
½ cup Kalamata olives
2 Tbsp capers
10 ounce anelletti (or other small favorite noodles)
Olive oil
Directions
Bring a large pot of water to boil. (Don't forget to salt)
In a large skillet, heat up a couple of tablespoons of olive oil over medium heat.
Add the garlic, red pepper and anchovies. Sauté with a wooden spoon smooshing the anchovies as you stir.
The anchovies will dissolve into the oil and the garlic should become fragrant. (You don't want your garlic to brown so watch your heat) It shouldn't take more than a minute or 2.
Add the tomato paste and cook another minute.
Add the passata, olives and capers and simmer…the sauce should thicken.
Meanwhile, cook your pasta until it is just done and reserve about ½ cup of the water.
Add it to the sauce and finish cooking it in the sauce. If it gets too thick, add a little of the pasta water.
Serve!