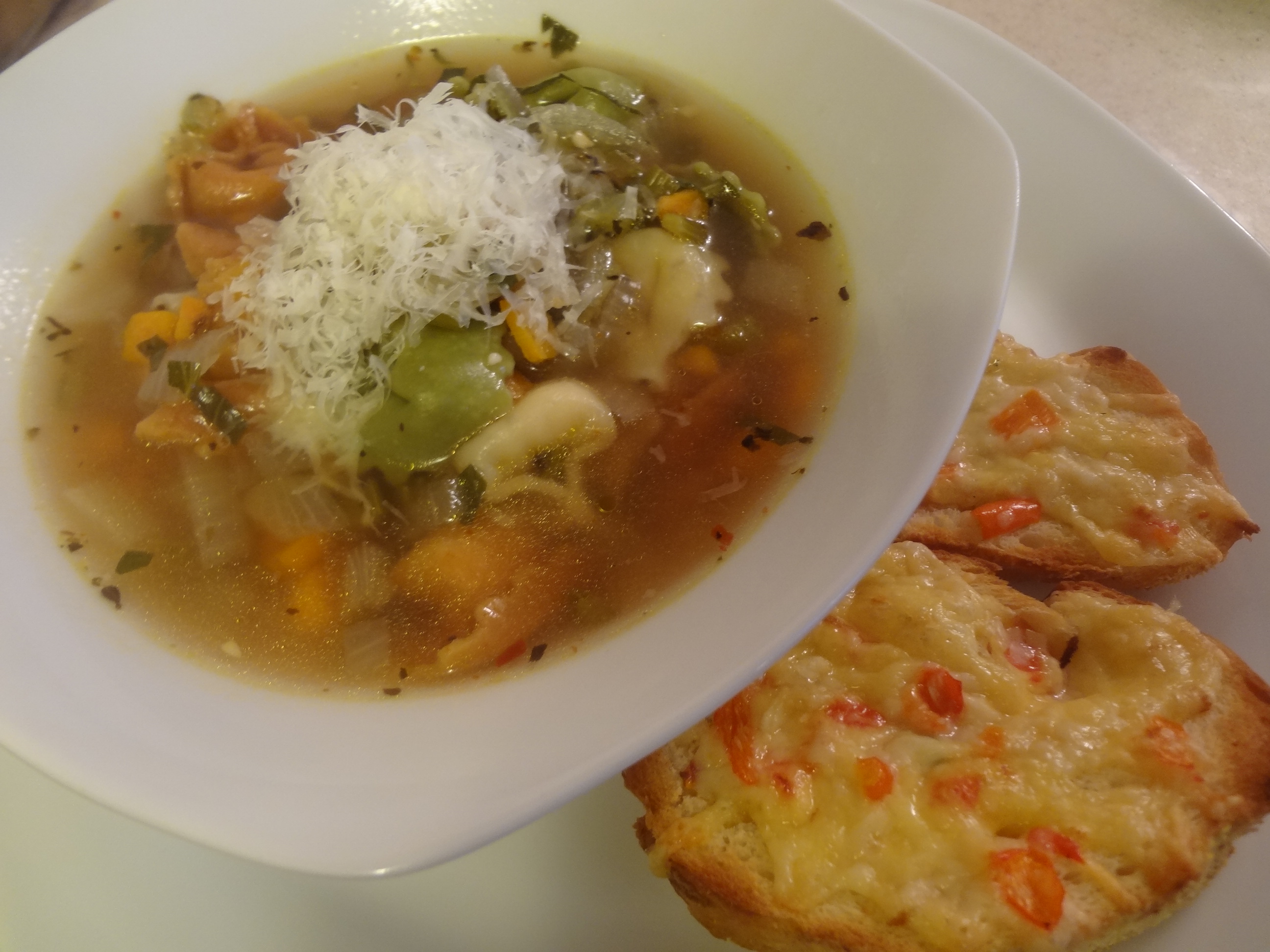 One of my favorite folk tales is called Stone Soup.  Every nationality seems to have their own version of the story but the moral is always the same.  Do you know the story?
A group of hungry travelers comes to a town with nothing more than a pot for a possession.  The Village People snub the travelers and won't share their food.
The traveling men take their pot, fill it with water, a stone and set it over a fire.  (I am not sure what villages allow fires to burn in the center of town.)  As they stirred the soup The Village People became curious.
The policeman asked "Young Man, are you listening to me?  Young Man, what do you want your soup to be."
The travelers tasted their soup and said it was wonderful but could use a little more flavor.  The policeman left and came back with a donation of carrots.
The soup tasted better but it could use something else.  Next, the construction worker came over and donated some herbs and spices.
He said "There…is…no….need…to…be …unhappy."
The rest of the Village People (the sailor, biker, cowboy and Indian) donated ingredients too.   The travelers tasted the soup and said it was ready.
The Village People had an uncanny knack for decorating and set up a dining table in the middle of town so all could share the soup.
After the meal was finished, the weary travelers inquired if there was some place warm for them to lay their heads for the night.  The Village People didn't shun them this time and told them that they had the perfect place for them to break for the evening….at the YMCA.  (And then they spelled out the letters with their arms so the travelers would know where to go.)
Every time I make tortellini soup, I think of this fable.  The tortellini reminds of the stones and the simple ingredients can be multiplied to share with the masses.
Tortellini Stone Soup
Ingredients
1 yellow onion, diced
1 cup carrots, diced
1 cup celery, diced (I used a mix of celery leaf and whole celery)
1 tsp garlic, minced
1 tsp dried Italian seasoning
¼ cup sherry
6 cups chicken broth
1 package of refrigerated tortellini ( 10-12 ounces), any flavor
Salt and pepper to taste
Olive oil
Directions
In large soup pot, add 1 Tbsp olive oil.  Sauté onion, celery and carrots for about 10 minutes over medium heat.  Add garlic and Italian seasoning and cook another couple of minutes.
Deglaze with sherry.
Add broth and simmer for about 10 minutes.
Add tortellini and cook per package instructions.  (My package was about 9 minutes.)
Test one tortellini before serving to make sure they cooked all the way.
Season broth with salt and pepper.  (A shake of red pepper is tasty too.)
Make sure when you serve the soup that everyone gets a fair share of "stones" and broth.  I garnished mine with a little parm and some more celery leaf.
I think as we get closer to the holiday season, the stone soup fable is a good one to have running in our heads.  It is always good to share, work together and pay homage to  70's classics.