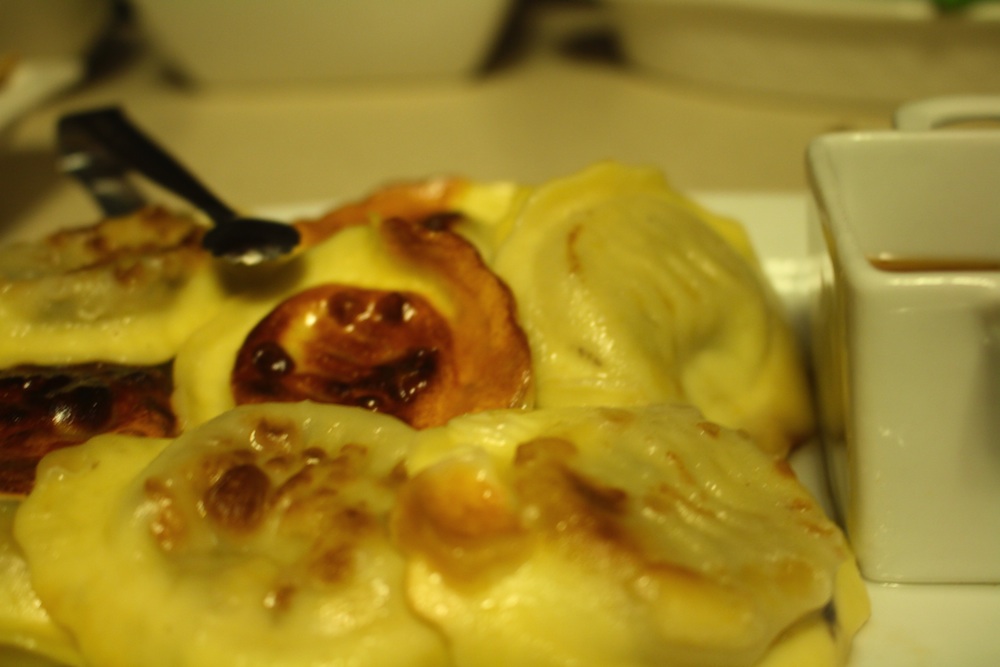 I have a shocking confession to make to you today.  I hope you are sitting down.  Put down any hot liquids so you don't burn yourself.  Ready?  I am not perfect.  (Sit for a second and let this shocking news sink in before you read any further.)
It is kind of like a supermodel that goes out in a ponytail; she can't be gorgeous all the time.   (Okay, I don't really relate to that comparison.)  Or like a personal trainer eating a donut, he just wants a treat.  (Now we are talking!)  Or is it like a foodie who buys her ravioli?
As much as I love cooking, there are times I'm just not in the mood to go to all of the work of doing each component by scratch.   Since I have learned how to make homemade pastas, I had stopped buying "fresh" pastas in the refrigerated case at the grocery store.  They didn't compare to what I could make at home and were often disappointing.
BUT I have been recently introduced to Giovanni Rana Pasta and it gives my homemade pasta a run for the money!  With 15 different choices like ravioli, tortellini, tortelloni, fettuccine, lasagne sheets, spaghetti AND gnocchi.  It was hard to choose where to start. (They also make some awesome sauces too.)
Giovanni Rana has just opened their first American factory after 50 years perfecting fresh pasta in Italy.  They still are sourcing "authentic" ingredients from Italy so unless you grew up in an Italian kitchen, you probably will be introducing your taste buds to a whole new world!
I tried the cheese tortelloni in my "stone soup" the other day and they were delicious.  The pasta was very delicate and lite but it held up in the hot broth.  I also liked that the cheese filling was very creamy and not dry like most refrigerated pastas.
But one of the coolest things I did was with Giovanni Rana's Ravioli Mushroom.  I wanted to make some pot stickers for the Super Bowl/Chinese New Year but didn't have time to do all of the work.
I thought to myself that pot stickers are very similar ravioli and took a chance that I could make them the same way.  Asian/Italian fusion at its best!!  (Check out my recipe below!)
The thing I really like about Giovanni Rana's pasta is that they will now give me some extra time to perfect some other things in my life like making new sauces and healthy pasta dinners.  (They will also give me some time so I don't have to wear a baseball cap when I leave the house!)
Asian Mushroom Ravioli
Ingredients
12-ounce bag of Giovanni Rana Ravioli Mushroom (with portabellas and porcini mushrooms)
1 Tbsp toasted sesame oil
½ cup water
Directions
In a large nonstick pan, heat sesame oil over medium/high heat.
Lay ravioli in a single layer on pan and pan fry for about 2 minutes.  (The middle should be a deep brown but not burnt.  Don't be afraid to check them.  And yes, if you look at my picture there is a VERY brown one to the left.  Once again, I am not perfect.)
Turn ravioli over and add water.  Cover, lower heat and let cook for another 4 minutes.  Test one of the ravioli to make sure the pasta is done.  If the pasta is not done and your water has evaporated, add a smidge more water and cook covered another minute.
Remove from pan with a slotted spoon and serve with your favorite dipping sauce
Dipping Sauce
Ingredients
1 Tbsp Rice vinegar
1 Tbsp Soy sauce
1 tsp sugar
1 tsp cornstarch
1 tsp ginger
½ tsp sambal
Directions
In small saucepan, bring all the ingredients to a boil stirring frequently.  Boil until thickened.   Serve on the side of ravioli or drizzle on top.