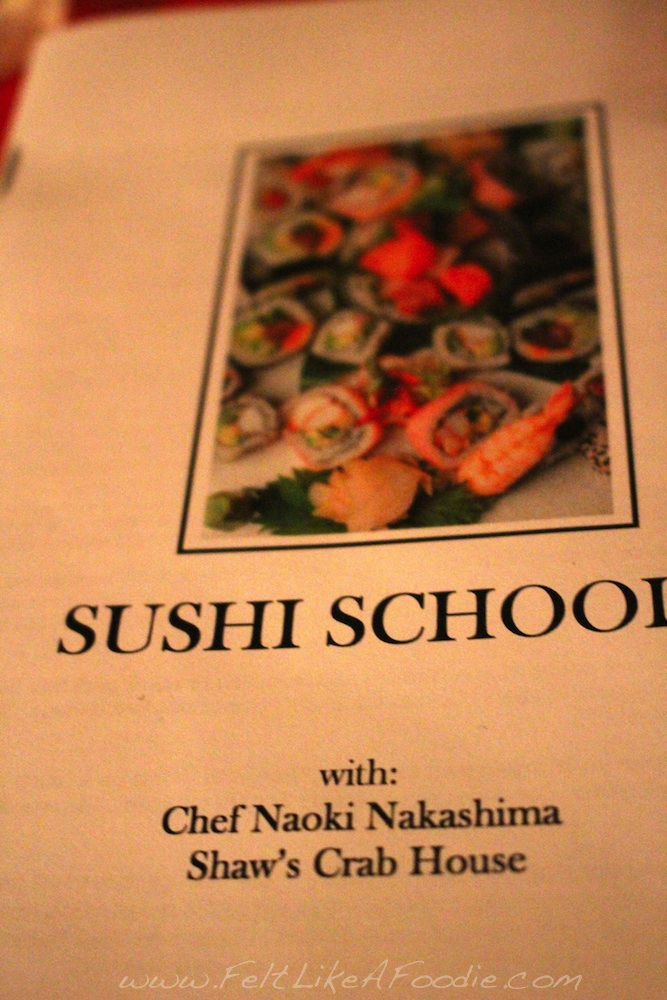 There are things we all enjoy doing during our weekends in the fall.  There are those of us who like to hang out at football games and there are others who like to observe the fall colors while hiking in the woods.  There are even people who really like to rake leaves.  (I was never convinced as a child that this chore was "fun.")
But for me, a cool Fall day begs for a cooking class. If you remember I had signed up for Shaw's Crab House's "Sushi School" this August with my first class in sushi basics.  I, unfortunately, missed the second class on Sushi on the Pacific Rim but I heard the tuna and guacamole was amazing!  (Hmmm, I must figure out how to get my hands on those recipes so I can share them!)
The final class of the series was this past Saturday, October 26 and it was appropriately called Tokyo Sushi Party.  Hosted again by the very talented Chef Naoki Nakashima, I literally had a ball.  Or should I say a rice ball?
Class was loosened up with a really delicious libation of Zipang sparkling sake, angostura bitters, simple syrup & ruby red grapefruit juice.  (I only had a few sips because we were sitting on high stools and I didn't want to risk falling off!)
Chef Nakashima reviewed the 1-2-3's of rice making before we jumped right into making Temaki Zushi (hand rolled sushi).
He chopped some pickled ginger and shiso (a herb in the mint family with kind of a citrus/cinnamon/anise flavor).  With some already seasoned rice, the ingredients were mixed together with a few healthy shakes of sesame seeds.
I then just thought he drank too much of our initial cocktail because we were all given a couple balls of rice shaped like a golf ball and some a square of plastic wrap!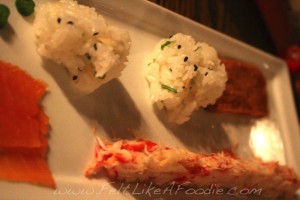 But he kept the "ball" rolling and asked us to place a thin piece of salmon on our plastic sheet with a cut up piece of green bean.  Next, we centered our rice over the fish and pulled up the corners of the plastic wrap.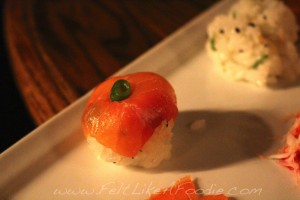 This was the magic movement that gently maneuvered our fish to hug the rice ball without squishing any of the ingredients!  Absolute genius!!!  (I am going to play around with onigiri in November and hope to give a better picture visual of each step.)
The onigiri can be eaten in a couple of bites and made pretty much with any ingredient you please.  The key  is making your rice properly.
With our confidence high, we were ready for the next dish, inarizushi (tofu pouch with seasoned rice or as I like to call them "soybean bags".)  Inarizushi was REALLY easy to make.  The "bean bags" are simply pieces of fried tofu (look for "aburage" in the store) and slip your finger in the middle to make a slip.  Like stuffing a pita, you slip the rice gently inside.  (I will emphasize the word gently because I busted my first one!)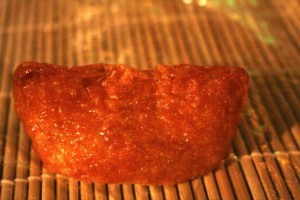 The outer wrapper is quite sweet for my taste but I did love how the seasoned rice balanced that sweetness.  (I ended up eating mine for dessert.)
Our final hands on task was to make a California Roll.  This was a great refresher for me because I always feel my rolls are not pretty enough.  Chef Nakashima went over everything from how to pick the perfect avocado to properly spreading the rice on your nori.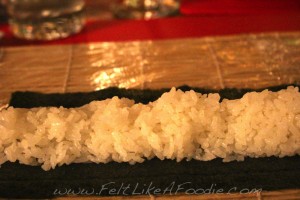 I think the best point he shows is the easy way to use our bamboo mats.  The rolls were rolled by our hands and then shaped with only 3 fingers on our mat.  (The thumb and middle pinch while the index finger presses down.)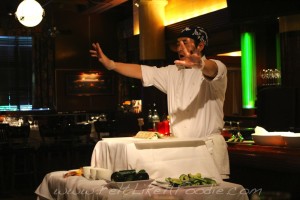 Our class conclusion was my favorite part of the day…we got to eat our creations with some miso soup, lettuce wraps and housemade ginger ice cream.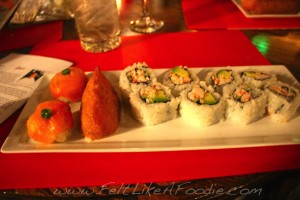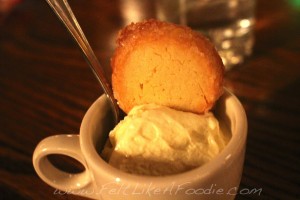 Sushi classes are over for this year at Shaw's Crab House but we were told that next year there would be more classes to enjoy.  Whether Shaw's introduces some new recipes or a chance to retake a refresher, I know I will enjoy whatever Chef Nakashima and Shaw's has to offer.