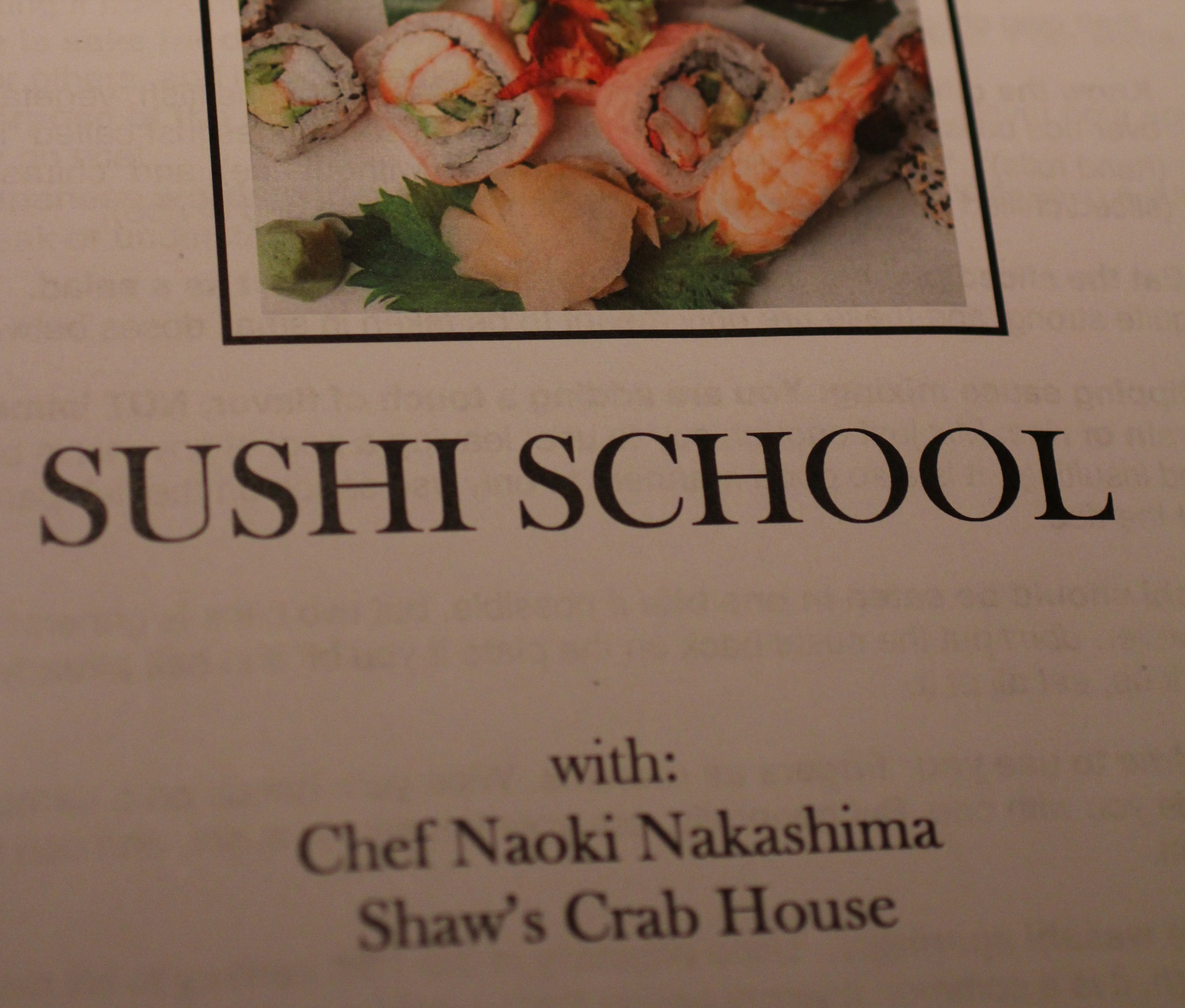 School days.  
School Days. 
Learn some sushi rules days. 
Toasted nori, fish and some sticky rice. 
Put together to make my weekend nice.
It is that time of year when I hear this song over and over in my head.  (I may have changed the words just a little.)  I start seeing the ads on TV for back to school and it reminds me that I need to continue learning about food and different cooking techniques.
Even though I have taken multiple classes on sushi, I like to take a refresher every year.  So when I heard Shaw's Crab House was offering not one but THREE different sushi classes, I had to sign up!!!
On the fourth Saturday of each month at noon—August 24th, September 28th and October 26th at Shaw's Crab House (Chicago), Sushi Chef Naoki Nakashima will be teaching 3 different sushi classes.  (I met Chef Nakashima last month and couldn't wait to learn some of his maki magic.)
August 24, 2013 Chicago– Sushi Basics: How to make sushi rice, maki and nigiri
September 28, 2013  Sushi on the Pacific Rim: tuna and guacamole, Acapulco Roll and tacos—Japan meets Mexico!
October 26, 2013  – Tokyo Sushi Party: delicious sushi appetizers, perfect for any party
I had the pleasure of taking the first class on Saturday with my husband, Earl.  I was a little nervous because Earl is a novice when it comes to anything in the kitchen and gets distracted easily but if I learned one thing during this class was that it was fun for both the newbie and someone who has rolled a bamboo mat.
So I thought it would be fun for people to read how a cooking class in perceived from this particular husband/wife combo.
Barb:  I really loved the informative recipe packet with bonus etiquette instructions.  It will really come in handy next time I try to make sushi at home.
Earl:  Cool! There are pictures.  I'm hungry.
Barb:  The plate each student received in class with all of the essential ingredients to make a California Roll and 2 pieces of shrimp nigiri was a nice touch.  It was a good visualization of the proportion sizes needed to make perfect sushi.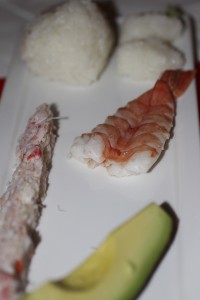 Earl:  Cool!  There is food.  I'm hungry.
Barb:  Chef Nakashima did an excellent job showing us first how he made the rice and prepared the other ingredients.  He even taught us how to cook the shrimp so it will look pretty and straight on nigiri!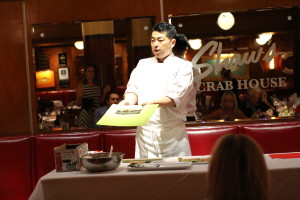 Earl:  Cool.  That looks like the stuff in the cold box at home that magically appears once a week.  I'm hungry.
Barb:  One of my two favorite parts of class was when we were able to don our gloves and start rolling.  Chef Nakashima walked around the room and helped us gently place our rice over our nori and explained how to properly use our bamboo mat.
Earl:  Cool.  Barb is really getting the hang of this and my roll doesn't look bad either.  I'm hungry.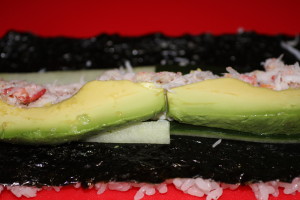 Barb:  My other favorite part of the class was when we were dismissed and lunch was served.  We enjoyed 3 mushroom miso soup, an excellent chopped salad chock full of veggies and, of course, our personally made sushi.  (Plus some mango mochi for dessert!)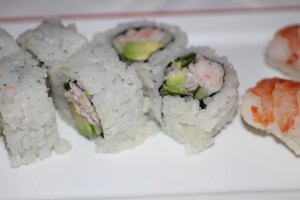 Earl:   Cool.  Barb can now make sushi and I get to eat.  Wonder if she wants her dessert?
I am really excited for the next class I take from Shaw's Crab House.  I was pretty impressed with the new tricks I attained and in all seriousness, Earl had a great time learning the techniques involved in preparing wonderful sushi.  I'm sure he will be a huge help next time we have sushi night at our house.   (When he isn't hungry.)
The classes begin at 12:00 noon and the price is $45 per person, per class and it includes the class, lunch, libations and a take-away gift.
Reservations are required and can be made by calling Shaw's Chicago at 312.527.2722. For more information, visit www.shawscrabhouse.com.
And if you can't make it to the location in Chicago, don't forget about the Shaw's Crab House in Schaumburg because they will be offering two of the classes (September 21, 2013 – Sushi on the Pacific Rim and October 19, 2013—Tokyo Sushi Party) this fall too.  Reservations are required and can be made by calling Shaw's Schaumburg at 847.517.2722.
I'm so glad I went back to school. Now I need to go do my homework because as you can guess…Earl is hungry.