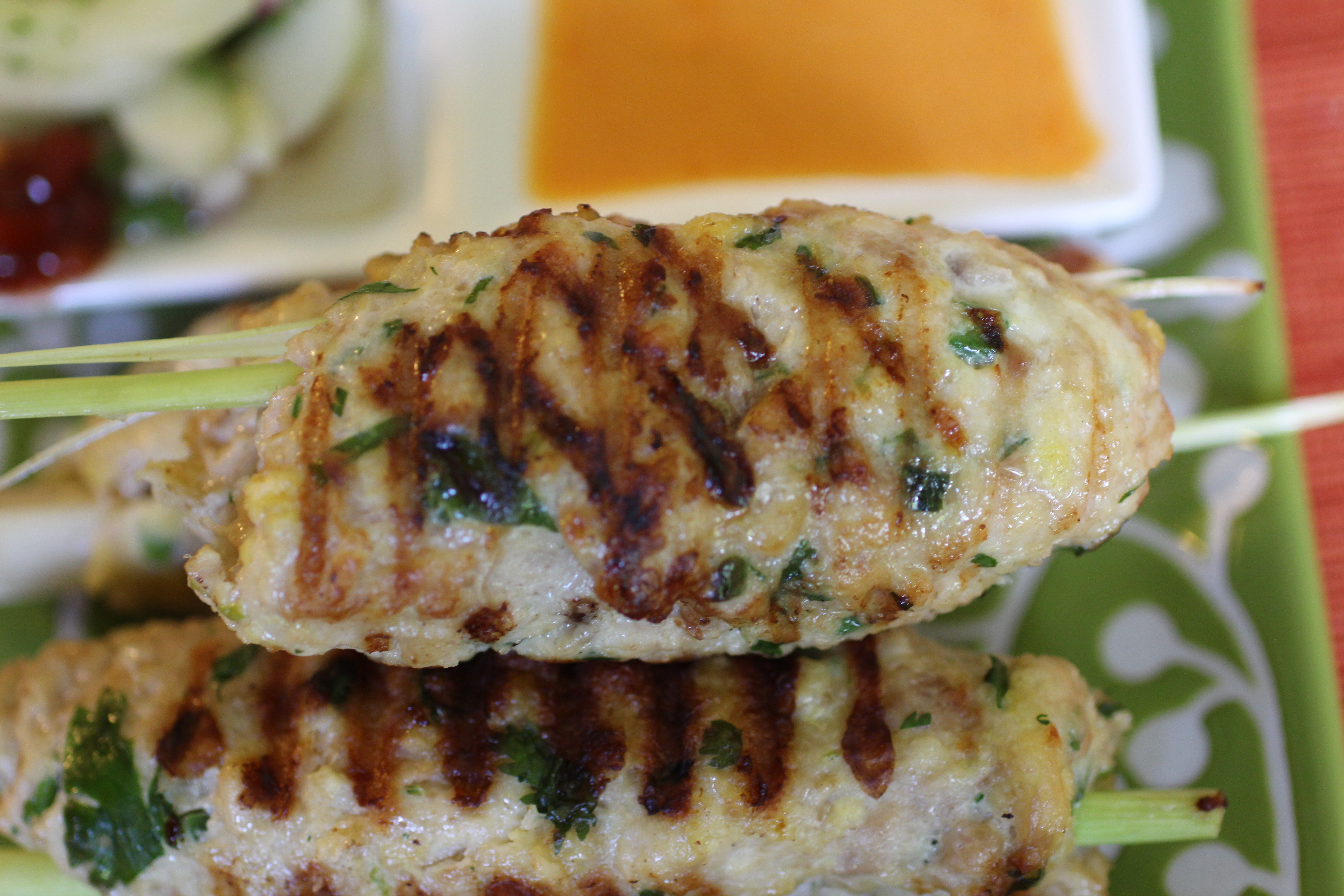 "I know a wiener man.  He owns a wiener stand.  He sells most everything from wieners on down.  Some day I'll join his life, I'll be his wiener wife.  Hot Dog, I love that wiener man."
Do you know that song?  My sister worked at a camp one year when she was in college and she taught it to me.  For whatever reason, I have never forgotten it and sing it anytime anything "weinery" is presented to me.  (Well almost anything.)
In all honesty, I was not a wiener fan until this past spring when I ate a Foie Dog at The Grid in Chicago.  It was the first time I ever ate any type of sausage that made me say "WOW!"
After that night, I became obsessed with sausages.  It was like a sausage shaped light bulb went on over my head.  I had never thought a wiener or sausage could be more than something you get at a ballpark.
Next thing you know, I wanted to learn everything about making unique sausages.  Lucky for me, The Chopping Block must have been reading my mind because they offered a class called "Just Encase: Sausage Making Basics."
Taught by one of my favorite chef-structors, Mario, I was able to learn the ABC's of sausage making.  Mario did an excellent job covering the key points of sausage production including preparing "forcemeat", sausage casings and how to stuff those babies!  And like all of the Chopping Block classes I've ever taken, I was able to learn a few recipes that will be part of my cooking forte forever.
One of the nice parts of the class was learning that not all sausages are created equal.  (Insert your own joke here!)  I never realized that I could make a sausage without having to do the casing so I thought (with Chopping Block's permission), I'd share one of the easiest and tastiest recipes from the class….Vietnamese Style Chicken Sausage with Ginger and Lemongrass.
Vietnamese-Style Chicken Sausage With Ginger and Lemongrass
Yield:  About 8 sausages
Active Time: 40 minutes
Start to finish:  40 minutes
Ingredients
1 pound chicken thighs, boneless and skinless
1 Tablespoon fish sauce
Zest of 1 lime
2 teaspoons ginger, freshly grated
½ inch piece of lemongrass, mince
2 Tablespoons, fresh cilantro, roughly chopped
1 jalapeno, seeded and minced
1 shallot, minced
Salt, to taste
1 egg, well beaten
½ cup panko breadcrumbs
Directions:
Grind the chicken through the small die in your meat grinder and place in a bowl.  You can ask your butcher to do this for you too.
Mix the ground chicken with the fish sauce, lime zest, ginger, lemongrass, cilantro, jalapeno and shallot.  Season with salt to taste.
Stir in the egg and breadcrumbs.  If it is too loose, add a bit more of the panko.
Cook up a small portion of the mixture in a pan.  TASTE IT!!!  Adjust seasoning accordingly.
Form mixture by hand into 2-inch-long sausages.  (Make sure you make them the same circumference all the way around so they cook evenly.  I made one and tapered the end too much.)
If you have extra lemongrass, skewer the sausage for extra flavor.  (And it looks pretty cool.)
Heat a grill pan over medium heat.  (Or your grill.) Grill the sausages on all of the sides until caramelized and cooked through.
Allow the sausages to rest for 5 minutes and then cut in half on the bias.
Serve with your favorite Asian Cucumber Salad.
I also made a super simple Coconut Curry sauce (1 Tbsp red curry paste heated until fragrant.  Whisk in 1 cup of coconut milk and 1 Tbsp limejuice.  Cook another 5 minutes over low.  Ta-Dah.  If you like more spice, knock up the curry paste by another ½ – 1 Tbsp.)
One nice thing about this recipe is that I think you could cheat and just buy ground chicken if you don't have a grinder or a nice butcher in your area.  This sausage is a lot like making a long meatball so it is pretty simple.
I would highly recommend taking this class.  There are a lot of fine points that Mario made and it is a great opportunity to try it hands on before you invest in the equipment.
I guess I have to go back to the Weiner Man song.  I think I can change the lyrics.  "I took a sausage class.  It was a total blast.  It taught me how to grind and stuff.  Someday I'll make some more, maybe the next will have boar.  Hot dog, I loved that Sausage Class."  (Thanks Chopping Block and Mario!)