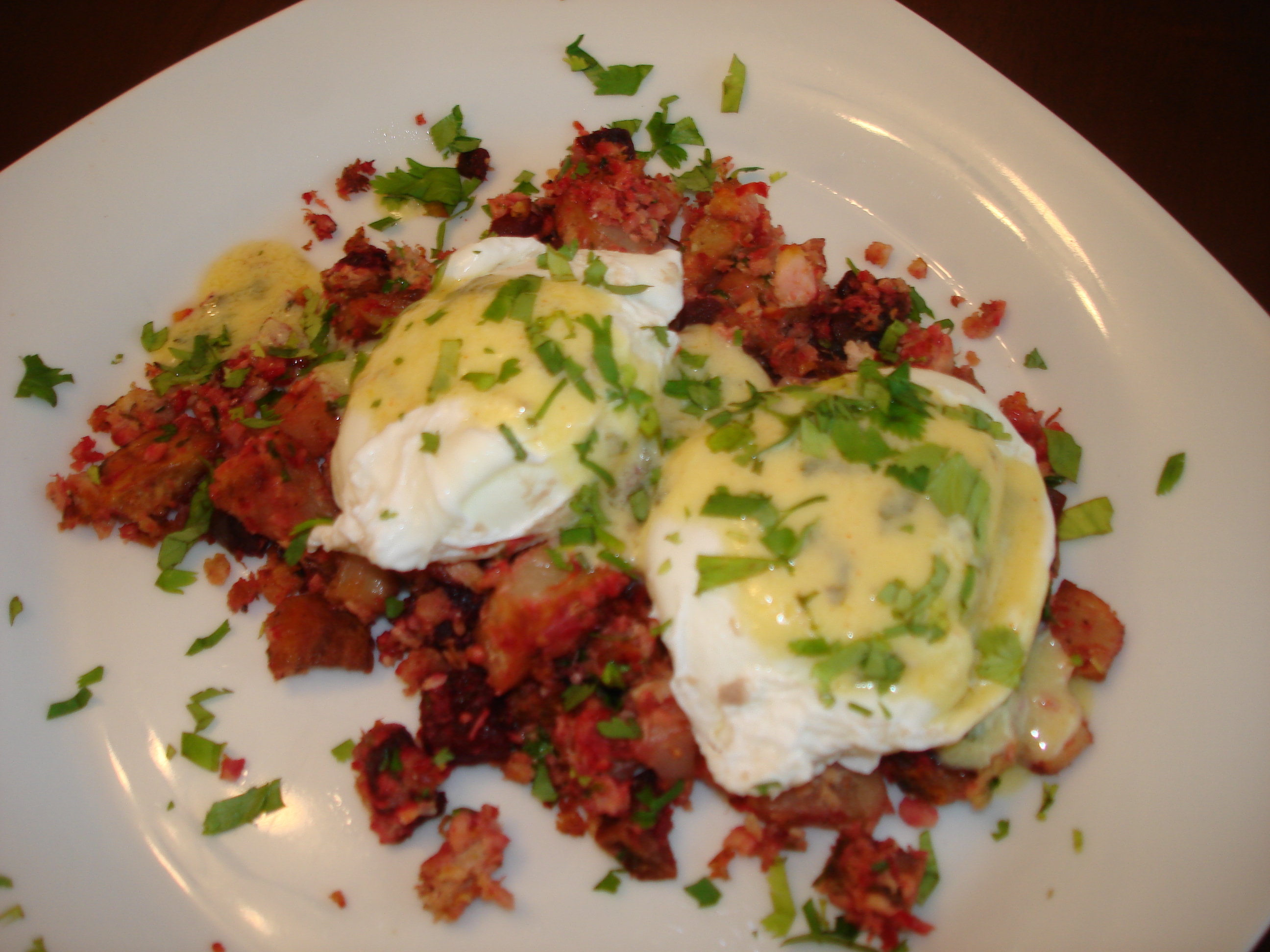 My last recipe post was probably the easiest recipe I have in my binder.  Today's recipe is probably my most involved.  Notice that I didn't say "hardest" because it really isn't a difficult recipe.  It just has a bunch of steps (5 to be exact).
The decadence of all of the flavors all on one plate is almost like a fashion show of food.  The hash has a delightful pink tone due to the roasted beets.  It's almost blushing with triumph in its eye-appeal.
But wait, what is that sitting on top of the hash?  The most perfectly poached egg.  It's just waiting to be poked with your fork so that its rich yolk can really give that hash a reason to blush.
And just when you thought your lingering taste buds were going to burst with anticipation, you notice the rich coriander hollandaise coming down the runway.
The procession of layers of flavors will make this the designer dish of the season.
Salmon Hash with Poached Eggs and Coriander Hollandaise
This recipe consists of five parts: making the custard, constructing the hash, cooking hollandaise sauce, poaching eggs, and assembling the plate.
Ingredients
1-Tablespoon Butter
2 shallots, thinly sliced
1 egg
¼ cup heavy cream
1-teaspoon chipotle puree**
1 Tablespoon minced fresh cilantro, thyme or parsley
Salt and freshly ground pepper
Preparation of the custard
** Chipotle puree:  empty the contents of a small can of chipotles in adobo into a blender and puree until very smooth.  Make sure all of the seeds are broken down.
In a sauté pan, melt the butter over medium heat and sauté the shallots in the butter until soft, about 4 minutes.
Spoon the shallots out of the pan and into a mixing bowl.
Crack the egg into the shallots and whisk in the cream, chipotle puree, herbs and salt and pepper.
Ingredients
2 6-ounce cans of good quality salmon (make sure it doesn't have the skin or bone)
1 medium size red beet, roasted (roasting instructions below)
1 large russet potato, cooked until tender, peeled and cut into ½ inch dice
½ cup panko (Japanese bread crumbs) or fresh bread crumbs, divided
½ Tablespoons butter for sautéing
Preparation of the Hash:
Preheat oven to 375 degrees F.
Coat beets lightly with oil. Wrap beets in aluminum foil, place on a baking sheet, and roast in the oven until cooked through, approximately 45 to 60 minutes. Remove from the oven, let cool for 10 minutes, and then peel and slice into 1/4-inch thick slices and then dice.
In a medium bowl, fold the salmon in with beets and potatoes.  Pour custard (from Part 1) over the top.
Add half of the panko or fresh breadcrumbs and toss gently.  Do not break up the salmon chunks in the process.
Let sit in refrigerator for an hour, at least.
After the hour has passed, heat the butter in a deep heavy-bottomed skillet until shimmering.
Sauté the hash for 4 -6 minutes until it develops a nice brown crust and has completely warmed inside.
Part 3:  The Coriander Hollandaise
Ingredients
2 egg yolks
1 teaspoon lemon juice
2 teaspoons water
Salt and pepper to taste
1 stick melted butter
1-teaspoon ground coriander seed
3 Tablespoons fresh cilantro, minced
Preparation of the Hollandaise Sauce
In the top of a double boiler (water should be simmering underneath but not touching top pan), whisk the egg yolks with the lemon juice and water until the liquid forms pale ribbons.
Whisk in the butter until the mixture thickens.
Season with the salt, pepper and coriander.  Fold in the cilantro leaves
Part 4: Poaching the eggs
Ingredients:
White vinegar (White vinegar helps the whites to coagulate)
4 large eggs
Directions:
Using a heavy saucepan, about 10 inches in diameter with sides at least 2 inches deep, add water to a depth of 1 inch and bring to a simmer.
Add a small amount of white vinegar to the poaching water for the eggs.
Crack one egg at a time into a ramekin.
Stir the water a little bit to create a vortex. (The vortex helps the white stay centered around the yolk)
Take the cracked egg and get it as close to the vortex as possible before adding it to the center.  (You can also use a commercial poaching dish)
Poach the eggs to the desired degree of doneness, about 3 minutes.
Part 5:  Assembling the Plate
To serve, place salmon hash on plate.
Gently place a poached egg on each cake.
Drizzle with hollandaise, sprinkle with cilantro and serve immediately.
A note on canned salmon:  The canned salmon I use is something I pick up at Whole Foods when I'm in Chicago.  It is their 365 brand and it is Wild Caught Pink Salmon (boneless & skinless).  It is a great alternative to poaching a piece for recipes like this one.  It doesn't have a lingering "fishy" flavor that some canned fish may acquire.  I don't mind using salmon in this kind of recipe because the salmon really isn't the "star" it is just part of an awesome cast of ingredients.
I know this recipe is pretty involved but you can cheat on some of the steps.  Such, make the hash ahead of time and just brown it in a pan for serving.  If you don't want to make hollandaise sauce, there are some decent mixes in the stores these days.
It is okay to be high maintenance every now and then, especially if it turns out as beautifully as this dish.  (Don't make this too often or you will lose your model figure.)