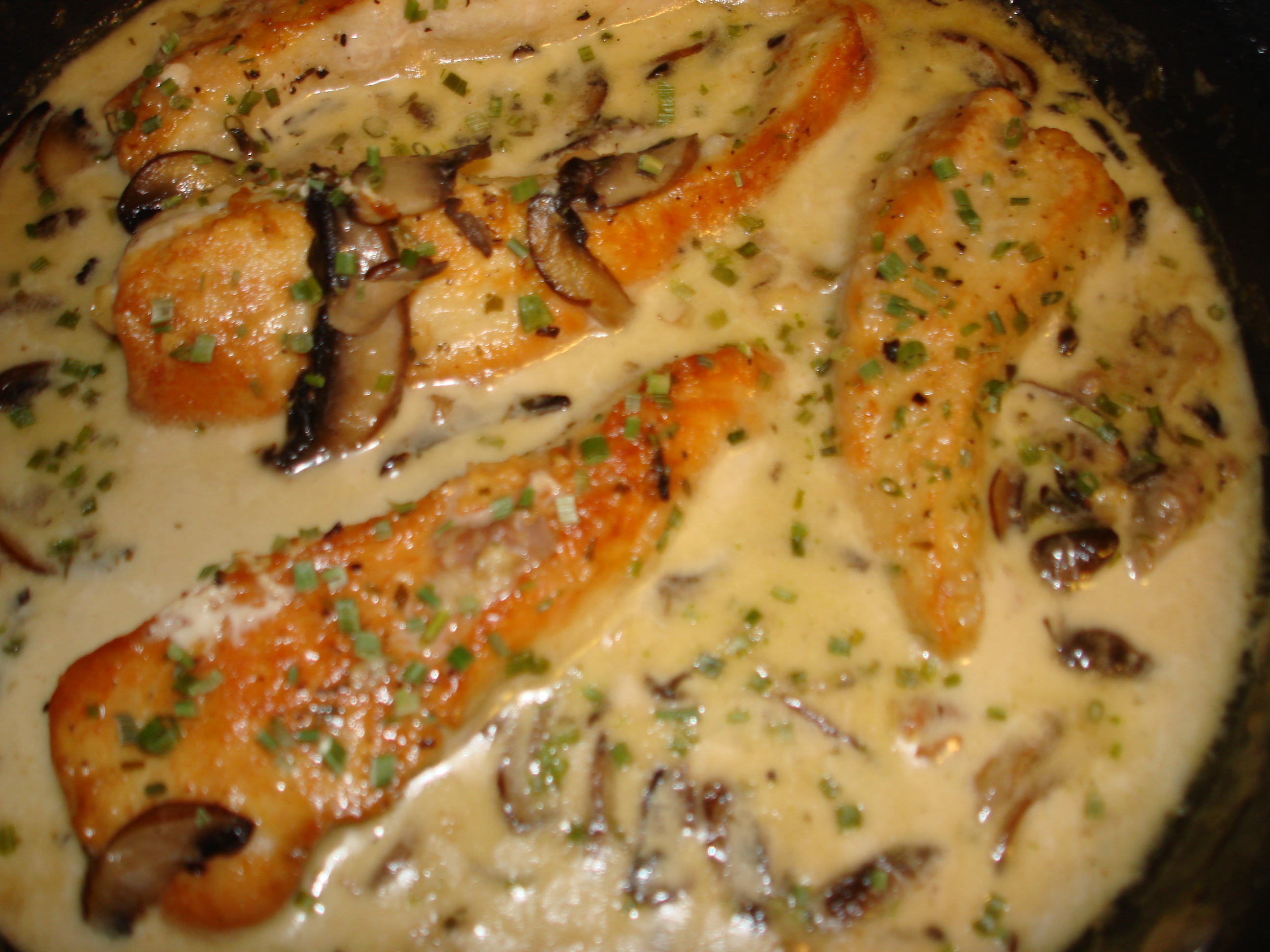 As I have mentioned in previous posts, I love a good chicken recipe.  It still amazes me that one piece of meat can marry so well with an abundance of flavors and cooking techniques.
With that said, nothing compliments a chicken breast better than a nice rich sauce.  (Actually, I bet there are some roosters out there that may compliment a chicken's breasts better but I bet that might get him pecked in the head).
I made this tarragon chicken recipe the other night and couldn't stop "tasting" the sauce.  It was just fabulous.  This velvety sauce had a gratifying mix of sweetness from the cream and a touch of acidity due to the wine.  And just when I thought it couldn't get any better, I got hit with the unmatchable flavor of tarragon.  It exuded the aromatic scent of anise and yet it's flavor is more discrete.
For those of you who aren't familiar with cooking with tarragon here are a couple of helpful hints.  Fresh tarragon has a much more intense flavor than dried so use it prudently. With both dried and fresh tarragon, the flavor gets stronger the longer it is on the, let it cook a little bit before you adjust your seasoning.
Tarragon Chicken
Ingredients
4 chicken breasts, boneless and skinless (I cut mine into halves)
¼ cup flour
Olive oil
12 ounce shitake mushrooms, chopped
6 ounces prosciutto, chopped
1 cup white wine
½ cup heavy cream
1 ½ tsp dried tarragon (if I had fresh, I would have used about 1 Tbsp)
1 ½ tsp white wine vinegar
Chives
Salt and pepper
Directions
Dust chicken with flour and season with salt and pepper.
In a skillet over medium-high heat, add about 2 Tbsp of olive oil.  Let the oil get hot!
Carefully lay the chicken in the oil and let it get brown on both sides about 3 minutes a side.  (The chicken will be placed back in the sauce later so if it isn't all the way cooked it will be okay)  Set the chicken aside and keep it warm.
Add mushrooms and prosciutto to the pan.  The mushrooms should be soft and a little brown.
Add wine and cream to pan.  Don't forget to scrape up the yummy brown bites on the bottom of the pan.
Return the chicken and reduce heat.  Simmer for about 8 minutes.
Add tarragon and vinegar.  Let is mix in with the sauce for a minute or two and then taste the sauce.  Season with salt, pepper and sprinkle with chives.
When our meal was over and each chicken breast was devoured and gone with from the pan,  I ate the rest of the sauce with the spoon.  (I also debated on licking the pan, it was that good.  Okay, I did use my finger and swipe up a piece prosciutto and mushroom that were stuck to the side of the pan but I did NOT lick the actual pan).  Next time I make this, I may just double the sauce recipe so I don't have to violate my cookware out of desperation.