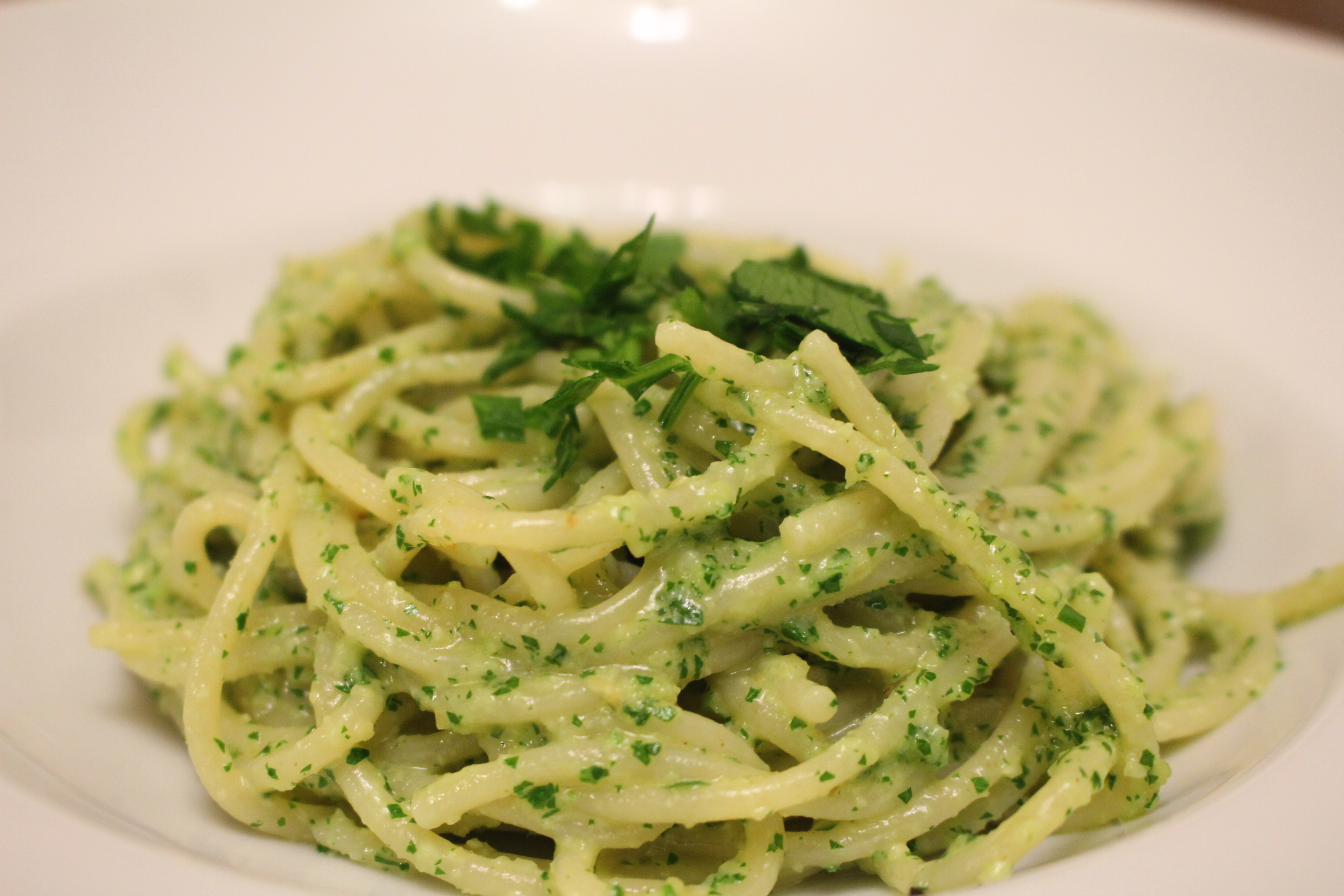 Winter in a small town is like being transported to another world. (I mean a new place not the soap opera, Another World, but that would be kind of cool to live in a pretend soap opera world.)
There is a peacefulness because unless you have somewhere to go….you stay home. You get projects down around the house, catch up on old movies and cook…a lot.
I am personally enjoying the quietness of home and discovering the hidden treasures that are sometimes right under my nose like recipes that aren't necessarily new but can be reinvented.
The other weekend I was making some sort of chicken for dinner and decided that spaghetti with pesto sounded wonderful. I'm not sure if it was the garlic-basil flavor I was craving or maybe just the desire to see something bright green.
So I actually left my house and went to the store. (Am I sounding like a mix of a hermit and agoraphobic?) This winter world looked different from the one I knew a few months ago. There is white stuff on the lawns and street. The trees are missing leafs (or is it leaves?). And the Christmas lights were gleaming????? Wait, why are there still Christmas lights out? (I say this as my Christmas wreath hangs on my house….a month later. Who am I to judge?)
I got into the store and went straight to the produce section. (Actually, don't all stores have the produce right where you walk in?) To my dismay, no basil was found. Whaaaaat? The produce guy said they are concentrating on local ingredients and they haven't had "good" basil lately but I could buy some in the tube. (Tube O'Basil is not something I want to use because it is slimy  It is also not local so this guy was sending me mixed messages!)
Feeling frustrated, I grabbed a bunch of parsley, muttered to myself, paid for my food and stomped out of the store. (Luckily, there weren't a lot of people out to witness my craziness or hear the curses coming from my mouth.)
I got home and thought I'd just make plain garlic/olive oil pasta but I really wanted my pasta to be green. I miss green. I enjoy my winter world EXCEPT for the pale, colorless palette.
So I just said SCREW IT at the top of my lungs. (Surprisingly this does not startle my husband at all. His other world seems to have a sound barrier that amazingly blocks my voice!)
I grabbed some garlic, pine nuts, olive oil and PARSLEY. (Oh, I am a wild one.) I twirled those ingredients up in my food processor and saw some of the most beautiful green pesto I have ever seen!!!
But things are deceiving in this other winter world….Could this pesto be as delicious as it looks? The answer was YES!!!! Hubby actually said it was the best pesto he has ever had in his life!!!!
Things in my winter world can keep life pretty interesting. I may be able to satiate my food cravings with a little creativity and a lot of swear words. (Am I the only one who looks at the word "satiate" and see the words sat I ate? I find that incredibly amusing especially when talking about food. I think I just proved that I need to get out more.)
Spaghetti with Parsley Pesto
Ingredients
12 ounces of spaghetti
2 cloves of fresh garlic
1 green onion
½ cup of pine nuts (toasted)
2 packed cups of flat leaf parsley
½ cup freshly grated Parmesan
½ – ¾ cup of olive oil
Fresh Ground Pepper to taste (You shouldn't need to add salt because the parmesan is salty but add it if you need to.)
1 cup Pasta water
Directions
Cook pasta per directions in large pot of salted water. Reserve a cup of the pasta water.
While pasta is cooking, twirl garlic in food processor until it is finely chopped.
Add the green onion and give that a twirl.
Add the pine nuts and twirl until chopped but don't twirl it so much that it turns into pine nut butter.
Next twirl in your parsley and Parmesan.
Now SLOWLY drizzle in the olive oil. It should be smooth but not oily!!!
Taste….add a little pepper.
Put the pesto in a large bowl and toss it with the freshly cooked pasta. If you would like it creamier, slowly add a smidge of the pasta water. I used about a half of a cup.
Look down at your bowl and say hooray because you just made pesto that is out of another world!