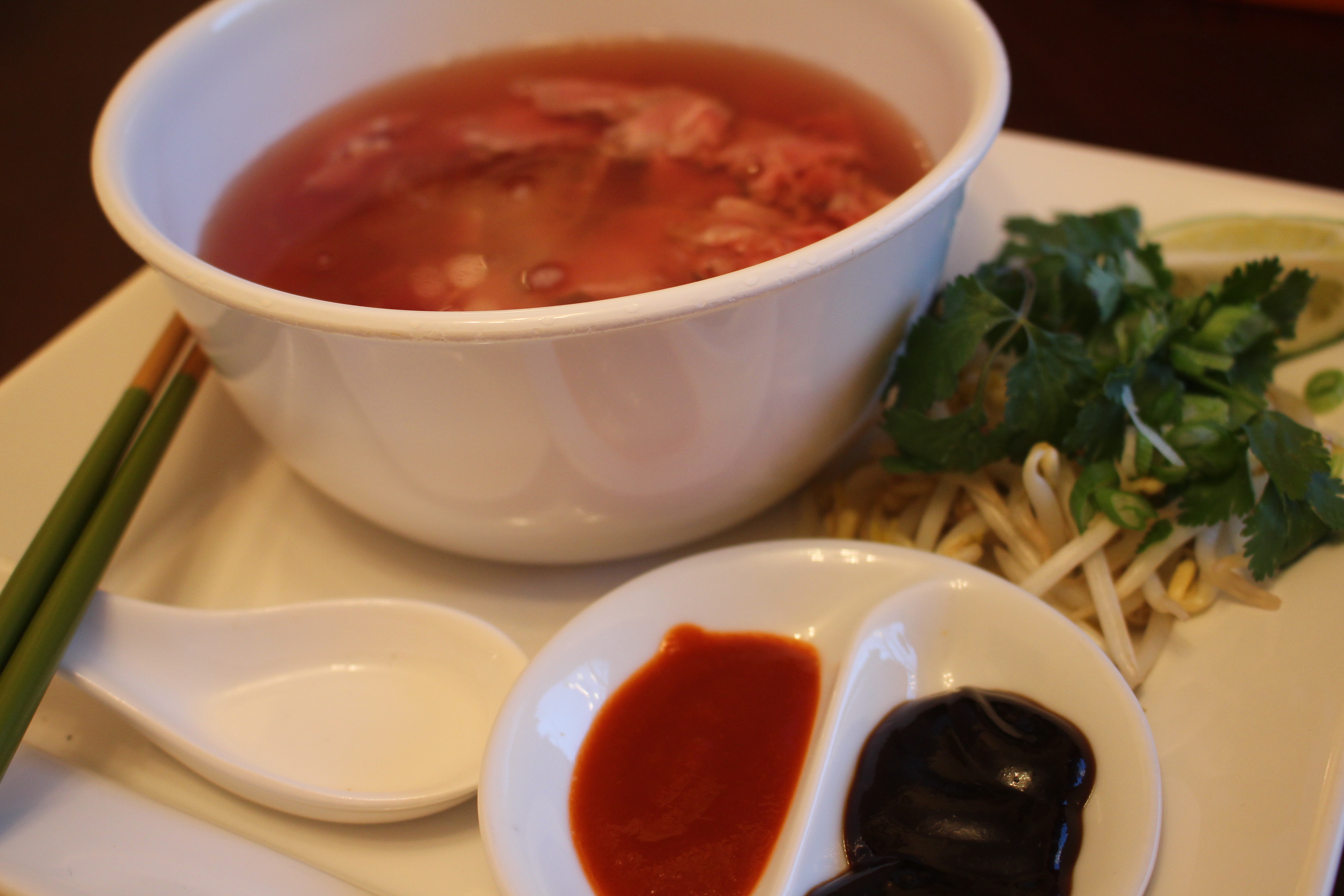 It is a week before Valentine's Day so the time is right to tell you of my new love. My beloved is HOT, satisfying and good for me. I want every liaison to last forever and I long for it on my lips.
It is something I dream about and is the base of many of my fantasies. I am so fond of each experience…I pay for it! (Scandalous!)
But last week, I found a way to bring my obsession home so I can have it all day and night if I want it. (And I do.) Yep, I finally mastered making Pho. PHO????
Pho that is pronounced "FUH" like "fun"(hmmm, what other words sound like "fuh"?), is a Vietnamese noodle soup that is like a hug for your stomach.
The soup typically consists of a beautiful clear broth, rice noodles and herbs/spices. It is usually served with meat (I've only had the lean cuts of beef) and a little side garnish plate of bean sprouts, onions (green or white depending on where you are), lime and hot peppers. Plus there is usually an array of condiments like Sriracha and hoisin sauce on the table.
And like falling in love for the first time, I am obsessed with having it in my life. It is utopia in a bowl and it makes me feel all giggly inside.
I wanted to have this feeling around me all the time but like a good relationship…it won't be right unless the base is perfect. I need to figure out the broth.
If I were dating someone new, I would totally stalk them on the Internet. (Another reason I am glad I am not in the dating world…I would be a nut job.) I did the same thing to Pho broth. I read every article I could find. I found out all the dirty little secrets and the things that would make my broth tick.
I must say that my hands were sweating and I was nervous as I put this all together but I made broth that satisfied me over and over. (It made a lot!)
There is a truth to every day should be Valentine's Day….especially when it involves falling in love with food.
Pho Noodle Soup with Beef (makes about 4 bowls)
Broth 
2 ½ pounds of beef soup bones (neck, marrow, knuckle)
1 ½ inch piece of ginger, cut lengthwise
1 yellow onion, peeled, cut in half
2 Tbsp fish sauce
1 ½ Tbsp sugar
5 WHOLE star of anise
3 whole cloves of garlic
½ cinnamon stick
Broth Preparation
Turn on oven broiler. Place onion and ginger on baking sheet and your goal is to char them. It took my oven about 3 minutes. It should be slightly blackened and fragrant. Peel off crispy black spots and set aside.
In a piece of cheesecloth, place cinnamon, star anise and cloves. Tie shut and set aside.
In a LARGE stockpot, bring about 3 quarts of water to a slow boil on one burner. (This pot should be empty except for water!)
On another burner, fill stockpot with water to just cover the bones. Bring to boil for about 5-10 minutes. This is to clean the bones so you will have a clearer broth.
Use tongs to move the bones to the other pot.   When water boils, reduce heat to simmer. Skim water.
Add the charred ginger, onions, fish sauce and sugar and simmer for about 45 minutes. Add the spice pack and simmer another hour skimming frequently.
*Now one of the things I read is that people felt that homemade broth was oily. When I tasted it, I would agree. So when it cooled to room temperature, I put it in another container and put it in the fridge….overnight. In the morning, all the fat was on the top and very easy to skim off. Ta-dah.
Heat it right back up and get your soup fixings ready.
Soup Ingredients.
Soup broth (brought up a rolling boil)
½ pound of rice stick noodles (not the super skinny ones) cooked and drained
½ pound RAW sirloin cut in the thinnest slices possible
Garnish Plate should have chopped up onions or scallions, cilantro, Thai basil (not regular basil), bean sprouts, thin rings of jalapeno or Serrano chilies, lime slices, Sriracha and hoisin sauce.
To assemble, divide cooked noodles in 4 bowls.
Divide raw beef on top (don't worry the hot broth will cook it immediately if you cut it thin enough)
Ladle hot broth into each bowl. Serve immediately.
Here are some hints to keep in mind before you get started:
-Think ahead. You aren't going to pull this off in one day. Sorry.
-Don't skip the step of charring the onion and ginger.
-Taste but realize the flavors develop over time so don't over season in the beginning. You can jazz it up with the garnishes.
-Freeze your sirloin a little bit before you try slicing it. It will help make slicing it thin easier BUT make sure it isn't frozen when you put the broth in or it will cool your broth too much.
I LOVE PHO!!!!! It really is a light and satisfying meal. I'm sure I will tweak this recipe over the years but like all good relationships…change is good as long as you keep the love in it.