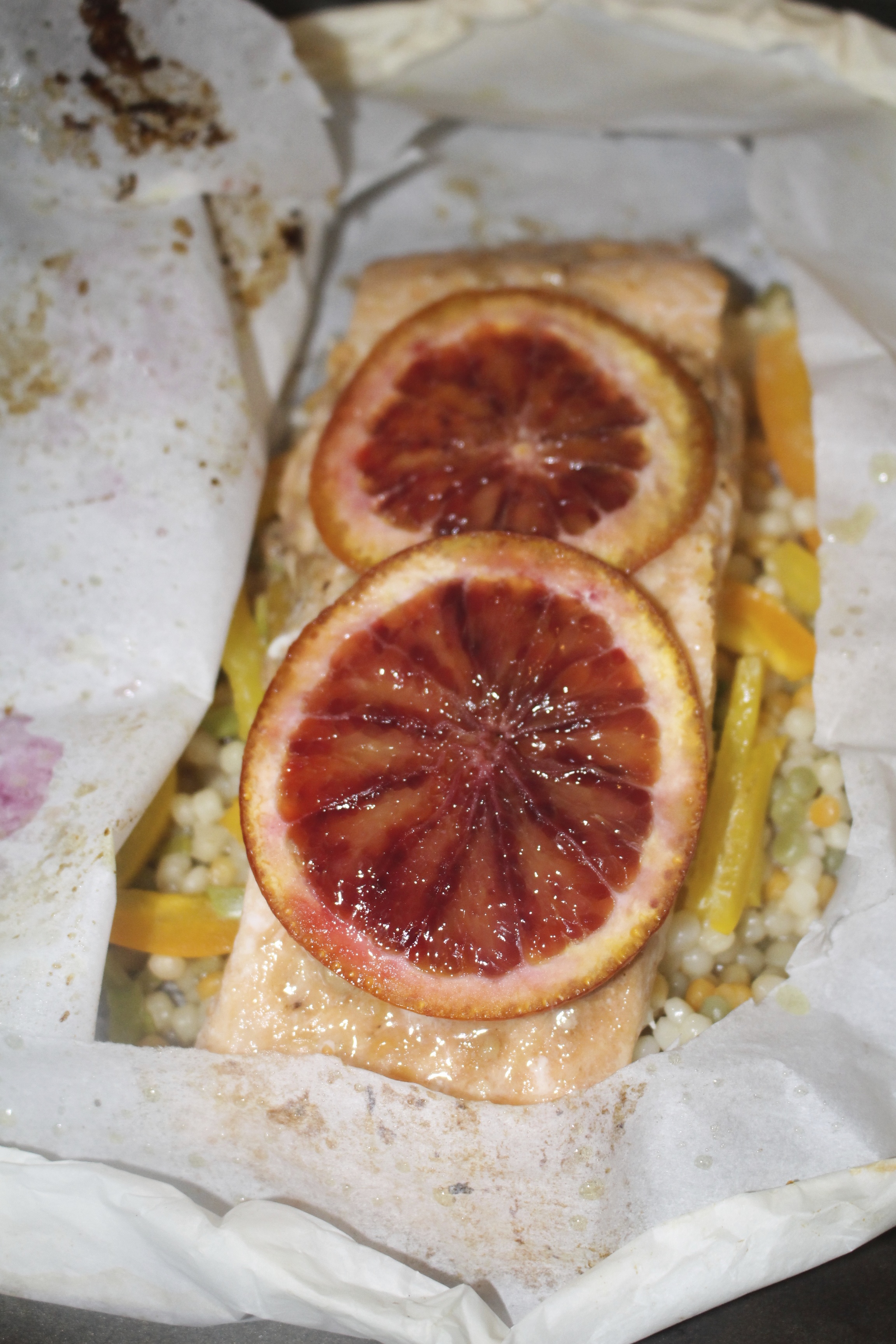 One of my favorite parts of my childhood was singing with my mom and sisters. (Even though half of us were tone deaf.) Mom would pull out her guitar and we'd look at all of her sheets of music and lyrics and beg her to sing certain songs.
I remember sitting on her bed (the same bed I still sleep in today) watching her sing and strum the guitar. The joy in her face as she sat in front of us cradling her guitar made me smile and wish those moments never would end.
Every kid thinks their mom is the best but when I'd watch my mom, I would know she was the coolest person in the world.
She sang everything from Harry Chapin to Peter, Paul and Mary. (And in her crazier days she'd whip out some Whitesnake.)
The songs she sang have stayed with me locked in my heart and mind for years. The tunes give me comfort and joy and wrap me up like one of my mom's hugs.
The other day I was goofing off in the kitchen and wanted to try to cook some salmon en papilotte. (En papilotte is a French term for cooking food wrapped in a sealed paper pouch. The food inside the pouch is steamed and cooked all together. It makes a nice presentation at dinner especially if you slice open the packets at the table so each guest gets a snoot full of the aromas wafting up from the packet.)
So I read up on different methods and got all of my ingredients in place to make my packets. All of a sudden I started singing "Mail Myself to You" by Woody Guthrie. (I will admit that I thought this was by Peter, Paul and Mary but couldn't find any reference online to that fact.)
Do you know the song? It really was just a sweet ditty about mailing yourself to a friend. (I wonder how many "Forever" stamps it would take in today's world?) The song started like this
I'm a-gonna wrap myself in paper,
I'm gonna daub myself with glue,
Stick some stamps on top of my head;
I'm gonna mail myself to you……
My version was a little different….
I'm gonna wrap you up in paper
I'm gonna daub you up in juice
Stick some veggies under your body
I'm gonna love eating you
I'm gonna add some herbs and spices
I'm gonna add some citrus too
Crimp the edges to stay sealed
I'm gonna love eating you
When the timer rings a chime
The oven door will let you out;
Make sure paper is nice and poofy
Get ready fishy for my mouth
Slice a hole in my parchment paper,
Grab a fork in the hand that is right;
Take a whiff and start to smile,
Enjoy every tasty bite
This is one of those dishes that sound like it is hard but it was incredibly easy and cooked very fast. The keys to success include having your ingredients all ready before you start preparing your packets, oven to proper temperature and making sure your parchment is sealed completely.
Here is the link I used to figure out how to cut my paper properly and how to fill each parcel.
It is an incredibly light meal and I would think it is considered moderately healthy. I had used Israeli couscous as a base but you could easily make it without any starchy base and do all veggies.
I will probably make this again for an easy summer dinner or maybe a fun option for dinner guests. By no means is this my new favorite cooking method, it serves a purpose for certain meals BUT the memories of singing with my mom are my favorite and I know that the next time I want to relive those moments, this will be the dish I feel like making.
Salmon en Papilotte
Serve 2
Ingredients
2 six ounce salmon filets
½ orange pepper, sliced thinly
½ yellow pepper, sliced thinly
2-3 green onions, sliced thinly
¼ pound of snow peas, sliced thinly
2/3 cup of cooked Israeli couscous (or cooked rice)
1 tsp minced ginger AND minced garlic
3 Tbsp ponzu sauce
Juice from ½ of a blood orange (If you can't find a blood orange, use a navel.)
1 tsp rice vinegar
1 tsp sesame oil
A few slices of blood orange from remaining half
Direction
Oven 425
In a small bowl, add peppers, onion and snow peas. Mix together and set aside.
In another bowl, whisk together ginger, garlic, ponzu, blood orange juice
Vinegar and sesame oil.
Drizzle about 1 tablespoon of the sauce over the veggies and mix well.
Prepare parchment paper by cutting two sheets 15 x 24 inches.
Fold each piece in half and cut a heart shape out of it.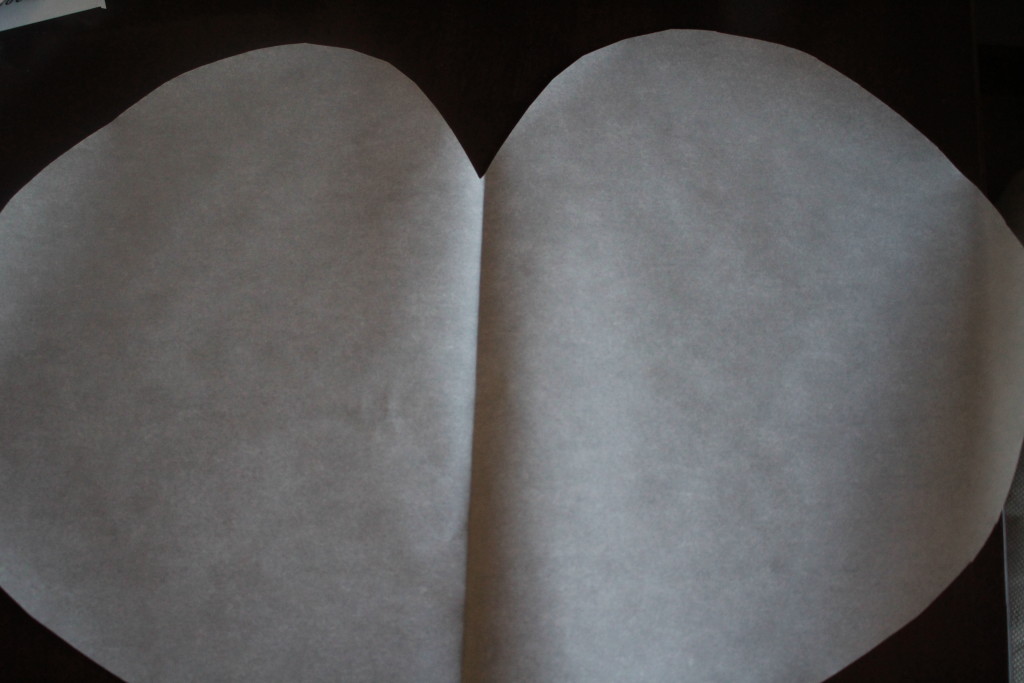 Lay the sheet on a baking and only in the center of one half of the heart, place a small portion of the couscous, topped with a hearty portion of the veggie mix and top it with your salmon filet. I added 1-2 tablespoons of the sauce slowly over the fish and then topped it with the orange slices.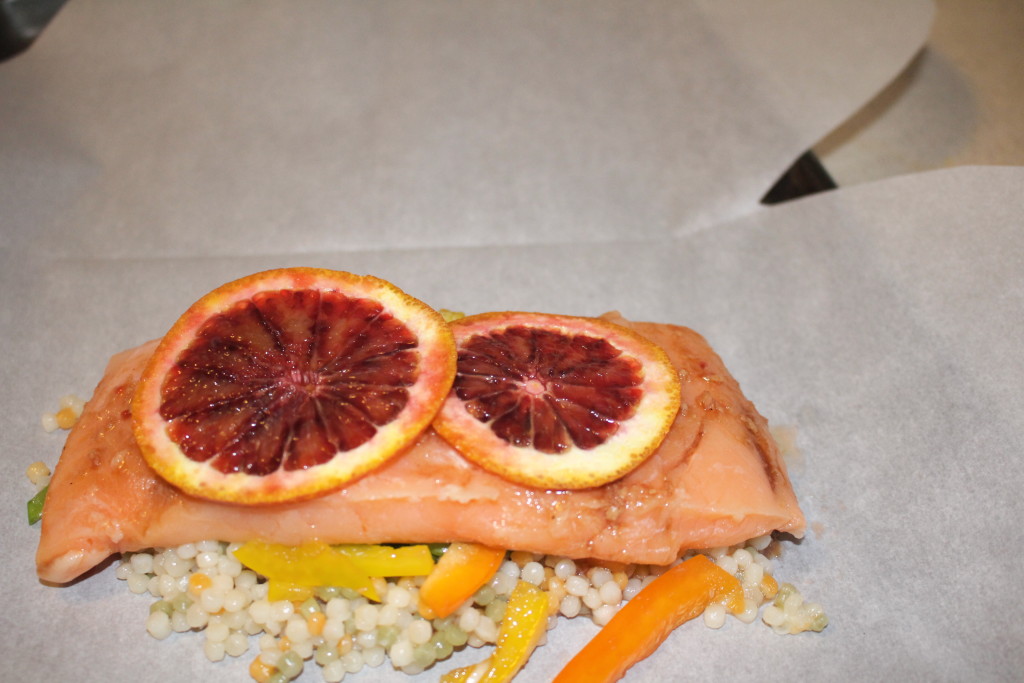 Fold the rest of the paper over the heart and crimp like your dinner depended on it. I found that I did a crimp and scrunch technique to make sure it would stay closed. I read one hint that you can put egg white on the edges but I forgot about it until I was already done.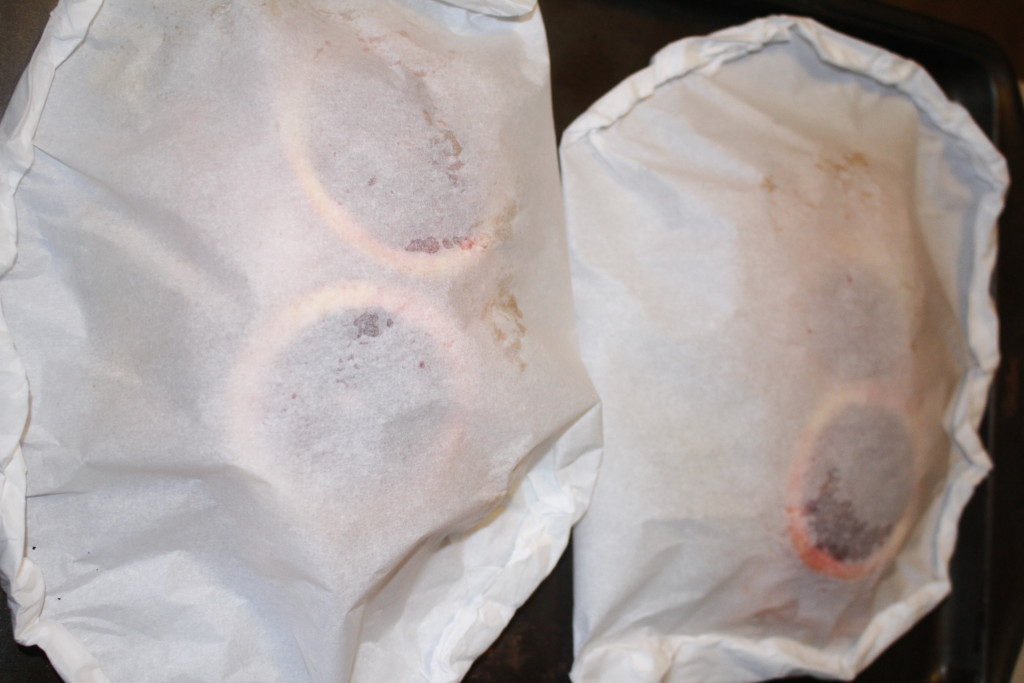 I did do a brush of olive oil on the top of the packet too. I'm still not 100% sure what that does besides keeping the paper from scorching.
Bake for 8-10 minutes. The bad thing is that you can't open it to make sure your fish is done so if your paper hasn't poofed up, odds are they aren't done. Unfortunately, there isn't a surefire way to make this part perfect. So start singing and hope it is right.
Remove baking sheet from oven and place on plates. Open carefully with scissors or a knife in front of guests so they can see the pretty steam escape and smell that first bit of aroma. Ahhhhh.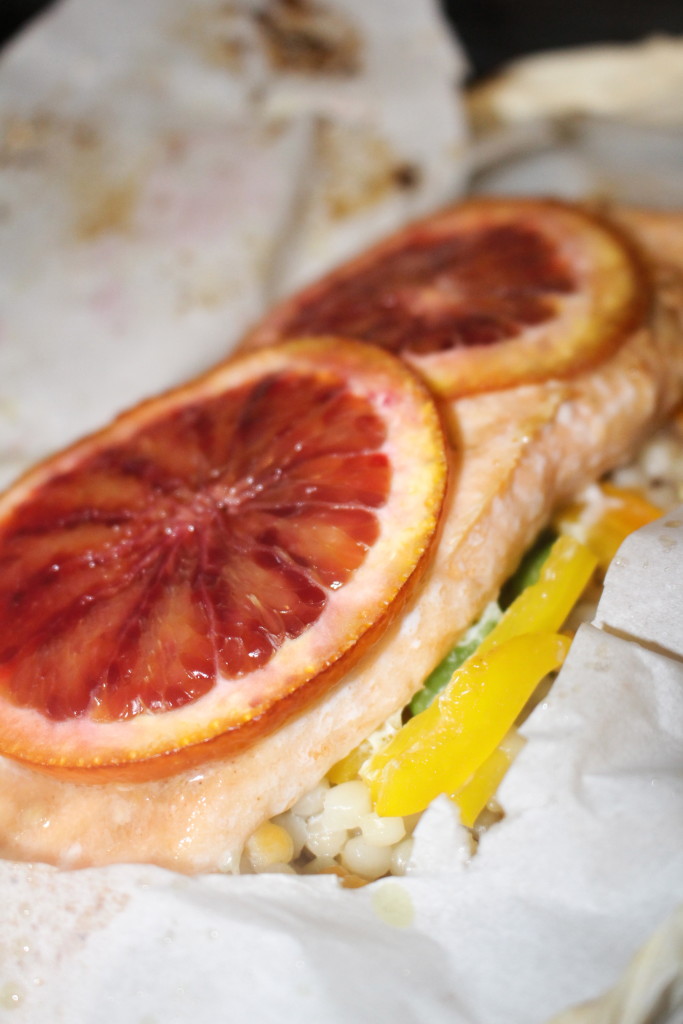 I am going to try this method with some different types of fish and veggies. I think the options are endless EXCEPT singing "Mail Myself to You" is mandatory.