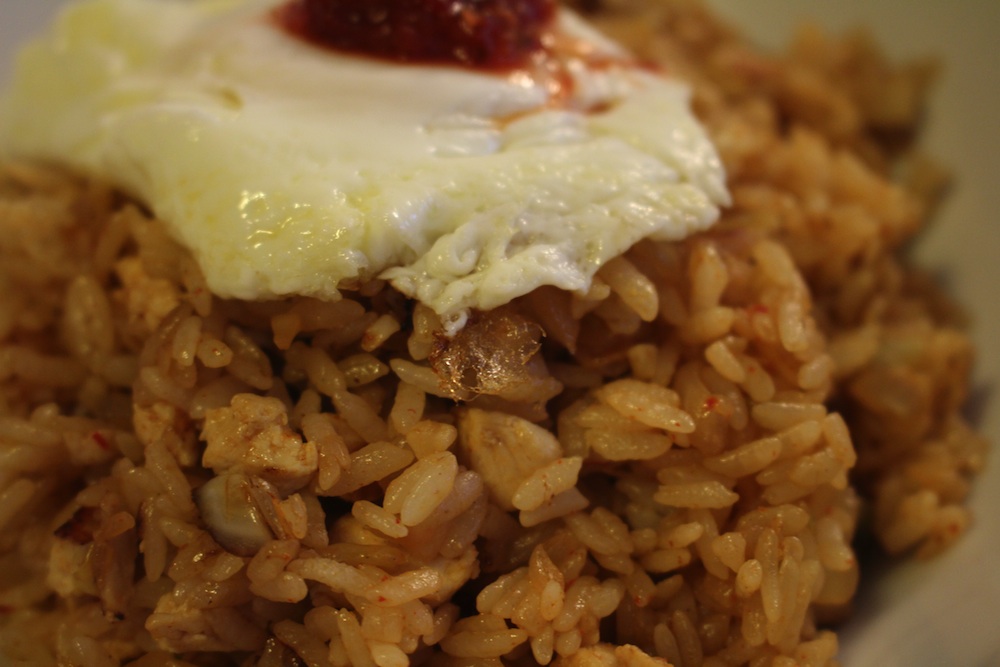 There are a lot of things I am going to remember about the winter of 2013/2014.  I, obviously, will remember the innate amount of snow.  (Thank you hubby for using your big, strong muscles to clear the driveway so nicely.)  I will remember the crazy cold days like this morning's temperature of -15.  Brrrrr.
But one of the things that I really think will stick in my mind is my discovery of kimchi.  (Um, Barb, you didn't discover kimchi that has been around for centuries.)
I think the word discovery can be used for pretty much anyone who stumbles on something new and interesting.  Here I'll give you some great examples…
Columbus "discovered" America.  We all have heard the argument that America was here already.  Columbus just happened to be the guy with the biggest social network and got the word around so he got all the props.  (If he were around today, he would have his own blog and about a million followers on Twitter.)
How about Newton and Gravity?  Once again, gravity was always there.  Newton just had the gift of gab and knew how to make an apple falling out of a tree seem like news.  (He would have never blogged.  He would have had a morning talk show where they can make anything seem newsworthy.)
MY discovery came out of necessity.   (This blog came from cabin fever.) I'm so cold that I just was craving a hot lunch.  I needed something that warmed me up and kept me all toasty inside.  Soup just wasn't going to cut it!
So I had some leftover rice from the night before which I know is the perfect vehicle to make awesome fried rice.  My challenge was that I was snowed in so ingredients in the house limited me.  I grabbed some leftover rice, a small chicken breast, a shallot, an egg and garlic.
I wanted something else but really didn't have a lot of options.  (Someone took a salad to work and ambushed my veggie drawer.)  I looked on my door and there it was….KIMCHI.  I usually have some around for when I make Bib bim Barb but have never really explored it on other dishes.
I don't want to say it turned out to be one of the most delicious fried rice dishes I've ever had but I have made it the last 3 days for lunch!  (Of course, now I am just making rice the night before so it is nice and dry by the next day.)
It is probably a little misconstrued to compare myself to Newton and Columbus but then again multi days of cabin fever will give a person delusions of grandeur.
Kim Chi Fried Rice
(Makes 1 hearty serving)
Ingredients
1 heaping cup of leftover white rice, break it apart with your hands
1 small shallot, small dice
1 small chicken breast or 1 large tender, chopped into VERY small pieces (I keep a bag of tenders in the fridge for days I'm eating alone.)
3 cloves garlic, minced
1/3 cup kimchi, chopped
1-2 Tbsp ponzu sauce
1 egg
Toasted sesame oil
Optional:  Samba
Directions
Chop shallot
In a large, nonstick pan, heat about 1 Tbsp sesame oil over medium/high heat.
Add shallot, chicken and garlic.  (This is one time I am not worried about browning the garlic a little.  The slight bitterness combines well with all the other flavors.)
Cook, stirring frequently until you see some slight browning on the chicken.  Add the kimchi and cook it for another minute.
Add rice and cook another minute.
Add 1-2 Tbsp of ponzu.  I add enough so each piece of rice has a little of the brown color.
I also like to spread the rice evenly in the pan and let it cook another minute so you get some little brown bits of rice.  (I take it off the heat and just let the pan do the work.)
During that last minute, fry up an egg.  (Don't forget the egg or it will get overdone…like the one in my picture!)
Heap the rice in a big bowl and top with the egg.
I added a dollop of sambal for some extra heat.
After you eat all of this your belly and soul will be rediscovered.  (Maybe that is too much to expect from a bowl of rice but it will definitely help get you through this winter!)