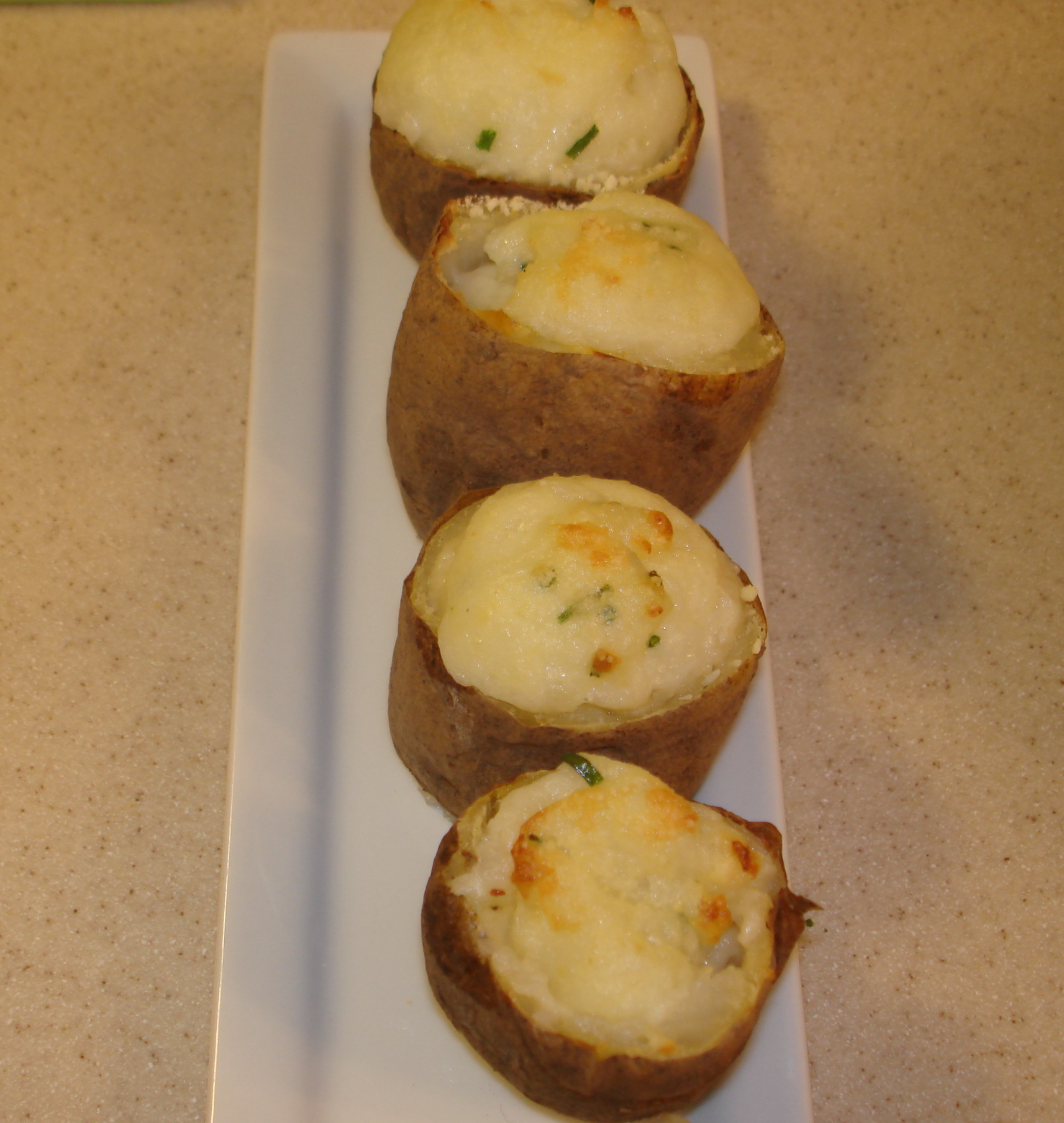 I was out for lunch with one of my best friend's (okay, it was my mom) and I overheard some people talking about their favorite common 'taters.  I wasn't listening very closely but I thought it was interesting that they were having a whole conversation about potatoes.
Being the overly social person that I am, when my mom went to get more iced tea, I mentioned to them that my favorite potato was a double baked.  They looked at me like I was nuts (I'm used to that glazed over look) and then looked at each other completely bewildered.
I could see their confusion so I apologized and said that I overheard them talking about "common taters."  I, of course, assumed they were talking about creative uses for our favorite tuber.
Well color me red when they corrected me and said they were talking about "commentators" like Glenn Beck, Wolf Blitzer, and Bill Maher.  (They aren't on The Food Network, Cooking Channel or Bravo, so they are irrelevant in my world.)
Thankfully my mom came back to the table just in time for me to save face and tell them I was just joking.  (I don't think they bought it.)  They just awkwardly smiled and went back to their conversation.  (I got an insane case of the nervous giggles, which probably made them believe that I was truly nuts.)
The whole incident did make me think that I really was in the mood for a nice, hot double baked potato.  Okay, it also made me think that I am not very astute when it comes to news programs.  (Commentators are on news programs, right?)
Not So-Common Double Baked Taters
Ingredients
4 Baking Potatoes (Russet or Idaho are my favorites)
4 ounces of cheddar cheese, shredded
3 Tbsp Sour Cream
2 Tbsp Heavy Cream (Or milk)
1 Tbsp chives, freshly snipped
Salt and pepper
1 Tbsp Melted Butter (or bacon fat YUM)
Directions
Preheat Oven to 400 Degrees.
Scrub your potatoes and piece with a fork.  Bake in the oven for 45 minutes (or until tender).
Remove from oven, turn heat down to 375 degrees and allow potatoes to cool long enough for you to touch them.
Trim a smidge off of each end.  You need the surface to be flat so you can balance the potato.
Cut in half.  DO NOT CUT LENGTHWISE (look at my picture).
Gently scoop out the cooked potatoes leaving a little in the skin.  Set skin aside because you will use it later.
Place the cooked potatoes in a bowl; add sour cream, cream, cheese, and chives.  Gently mash it all together until it is smooth.  You may need to add a little extra milk to smooth it out.  Taste for seasoning and add salt and pepper if needed or desired.
Add this mixture into your scooped out skins.  (If you are a fancy pants, you can pipe it in with a pastry bag.)
Place potatoes in a baking dish and brush with melted butter.  Place in oven and bake for about 20 minutes.
The fun thing about a double baked potato (and I sure know how to have fun) is that you can put anything you want inside of it.
*The recipes or cooking suggestions posted in the following blog do not represent the recipes on popular cooking programs or news programs.  (Isn't that how a commentator covers their fanny?)