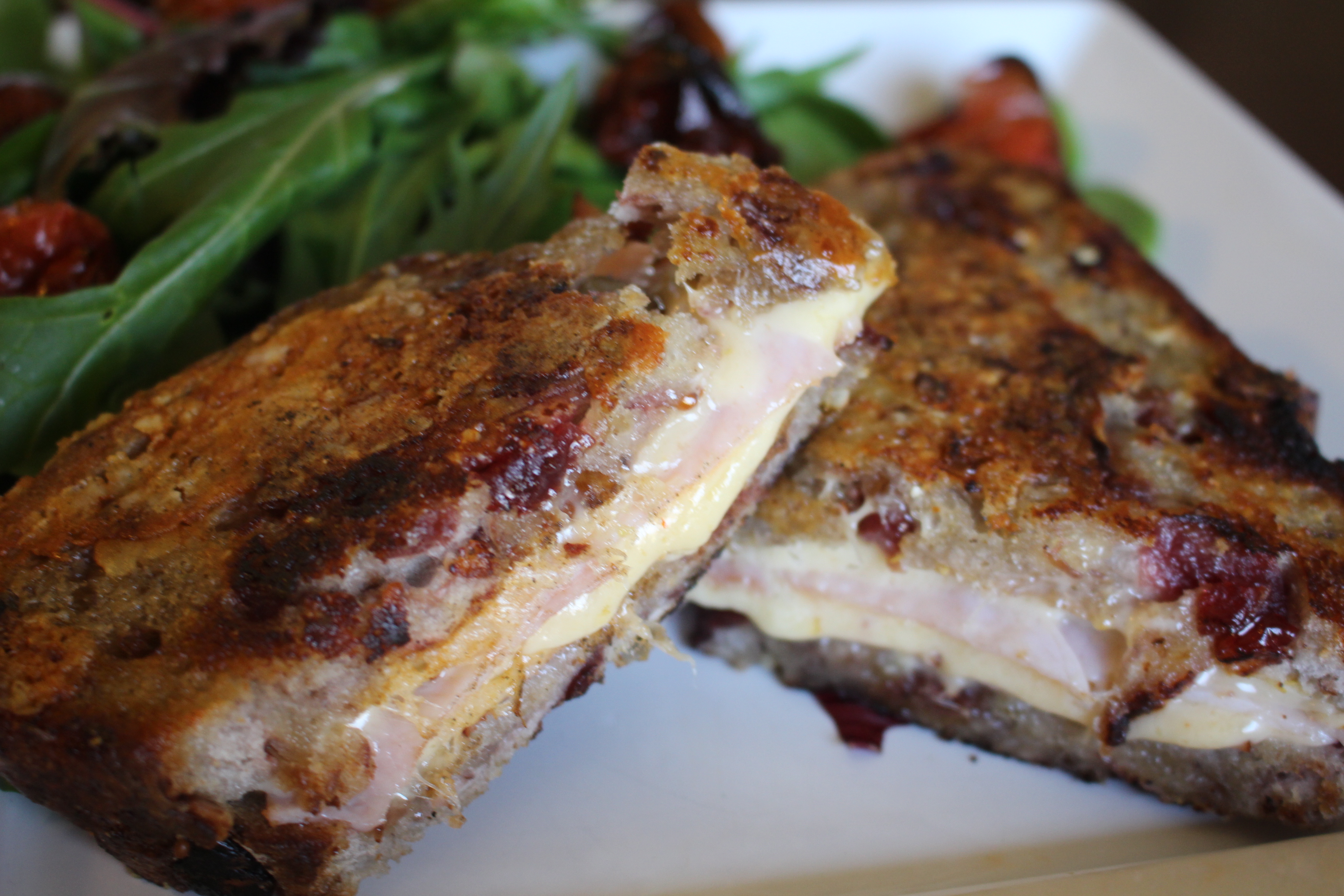 Hooray! It is starting to feel like spring. The birds are chirping like crazy, the grass is greening up and rumor has it there are some baby bunnies hopping around our neighborhood. (I can't wait to see the bunnies!)
Another big sign of spring is seeing all the stuff you should have gotten done around your house this winter but you didn't because it was too cold and it felt more rewarding to sit under a warm blanket.
I've been making some progress cleaning but find I am really tired at dinnertime so I don't want to cook a "real" dinner. I just want to have a sandwich and call it a day. (Seriously, did you think I was writing a blog on cleaning?)
In honor of it being National Grilled Cheese month, I thought this was the obvious sandwich choice for dinner.   The unobvious thing is "why" it is National Grilled Cheese Month. I spent some quality time (at least 15 minutes) trying to find out this information and kept coming up to dead ends.
All I learned about grilled cheese is that it became popular in the 1920's when sliced bread and cheese were inexpensive options. (I still have at least one white bread/plastic square yellow cheese sandwich every year because that is how most of us have our first grilled cheese sandwich.)
I'm sure if one of these food historians spent some time on the topic, they would find that grilled cheese sandwiches were invented because of time restraints in the spring. (I am hoping that in 20 years, someone will reference me when they are discussing National Grilled Cheese Month.)
The other thing I learned during my research time was there are a lot of opinions on what constitutes a grilled cheese! Can you add meat or not? Do you butter the outside? How many cheese varieties do you need to use? Bread type?
It is very overwhelming but maybe this is why they have a whole month dedicated to this one type of sandwich. Maybe the logic is that the people who invent crazy food holidays are doing us a favor so we can have not only the classic grilled cheese but we can whoop it up and add some variety.
The important thing is that the cheese needs to be melty and the bread really needs to stay crunchy. It is all good from there.
I read a quote while doing my research that I think sums up how we all feel about this special month…
"If I like you, I'll make you a cheese sandwich. If I love you, I will grill it."
Author Unknown.
My National Grilled Cheese Month Sandwich
Ingredients
Cranberry Walnut Bread (sliced)
Peppadew Havarti Cheese Sliced (or favorite spicy cheese)
Sliced Smoked Ham (Good use for Easter leftovers)
Stone ground mustard
Butter
Parmesan Cheese
Directions
Spread butter on the outside of one slice of bread. On the other side of that same slice, spread some mustard.
Slice both the ham and cheese into big ribbons and weave them together. (I did a 4 x 4 weave. It keeps the ham from slipping off the sandwich when it is done.)
Place on top of mustard side.
Top with remaining piece of bread.
In a small bowl, mix about a teaspoon of butter with a tablespoon of parmesan cheese.
Spread this on the OUTER part of the bread. (Trust me.)
Heat up your favorite seasoned cast iron pan over medium low heat.
Lay the buttered side down first and cook until golden (about 3-5 minutes)
Gently flip it and cook the cheese side. It will first seem like a hot gooey mess but don't fiddle with it. Just let the cheese gets a chance to cook and get all crispy.
After that side is done, I always do a reflip to warm the first side.
Let it sit for about 1 minute and slice!
I know there will be people who say this is not a grilled cheese sandwich because of the ham but given the food people gave us a whole month to enjoy this type of sandwich, I figure I get to have some room to maneuver.
You may think your favorite recipe is "gouda" but this one is better.  : )