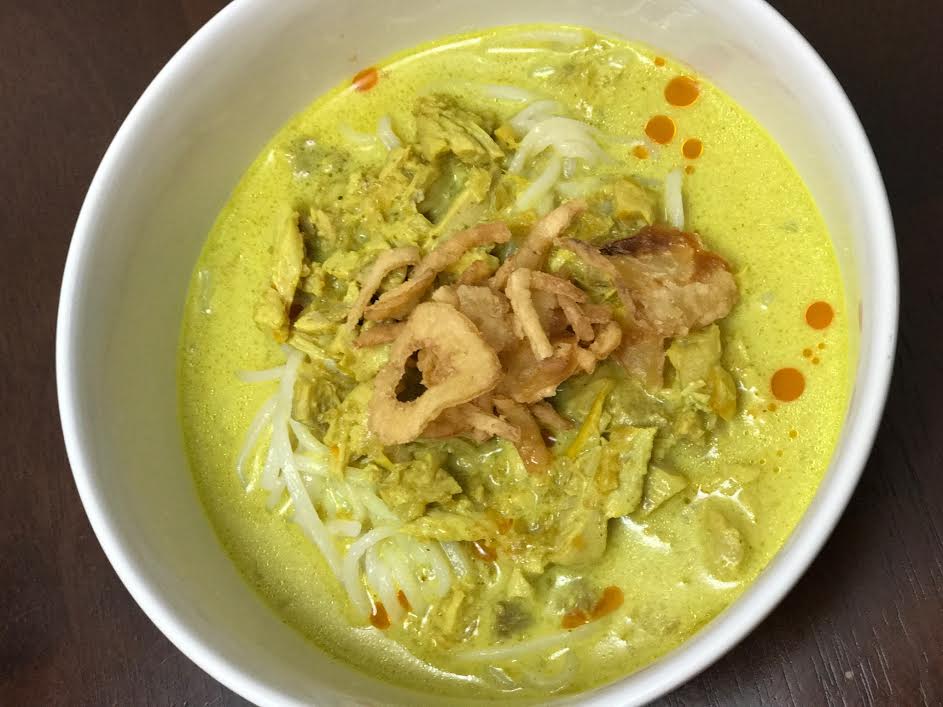 During our single digit days of winter, I had an obsession.  It wasn't anything too perverse or weird at least by my standards.  It was something that made me excited about the new year and trying new things.  (I can see how your mind is wandering.)
I was preoccupied with following Steve Dolinsky's Facebook and Twitter Feed.  If you don't know Steve Dolinksy, he does an amazing job of exploring the food universe on a segment called the Hungry Hound on ABC in Chicago.  But he is much more than a Chicago food explorer, he travels and does an amazing job of explaining new foods from all over the world.
I've been a fan for years but this winter he went to Thailand and his pictures and videos almost made me obsessed with him and what he was learning.  (I felt this way too when he was taste testing Pho across Chicagoland.)
On one of his outings, he tossed out a teaser of a dish called Chicken Khao Soi.  He seemed to like it so much that he thought it should be the go-to dish when we go out for Thai food.  (Kind of like how most of us order Pad Thai.)
I knew he was taking a class to learn all the intricacies of the dish but I just couldn't wait for his next report…I started to research.  I read every article I could and started to taste it through the pages of the Internet.
WWSDD?  (What would Steve Dolinsky Do?) At that moment, I gave myself a goal….I would start to try to make a version of this dish that would be feasible with small town limitations of ingredients.
Let me rewind a bit and fill you in on what I learned as a layperson.  The dish is from Northern Thailand and is a chicken coconut curry noodle dish topped with a range of garnishes from lime, bean sprouts, cilantro, chili oil, pickled cabbage, onion or crispy noodles.  It is the ultimate Thai comfort food.  (Because even if you live in a tropical climate, you need comfort food.)
The key to this dish is the curry paste.  From the second I made it, I was in love.  It is a paste made with chiles, shallots, ginger, garlic, cilantro stems, coriander, turmeric and curry powder.  I've also seen recipes that use shrimp paste and cloves.
Given where we live, I am able to find guajillo chiles or Thai bird chili in some of our markets international aisles.  I think the key for me is to remember you can't pull the heat out of the dish so proceed with caution.  You can always spice it up at the end with some chili oil.
The chilies were soaked in hot water and then pureed with the remaining ingredients.  I think part of the key was smoothing the paste with reserved chili water.  It kept the flavor profile strong and the smell was entrancing.
The rest of the dish is pretty straight forward.  You cook the paste, add broth and coconut milk.  Boil and add chicken thighs and cook the noodles separately.  (It is like a Thai Chicken noodle soup if you think of it.)  Season and garnish and you have one of the best bowls of food of your life.
Now here is my problem, I have NO clue if what I made is "authentic" or even close to authentic.  I had to stop watching Steve Dolinsky because I wasn't sure if he could see how many times I clicked the link to his video and I was afraid of a restraining order.
I used a plethora of recipes online as a guide and then had to tweak them to fit what I had in the pantry.  (I couldn't go to the store because we were literally snowed in.)
I've never tasted any other version but what I cooked up made me happy to be stuck in the house.  (Maybe finding a "real" version will be my New Year's Resolution.)
I did notice that from the pictures I've seen mine was a little more yellow than the deep red.  I'm not sure if I cooked the curry paste long enough or if it was my pepper choice.  Plus, I did not have ANY cilantro in the house.  Any which way, the dish I came up with was the perfect bowl for a freezing winter's day or the cure for the common cold.  (And it was SIMPLE!!!)
Thanks Mr. Dolinsky for continuing to teach us about food and the inspiration to try new things.  You started my year off great!
Chicken Khao Soi (Snowed in Version)
Curry Paste
2 Dried Thai Bird Chilies
2 shallots, rough chop
10 cloves of garlic, peeled
A chubby 1 inch nub of fresh ginger, peeled, rough chop
1 Tbsp coriander
1 Tbsp turmeric
1 tsp of curry powder (I used basic, on the shelf curry powder.)
Soup Base
Grapeseed oil
2 cans Coconut Milk
3 cups chicken broth
1 pound skinless, boneless chicken thighs
½ pound egg noodles (most stores have the Chinese kind available)
¼ cup fish sauce
1 Tbsp brown sugar
Garnishes bean sprouts, chili oil, fried onions, pickled onion, lime slices
Directions
Place chilies in a small heat proof bowl (or big mug.)  Cover with boiling water and let soak at least 1 hour.
Remove the chiles.  If you are scared of the heat, you can split them and remove some of the seeds.  DO NOT toss out the water.
With either a mortar and pestle or food processor, puree the soaked chiles, shallots, garlic, ginger, coriander, turmeric and curry powder.  Drizzle in the chili water until it resembles a smooth paste.  Set aside.
In a large soup pot, heat about 1-2 Tablespoons of olive oil.  (Most of the online recipes had vegetable oil.)
Cook the curry paste until it slightly darker.  (I think I didn't do this step long enough.)
Add broth and coconut milk.
Bring to a boil and add chicken.
Lower your heat to a simmer.
Cook until the chicken is cooked (about 25-30 minutes for whole thighs)
You can also cook the noodles in a separate pot per package instructions.  (I drizzled the noodles with toasted sesame oil when they were done.)
Remove the thighs from the soup.  You can cut them up or shred the meat. Add it back to the soup pot.
Add the fish sauce and sugar to the soup.  Taste.  You may want to add more fish sauce for the salt or sugar for sweet.  If you want it spicier, I would serve it with chili oil instead of doctoring up the whole pot.
Add some noodles to individual dishes and ladle soup.  You can make it super soupy or you can just barely cover the noodles.  Your choice.
Our bowls were garnished with fried onions, bean sprouts, pickled onions and a few drop of chili oil.
I will make this again this year…after I taste a restaurant version to see how far off or how spot on I was!!!