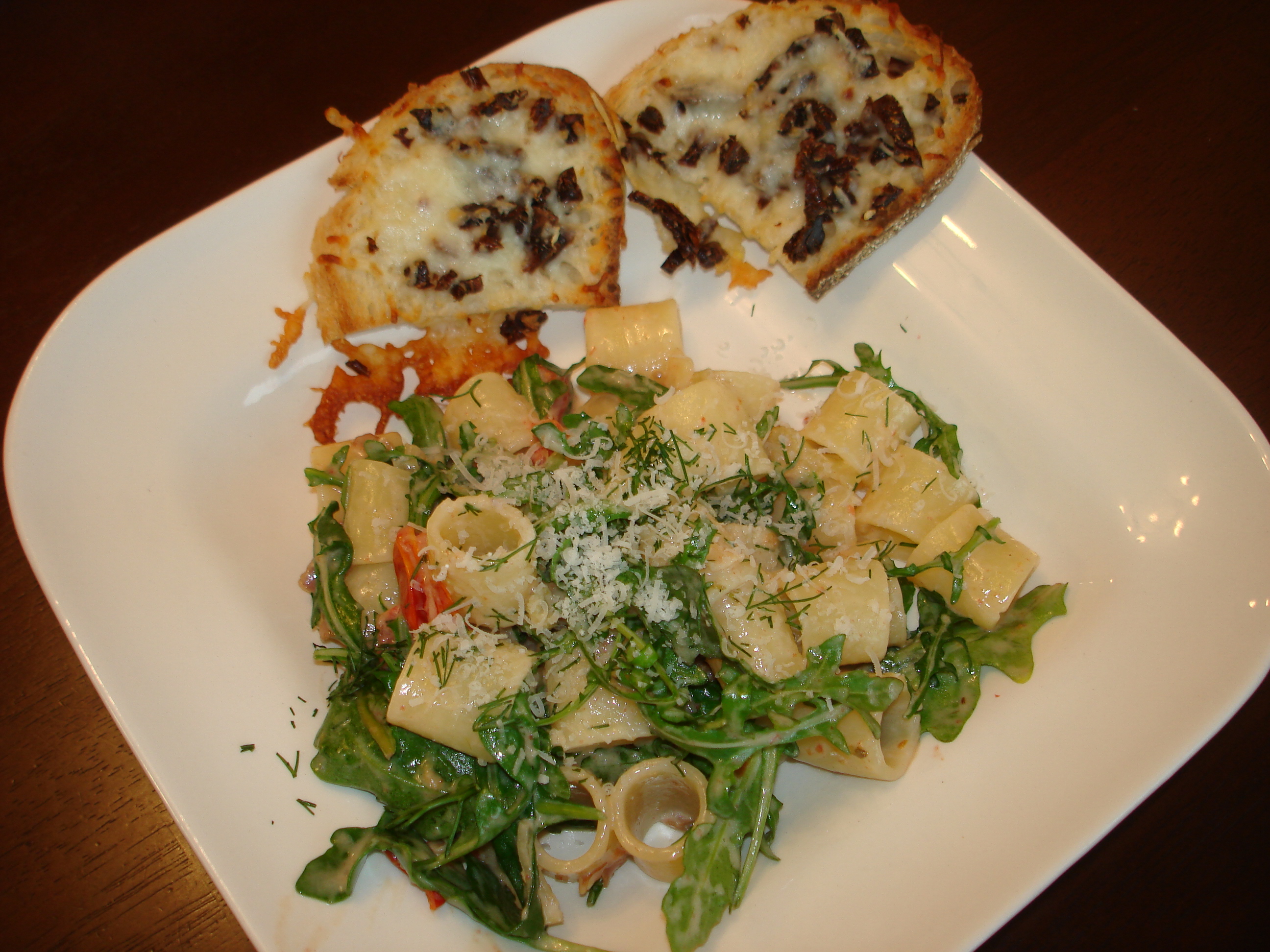 When I first started taking cooking classes, the chef who was teaching the class made it a rule that you tasted everything.  It was a scary road for an ex-picky eater but I knew it was the only path to go if I were to ever become a foodie.
In one particular class, she brought out this crazy looking vegetable called fennel.  It looked like a giant spring onion bulb with celery stalks popping out of it.  The bonus was that this vegetable looked like it was wearing a dark green feather boa on top of the celery stalks.  In case I'm not descriptive enough, the picture below is fennel.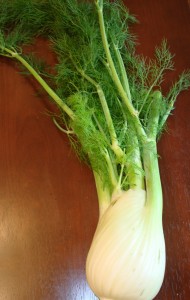 See what I mean.  It is a bit crazy looking but it really knows how to rock that boa also known as fronds.
Anyhow, the next thing our chef did was start slicing the bulb.  I inhaled a couple times and looked around to see who the heck would be rude enough to be eating Good 'N Plenty during class.  To my surprise, it was the fennel that had this wonderfully sweet licorice smell.  Can this vegetable get any more wonderful?  Oh just wait, we haven't even tasted it yet!
So our chef gave us all a thin little slice raw.  It had the crunch of celery but a very mild black licorice flavor.  We learned that if you slice the stalks off and thinly slice the bulb, it was great in a salad. (I have a great recipe for a fennel salad for a later blog).
In this particular class, we were going to roast it.  Well if I thought it was tasty raw, I was just in love with it's roasted flavor.  After the fennel is roasted, it became very sweet and the licorice flavor was not as apparent.  I still could smell it but maybe that was the crazy girl with the Good 'N Plenty.
So a couple things to know when you decide to go introduce yourself to fennel:
Look for a firm bulb and a bright green stalk.  If it is mushy, put it back no matter how wonderful it's green boa looks.
Chop off the stalks and fronds off of the bulb.  You can use the other parts in a soup or chop the fronds for a garnish.
There is a triangular core in the fennel bulb.  I've had two different chefs tell me two different things about the core.  One person said discard it, the other said just use it.  I slice a little piece of it off and taste it.  If it still tastes sweet and the texture resembles the rest of the bulb, I just use it.
Resist the urge to save all of the fronds and make yourself a boa.  Unless you are a redhead, you will never pull it off.
Roasted Fennel & Tomato Tubettone
Ingredients:
1 fennel bulb, halved and sliced thin
1 pint grape tomatoes
Olive oil
1 tsp each dried crushed rosemary, sea salt, dry basil leaves, and dried oregano
8 ounces prosciutto, cut into thin strips
3 cloves garlic, smashed and chopped
½ cup white wine
½ cup heavy cream
3 cups arugula (baby spinach will work too)
Parmesan cheese
10 ounces dry Tubettone (rigatoni or mostacolli)
Reserve 1 ½ cups of the pasta water
Salt and Pepper
Directions:
In a medium bowl, mix fennel, tomatoes, 2 TBsp olive oil, and spices together.
Place on parchment lined cookie sheet and bake in a 400 degree oven for about 20 minutes.  You goal is to caramelize the vegetables.  This is how the veggies look before going in the oven.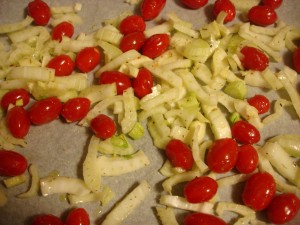 This is how they look when they are done.  They are actually a little "browner" in real life so keep that in mind.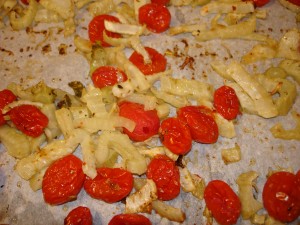 Heat a large sauté pan over medium heat and add some olive oil, about 2 TBsp.
Sauté the prosciutto, until crisp.  If you haven't sautéed prosciutto before this is the look we are going for in this recipe.  You want it slightly crisp but not crunchy.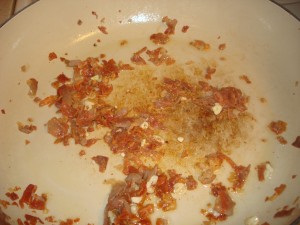 While the veggies and prosciutto are cooking, get your pasta started.  REMEMBER to save some of the pasta water.  Cook your pasta until it is just done, drain it and set it aside.  It will be cooked more later in the big pan.  (Actually it will probably get finished exactly at the same time as your veggies and prosciutto).
Once the prosciutto is crisp add your garlic and cook until nice and fragrant.  You don't want to brown the garlic because we don't want anything bitter in our sauce.
Deglaze the pan with the wine and scrape up any brown bits.
Add the heavy cream and allow the pan to gently simmer.
Once your veggies are done, add them to the simmering cream and prosciutto.  If the tomatoes haven't "popped" open, I usually smash them a little in the pan.
Add your pasta and mix everything together in the pan.  It is at this point I introduce some of the pasta water.   I used about 3/4 cup tonight.  The starchy water will add a note of creaminess.  You will know when it is enough when all of the Tubettone is coated.
Add in your arugula and mix it well with the pasta.  The warmth of the pasta and sauce will wilt the arugula quickly.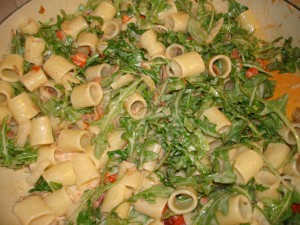 Taste for seasoning and add salt and pepper, if needed.
Serve with Parmesan cheese and chopped fennel fronds.  I also made some little toasts with sun-dried tomatoes and Italian cheeses.  The flavors on the toasts really complimented the pasta (and I was trying to use up the bread).
I guarantee that you will never look at fennel the same (or green boas).