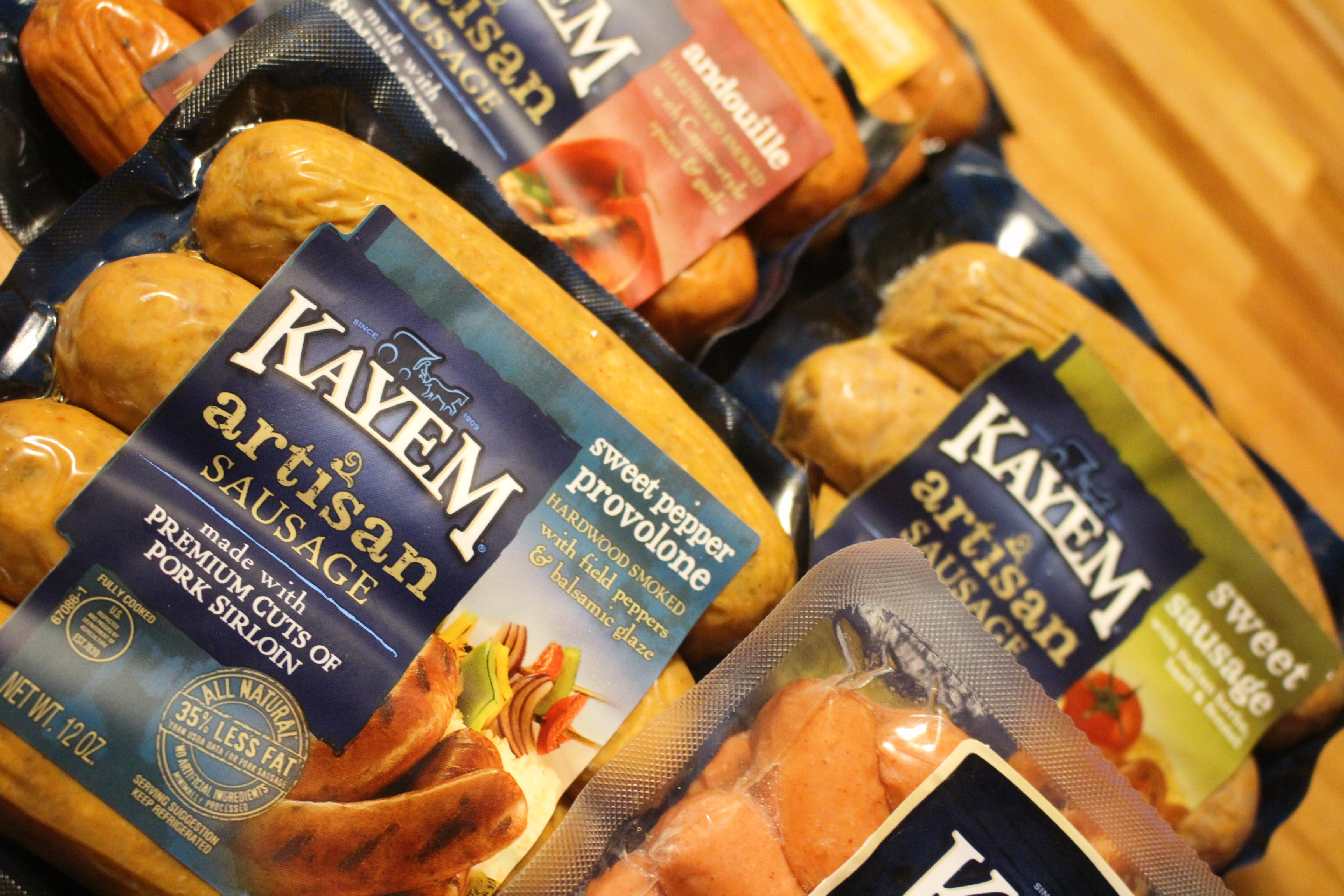 I always wonder how people discover new recipes. Do you just wing it? Copy from your favorite restaurant? Follow a blogger? (Or at least follow a blogger when she is actually cooking and not whining about her chronic illness…by the way…thanks for all of the support this past week!)
I kind of do all of the above. (Especially the whining thing) With holiday gatherings, shopping and just a lot of friends playing hooky, I've been kept me from being too creative these days.
So lucky for me, Kayem gave me some suggestions for easy weeknight meals using their awesome artisan sausages.   (I did a blog on Kayem earlier this year and have been in love with their sausages for years. Wait….does that sound weird?)
I usually am hesitant to go straight off of a products recipe link but I took the challenge! (Seriously, you don't have to twist my arm to hard to eat a Kayem Sausage.)
My favorite two recipes were the Sweet Pepper Provolone with Linguine Vodka Sauce and the Tortellini Soup with Fire Roasted Pepper Jack.
The pasta recipe was soooo simple and the best part is it was made with things you should already have in your house. The hardest part of the recipe was trying not to snack on the sausage while making the pasta! The Sweet Pepper Provolone has become one of my favorite sausages because you can actually taste the real pepper pieces.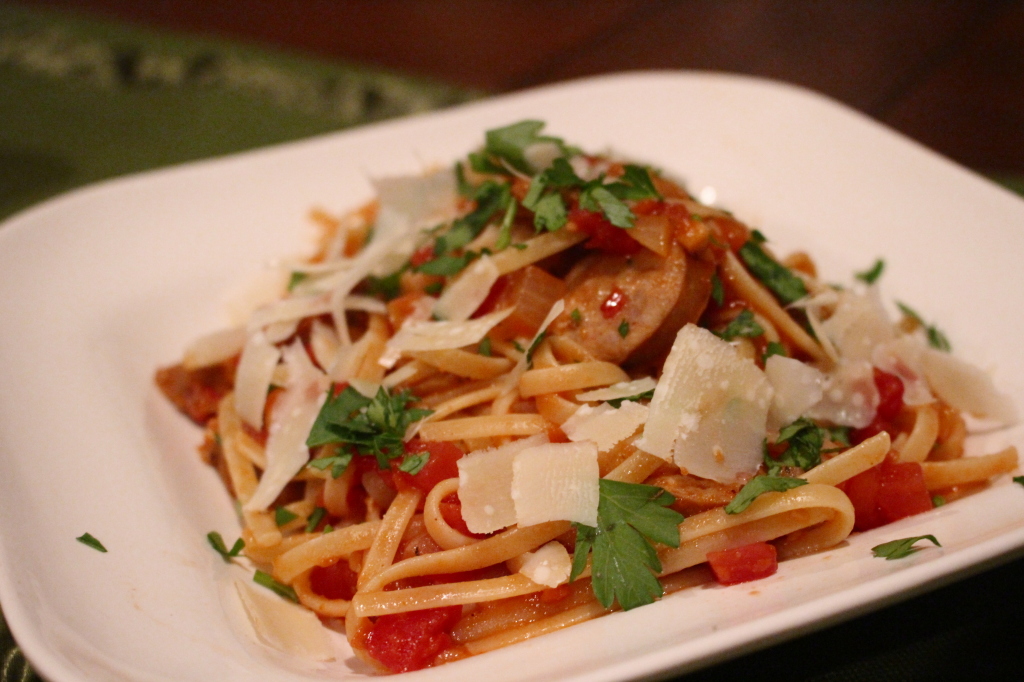 I also fell in love with the Tortellini Soup recipe. Once again, I was trying to only use what I had in the house so I subbed out the tortellini for some little, itty bitty ravioli. Oh this is the go to recipe now for this winter ESPECIALLY because you can switch up your sausage!   (Does that make me a swinger if I switch my sausage?)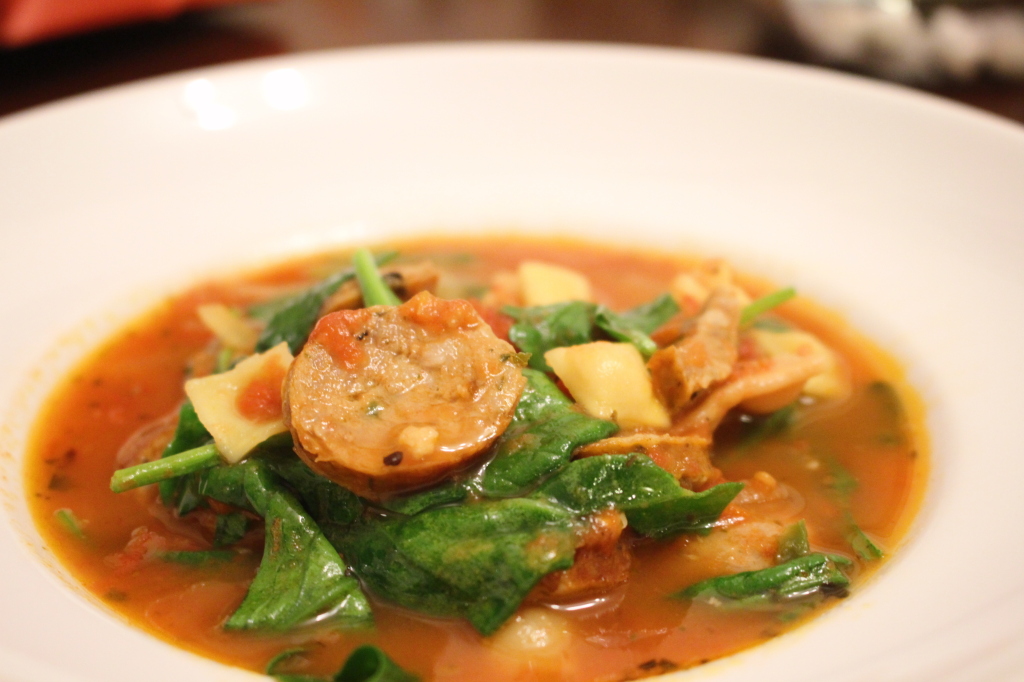 I made this again with Kayem's Sweet Sausage too and it was phenomenal. It goes back to my original thoughts on Kayem…they just have a really good natural product and you can taste it in your recipe.
The new recipes on Kayem's site are worth a look (and a try.) I am going to make the Jambalaya with Artisan Andouille and Shrimp this weekend. It sounds like the weather change will call for a bowl of comfort food.
Kayem is making it easier to find their product with a store locater. I am thrilled to say our local store JUST started carrying Kayem! (Don't be afraid to talk to your store manager about his sausage selection.)
I really appreciate Kayem providing me with their product so I could play around with their recipes.   Whoever on their team developed them did a great job!
I like having some recipes that let me utilize what I have in my fridge and pantry. Since I'm not feeling up to snuff these days, it is nice to just cook up my meal without a trip to the store. (Kayem Artisan Sausages freeze up nicely so I have some always in my house!)
Try some of the recipes out and let me know how you like them! I am sure they will be a welcome change to your regular menus. (And you might just find a few new favorites and fun ways of talking about your sausage!)