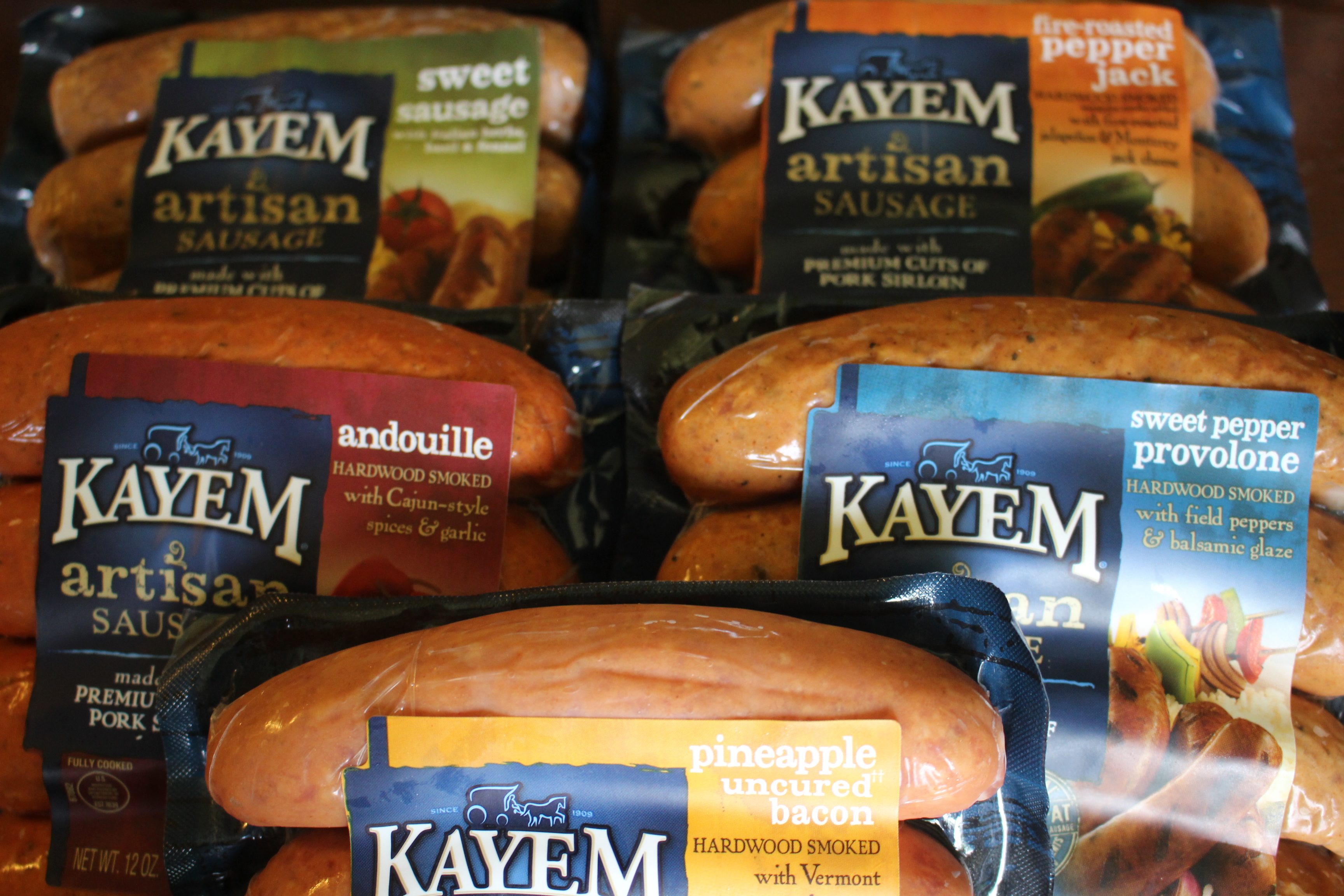 What are your thoughts on artisan sausages? No, I'm not talking about the statue of David by Michelangelo or the Vitruvian Man by Leonardo da Vinci. (Those are artist's renditions of sausages and not the same thing…and yes…it was immature of me to go there.)
If you've been trying to figure out what to cook for Fourth of July weekend, I'm sure you have seen artisan sausages in your meat department and asked yourself…."What is an artisan sausage?"
Well I'm here to tell you about my new favorite artisan sausages by Kayem Foods (these are the folks that make Fenway hot dogs). After trying their product, I came to one conclusion…not all sausages are created equal!
The key to artisan food movement is that they are higher quality because they use less processed ingredients.
Kayem's new sausages have 35% less fat than average pork sausage, no artificial flavors and no MSG. Added bonus for all of those who shun gluten….the sausages are also gluten free.
Did you get that….NO artificial flavors? So the ingredients on the label like uncured bacon & pineapple or sweet pepper & provolone are the ACTUAL ingredients! It isn't like they just shove something in a package and make a claim that it something that it isn't. (I hate when that happens.)
Kayem Foods generously offered to let me try their five new artisan sausages: Pineapple Bacon, Andouille, Fire-roasted Pepper Jack, Sweet Pepper Provolone and Sweet Sausage.
I've had a lot of artisan sausages in my past but they've never been pork. The other ones I tried in the past were "fine" but I missed the texture and flavor you only get with a piggy.  (Kayem's artisan sausages are made with premium cuts of pork sirloin!)
Kayem Artisan sausages were noticeably less greasy than the average sausage and the unique flavors were really innovative. One night I just made a simple dinner of salad, mac & cheese and the Sweet Pepper provolone. The sausage alone elevated my "easy" night meal.
Besides the fact that I really liked how these sausages tasted, I was thrilled that they are available at Meijer, which is right around the corner.
Kayem also has some great hints on their "grill-pedia" so you can create your sausage your own masterpiece.
I wanted to give my readers something fun for Fourth of July but know most people just want to grill. (I could have done some fun toppings but I really wanted to highlight the sausage.)
So I thought about the day after. What do you do with your leftover sausage after all the grilling parties are over? You make hash…ARTISAN HASH!!!!  I used the pineapple/uncured bacon and loved it!  The bacon is very subtle and the pineapple adds just the right amount of sweetness.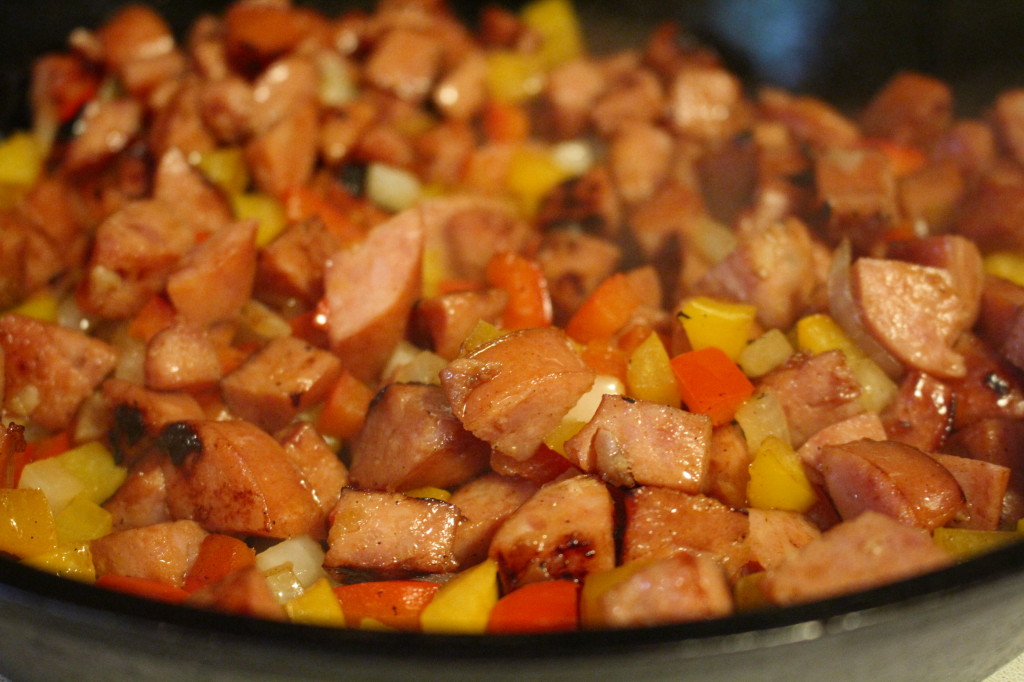 Easy Artisan Hash
Ingredients
12 ounce package of Kayem Pineapple/uncured bacon
3 russet potatoes
1 red pepper
1 yellow pepper
1 yellow onion
Olive oil
Salt
Oven 375, prepare baking sheet with a piece of parchment paper.
Peel and dice potatoes and toss with olive oil and season with salt. Place on prepared baking sheet and let cook until brown and tender. (About 35-45 minutes depending on your dice.)
While the potatoes are cooking, chop up your sausage. (I cut them lengthwise into fourths and cut into smaller pieces.) Dice up your peppers and onion.
Heat up your favorite cast iron skillet over medium/high heat. Brown your sausage in the skillet and remove to a separate dish.
In the same pan, add a smidge of olive oil. Lower heat to medium and cook up the peppers and onion. Add sausage and cooked potatoes.
I spread it all out evenly in the pan and just let it cook for another 5 minutes. You'll get some nice browning and some crispy bits. Taste for seasoning and add salt if needed.
My hash is always taken up a notch by adding a poached egg with some cayenne hollandaise sauce. Mmmmm.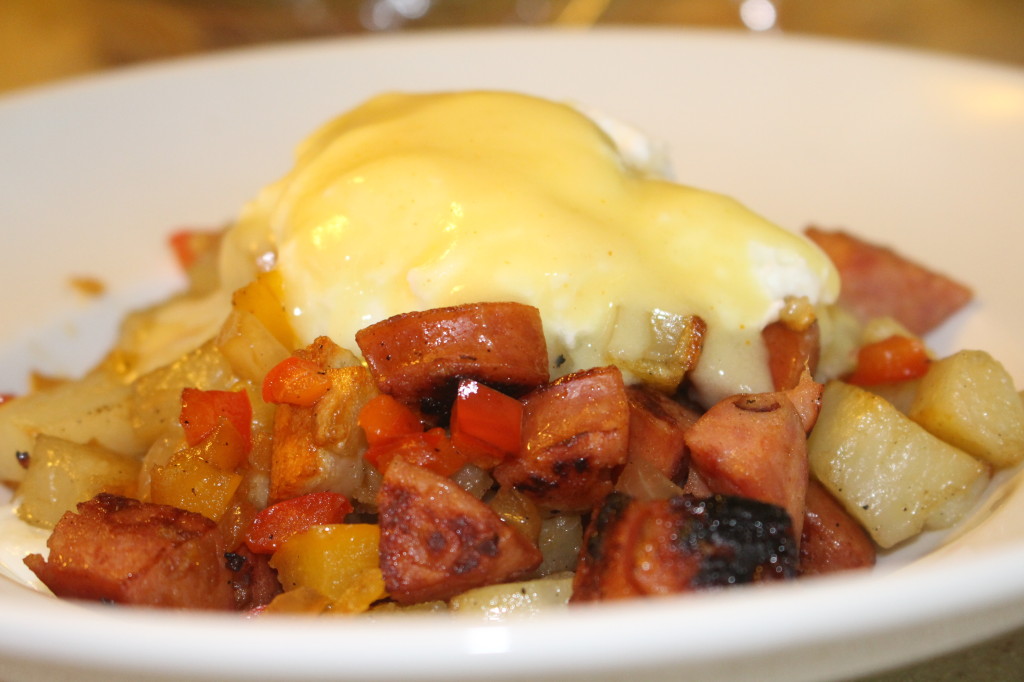 As the Artisan movement becomes more popular, it is nice to know that there are companies that have spanned generations producing some delicious creative products.
Thank you Kayem Foods for putting "art" into your food.