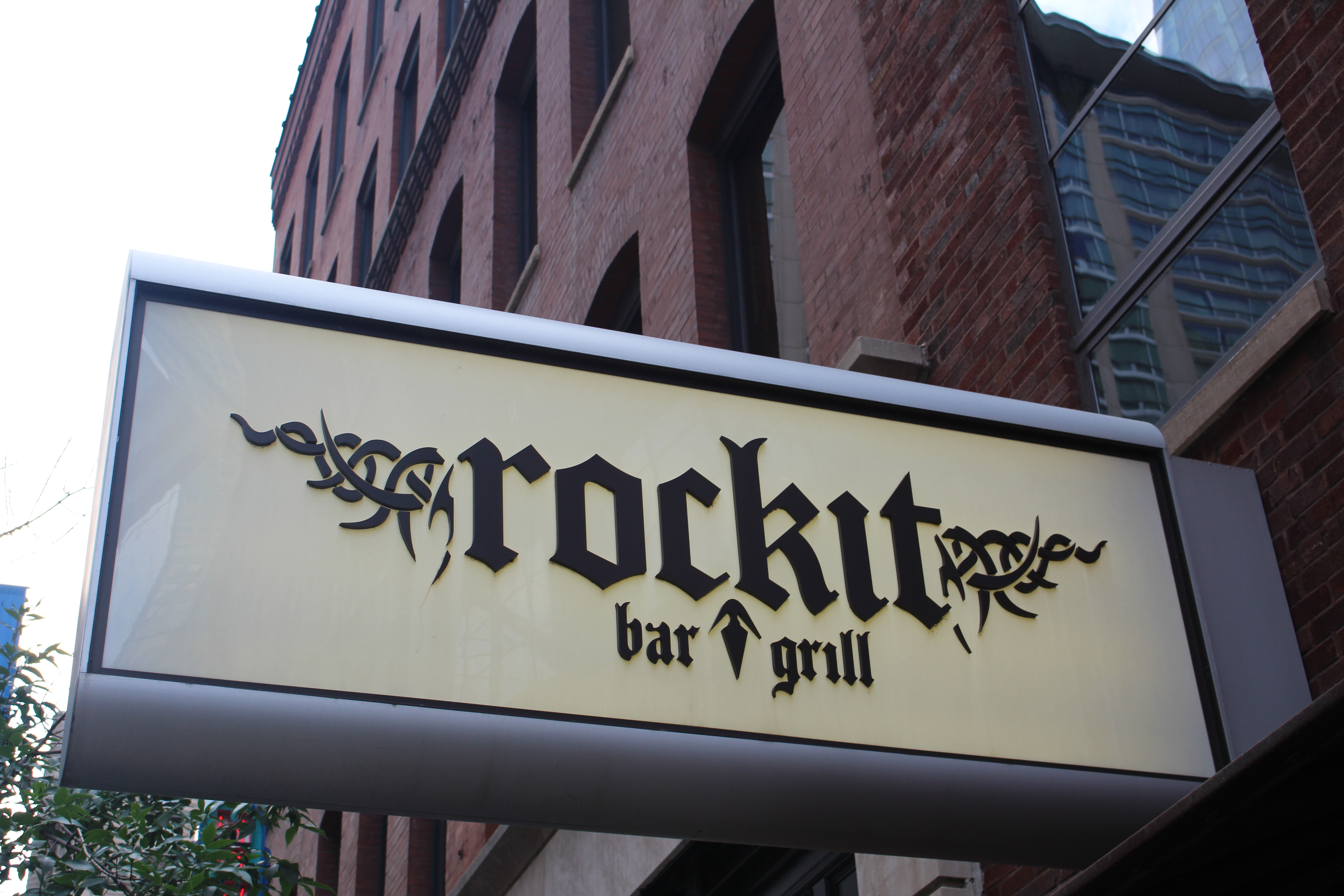 "Here we come on the run with a burger on a bun…"  Do you know this song?  It is technically the Car Hop song from the Flintstones but I think it should be the new theme song of Rockit Bar and Grill's Burger Fest!
Celebrated at both Rockit Bar & Grill (22 W. Hubbard) and Rockit Burger Bar (3700 N. Clark), the 8th Annual Burger Fest will be offering five new inventive burgers each day this week (June 24-June 28).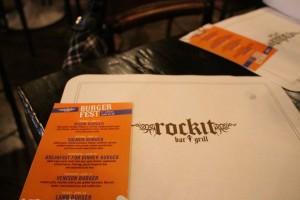 During the Stone Age, a burger may have been considered creative if the chef used a fresh tomato instead of ketchup.  But Executive Chef Amanda Downing proved she is a hamburger visionary with her unique spins on toppings, rarely seen buns and out of the ordinary meats.  (No dinosaur meat!)
My friend Betty (just kidding her name is Connie) and I went to Rockit Bar and Grill yesterday and will never look at burgers the same.  Sous Chef, Amanuel Bankston, had us try two of this week's specials and I appreciate all of the detail he gave about burger construction.
The first burger we tried (only available Monday) was the Bison Burger.  The succulent bison patty was not only topped with Michigan blueberry chutney but it had blueberries INSIDE!!  The unique sweet/sour taste of the blueberries complimented the game meat wonderfully.  It also made the bison super juicy.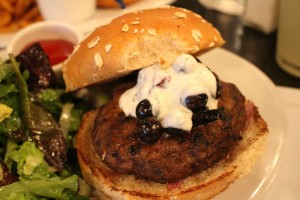 In addition, Cabernet caramelized onions (YUM), whipped Greek yogurt goat cheese were placed on the harvest wheat bun served with a nice, light baby green salad.
The other burger we enjoyed, Breakfast For Dinner Burger, will be available this Wednesday, June 26.  Are you ready for this?
What is a Breakfast For Dinner Burger you ask?  The most perfectly seasoned Black Angus burger, 5 year aged cheddar, applewood smoked bacon, black pepper fried egg in between TWO GLAZED DONUTS!!!!!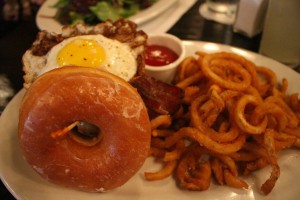 At first glance it looked like something a kid would make their mom on Mother's day.  I couldn't stop laughing at the silliness of the whole concept.  BUT when I picked that baby up and squished the donuts in my fingers to take my first bite, I was in LOVE!!!
Between the physical balancing act of getting all of those components to stack up without being a mess and the balance of the sweet donut, peppery egg, smoky bacon and angus beef; it was a masterpiece in burger making.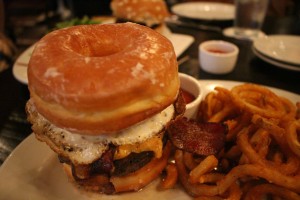 The whimsy of the burger was only enhanced, as I had to lick the donut glaze off my fingers.  (All etiquette was out the window and I ate it Caveman style!)
Other burgers available this week are the Salmon Burger (Tuesday, June 25) with shaved cucumber, tomato, sunflower sprouts, smoked rainbow trout spread all on a sesame semolina bun.  (Served with sweet potato chips.)
Thursday's (June 27) burger is a Venison Burger served with bourbon cherry jam, grilled red onion, foie-nut butter on a coco brioche bun.  (Served with Truffle Fries.)
The Burger Fest ends on Friday (June 28) with a Lamb Burger topped with Nordic creamery fedost cheese, apples, arugula, golden raisin aioli on a pretzel bun.  (Served with house made salt and pepper potato chips.)
As I always do, I had a blast at Rockit Bar & Grill.  Thank you to everyone who made the experience so much fun especially my friend, Connie, our server, Nathan and Chef Bankston.
I hope that some of these burgers land on "regular" menu or at least pop up as a special.  Until then, I will never hear the Car Hop song without thinking about this year's Burger Fest at Rockit Bar & Grill!!
Here is the full Burger Fest 2013 schedule for the week.  For more information or to make reservations: www.rockitbarandgrill.com or www.rockitburgerbar.com.
| | | |
| --- | --- | --- |
| DATE | ROCKIT BAR & GRILL | ROCKIT BURGER BAR |
| Monday, June 24 | Bison Burger | Location Not Open |
| Tuesday, June 25 | Salmon Burger | Salmon Burger |
| Wednesday, June 26 | BFD Burger | BFD Burger |
| Thursday, June 27 | Venison Burger | Venison Burger |
| Friday, June 28 | Lamb Burger | Lamb Burger |