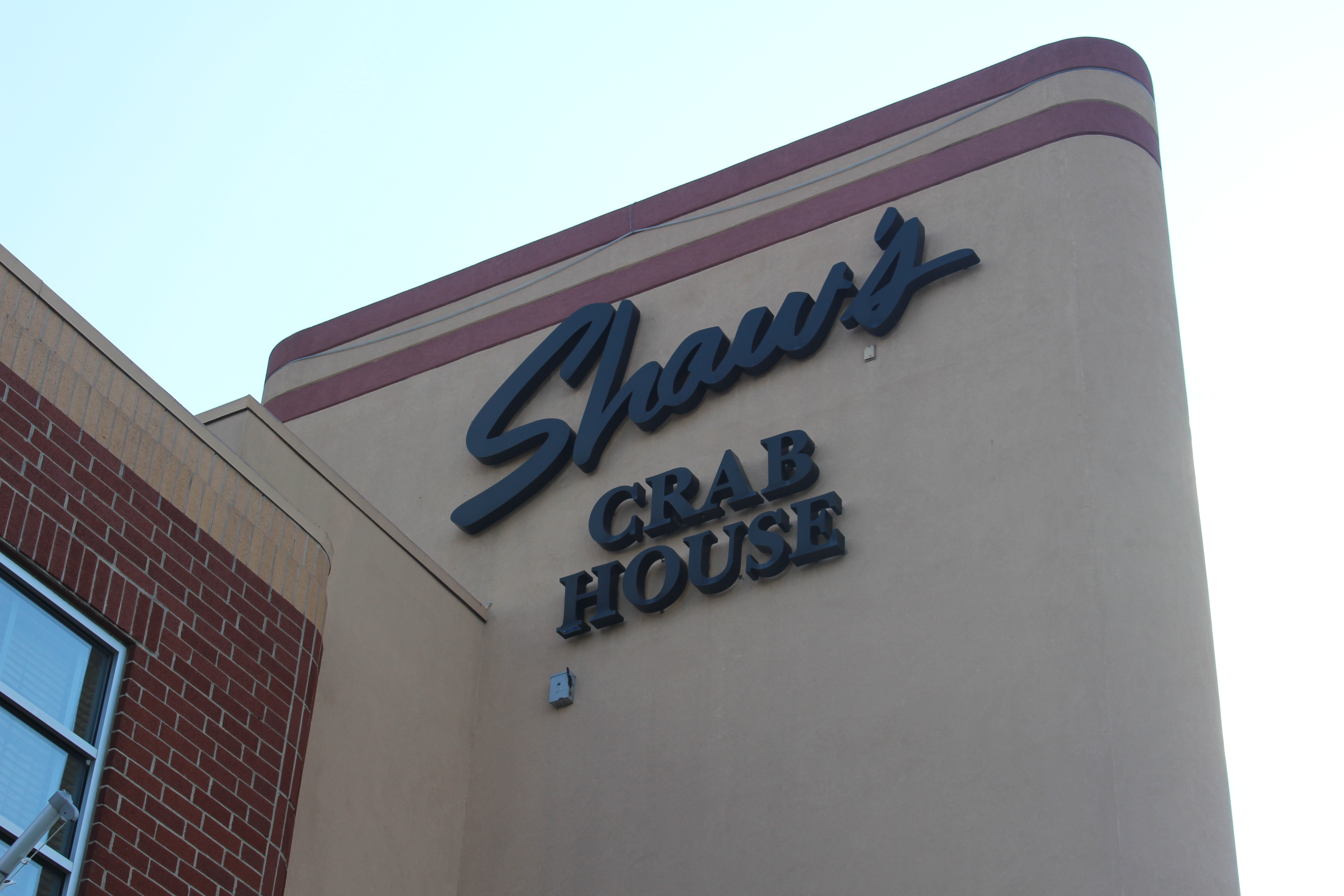 Raindrops on roses and whiskers on kittens.  A grand crab and lobster buffet makes my heartbeat quicken.  A beautiful dining room with servers that don't sing.  These are a few of my favorite things.  (Forgive me, Julie Andrews.)
Shaw's Crab House has been a part of my life for years.  It is one of those restaurants that after I enter, I want to order everything on the menu.  I always have my favorite things (oysters, sushi, lobster bisque and au gratin potatoes) but love to try new dishes too.
So this past weekend, I felt like singing as I was able to eat it all by going to Shaw's Crab House's (Schaumburg, IL) Grand Crab and Lobster Buffet.  The buffet is available on FRIDAYS FROM 5:30-8:30 P.M. & SATURDAYS FROM 5:00-9:00 P.M.  (The lobster option is only available until the end of July but there are enough crab options that you will still leave with a huge smile on your face.)
With the exception of the delicious, creamy lobster bisque, the buffet is set up so you can enjoy your favorite cold seafood favorites first and then move on to the warm dishes.  (And before I could even get started we were served the baked blue crab and artichoke dip!  YUM!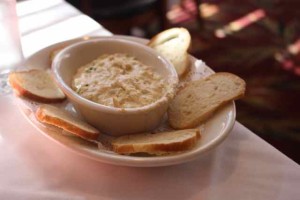 From seafood deviled eggs (my hubby loved these) to sushi to oysters to crab and lobster claws.  You will fill your plate instantly!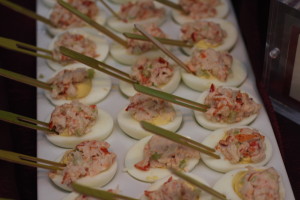 I had to indulge in the 3 sushi roll options of spicy tuna maki, spicy king crab maki and shrimp tempura.   Shaw's is the first place I ever ate sushi so I always feel nostalgic when I eat a roll here.  (Check out the Sushi Classes Shaw's is offering in Chicago this fall on my "Food in the News" page.)
I loved being able to also indulge in the cold lobster claws, empress crab claws and shrimp cocktail.  With cocktail sauce, horseradish, fresh lemon slices and mayo/mustard, I could eat them just the way I like!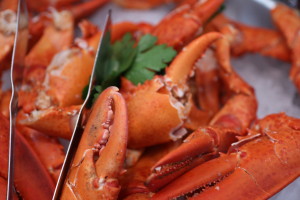 But the one thing I couldn't stop eating were the Malpeque oysters.  They were nice and smooth without too much briny liquor.  I also enjoyed the Pickering Pass oysters too.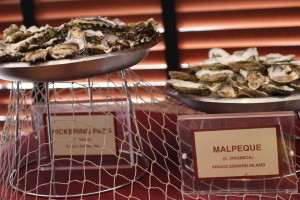 After taking a breath, I started eating the "hot options."  My first decision was which of the 3 types (Alaskan King, Snow or Dungeness) of crab legs should I eat.  I took one for the team and ate all of them.  My husband and I couldn't get over how sweet the Snow crab legs were and ate plenty.  And after seeing the Alaskan King crab legs, I know I don't ever want to run into one of these babies in person.  They were HUGE!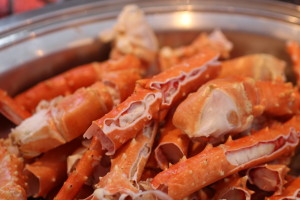 The big highlight for me was the 1-pound whole Maine lobster!  Chef Chris was a doll and picked out a beauty for me to eat.  (I was nice and shared it with my husband.)  I had only had a whole lobster once before and appreciated the refresher course and instruction from Chris.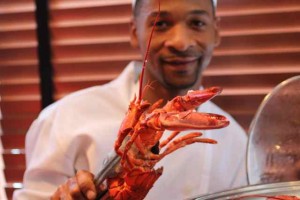 Other options were New England lobster rolls, fried shrimp and crab cakes.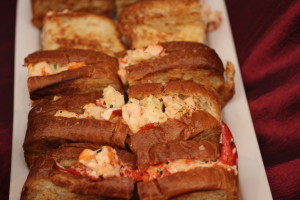 And if you are dining with friends who need a little more "turf" than surf, Shaw's Crab House had some of the best roasted beef tenderloin I've ever tasted.  It truly melted in my mouth.  (There also was some chicken available but the saying surf and coop has never caught on.)
The side options that can't be overlooked would be the terrific array of salads (Chopped, Greek and Tomato Mozzarella), creamed spinach, steamed green beans and au gratin potatoes.   (I literally said YAY when I saw my potatoes!)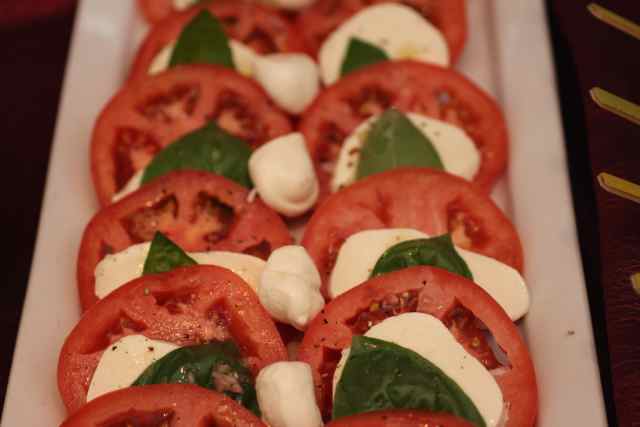 I don't know if you would consider this a side but make sure you get a generous scoop of the lobster and brie cavatappi pasta!  It is a must try dish.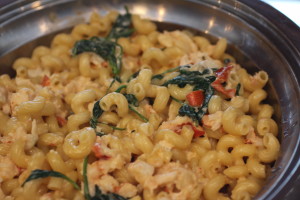 And in case you need to end your meal with a sweet note, we had plenty of choices at the Sweet Table.  Mini-versions of Shaw's awesome desserts included Key lime pies, raspberry pie, chocolate cupcakes, red velvet cupcakes, peanut butter cookies, carrot cake, strata, crème brûlée and chocolate covered strawberries.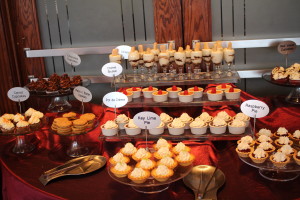 The crème brûlée and a peanut butter cookie were enough for me to sit back and sigh and the terrific feast that just passed my lips.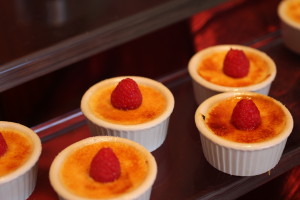 Since we don't live in Illinois, Shaw's Crab House's Grand Crab and Lobster Buffet was truly a great dinner option because it allowed us a little bit of everything.  (Menu options may change periodically.)  When you decide to go for dinner (notice that I said when and not if), make sure you call 847-517-2722 to make your reservations.
Thank you to everyone at Shaw's Crab House for such a nice evening.  The food was delicious and the service was sensational.  (I loved how efficiently our cute little shell pots were emptied.)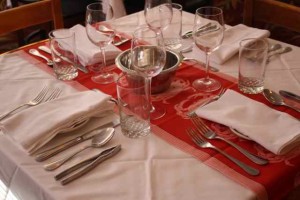 Every time I hear the song "My Favorite Things", my mind will go back to this spectacular experience.