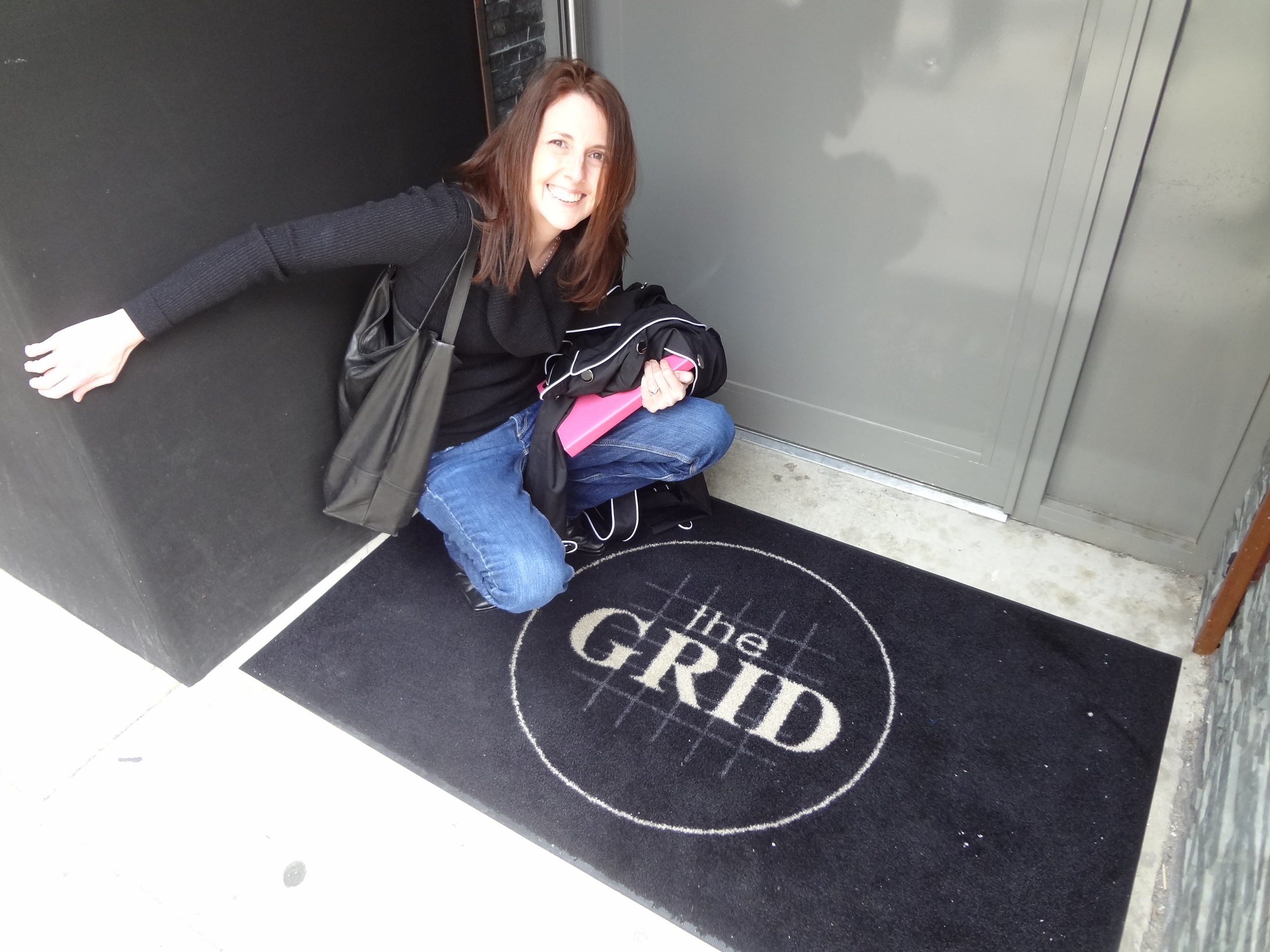 Last week for my birthday, I received a wonderful gift.  A magic wand!  My wand, like most cool magical items, had a list of rules and regulations.  (I hate magic wand red tape.)  One rule was that I could only use one wish a month.  (It did not say anything about rollover wishes so I would need to wish wisely.)
As I tested my wand with twirls and whirls, my husband was watching the Cubs game.  Without thinking, I wished out loud "I wish we could watch this game in a chef driven sports bar and not in our living room."  (After the game, I realized I should have wished for a "W" for my Cubbies!)
Next thing I know, we were transported to The Grid (351 West Hubbard, Chicago).  We passed through the silver door (just to the right of Baume and Brix entrance) and I knew immediately that this sports bar was a wish come true.
Starting with the overall warm atmosphere, I was immediately impressed.  The open space had plenty of communal tables with super comfy stools.  In addition, there were multiple magical floating fireplaces that were cupped around luxurious leather booths.  (Perfect place to hang out with friends and watch the game on one of the many televisions.)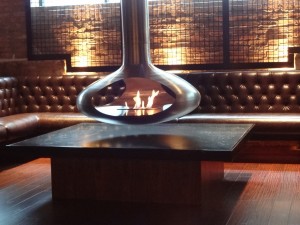 But the true enchantment began when I looked at the innovative menu designed by partners Chef Thomas Elliott Bowman and Chef Ben Roche.  (I also have to give a shout-out to Chef De Cuisine, Nate Park!)  It was a true representation of the passion the chefs have had for food their entire lives. 
What did we (my hubby joined me) eat, you ask? 
The first "BITE" that entranced us was the Arancini.  The combination of the crispy fried balls on sweet, roasty tasting eggplant caponata was amazing.  The Kumato tomatoes were especially delicious and contained the sweetness of a sundried tomato.  I will admit that I wanted to lick the plate clean.  (This is not socially acceptable even if you do have magic wand.)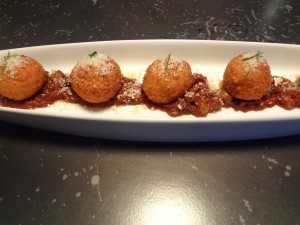 And you can't go into a sports bar (chef driven or not) without indulging in some wings.  The Grid's butter poached drummettes were a joy to behold or should I say hold since each one is frenched so you have that built in handle.  We really enjoyed the meaty, fall off the bone tenderness of the Pad Thai wings.  (I am also eager to try the honey buffalo and ranch.)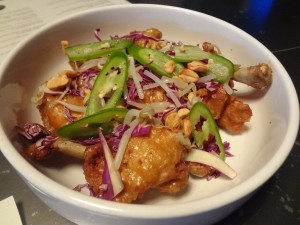 Next, I was captivated by the "JARS."  Five incredible creative dips (Pimento, Flageolet Beans, Babaganoush, Crab and Tuna Poke) all accompanied by their own special bread/cracker/chip served in a …..JAR!!!  I loved this visually ALMOST as much as I loved eating it!  We had the Tuna Poke (Prawn crackers) that consisted of fresh tuna, spicy lemon and ginger.  The nectar of the poke "juice" was an exhibition of how to evenhandedly take a beautiful ingredient (tuna) and enhance it.
Moving on to our "EATS", we had a hard time deciding.  (Thank goodness, GM Manny gave us wonderful suggestions.)  We stuck to Grid favorites like the Grid Cheese (Texas Toast, Butterkase and White Cheddar with a side of Revolution Anti Hero Beer Cheese Soup) and Grid Burger (Bacon BBQ sauce, crispy shallots, pickles and umami mayo.)  I'm not 100% sure what was in the bacon BBQ but that did require my fingers to be licked!!!  (Sorry, social police, arrest me.)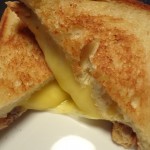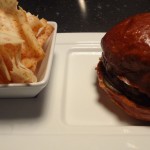 But the two items that made me squiggle in my seat with joy were the Mortadella Sandwich and Foie Dog.  The Mortadella Sandwich was another example of allowing the star component to speak for itself.  The Mortadella had a lively bite to it like a rogue salami or bologna.  (If you have never tasted Mortadella before, this is the place to taste it.)  The simple additions of provolone, tomato, mayo and mustard made the warm sandwich a delight. The malanga chips were a first for me and reminded me of a cross between a yam chip and potato chip.  (I also had some fries, which were seasoned with salt and love.)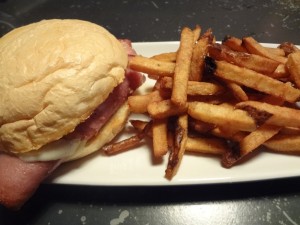 But the dream dish that I would use a year full of wishes on was the Foie Dog!!!  A sausage made with Foie Gras topped with caramelized onions, Laura Chenel Goat Cheese, candied apricot and truffle mayo.  This was SPECTACULAR!!!!  It was a balancing act of the taste buds.  The truffle mayo was flawlessly blended and a perfect compliment to the subtly decadent ode to the hot dog.  (I shared this with my hubby…next time I won't be so generous!)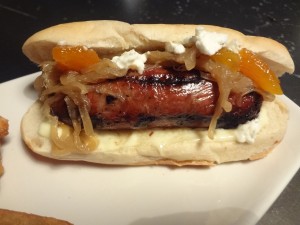 For the folks who need their GREENS, there are plenty of salad options (Spinach, Betty, and Baby Kale) to keep you happy.  We enjoyed the Beet and Goat Cheese Salad but I will confess that I was poking around to eat ALL of the grapefruit and Laura Chenel Goat Cheese.  I loved the fusion of the creamy cheese and acidic fruit.  (FUN FACT:  Laura Chenel is the first American commercial goat cheese producer and helped make the cheese popular in our country.)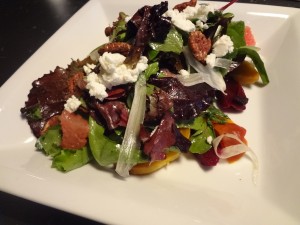 Room for some SWEETS?  A play on traditional tiramisu, Tiramisu Dip (in a jar) was an inventive new way to experience an old favorite.  With crunchy ladyfingers, layers of mascarpone cream and espresso ganache were easily scooped up.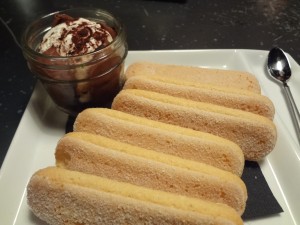 My husband was in heaven when we were served a plate of chocolate chip cookies and vanilla bean milk.  Between watching the Cubs game over my shoulder and dunking his cookie in milk, I don't think I even needed to be in the room!!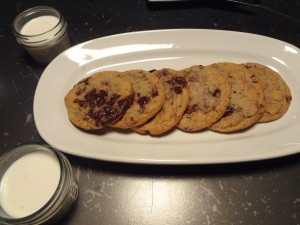 Finally, one of the items that showcased the chef's backgrounds and expertise in savory and sweet was the Avocado Cheesecake.  I am not a dessert eater but I would save room for this harmonious jar of joy.  Cheesecake topped with the most unique avocado-pineapple mix.  The candied corn chips were the perfect vehicle to deliver each bite to my mouth.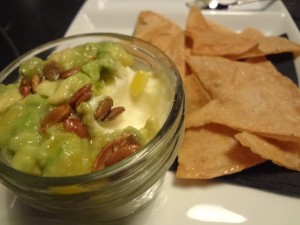 The Grid had plenty to offer in cocktails, wine and beer including a couple of unique shots called the Dickel Pickle and Cinnamon Toast Crunch.  They offer a great Social Hour menu Monday thru Thursday with selected menu items (denoted with 351.) offered at half-off.
From the bottom of my heart, I sincerely enjoyed every second I spent at The Grid.  Easily found on the vast Cartesian coordinate system known as Chicago, I feel The Grid puts chef driven sports bars on the map.  The inviting atmosphere, phenomenal team and food truly showcased the talents of all of the chefs.  (Chef Bowman gave me a personal tour, which solidified my goal to eat at Baume and Brix in the near future!  I can't wait to talk to Chef Roche and Chef Park!)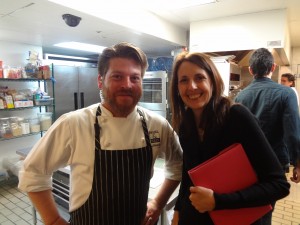 Thank you to everyone at The Grid for the amazing food, custom mocktail (Thanks AJ) and astonishing hospitality (Manny, you are GREAT!).  I would wave my magic wand all over again just to relive this wonderful night!