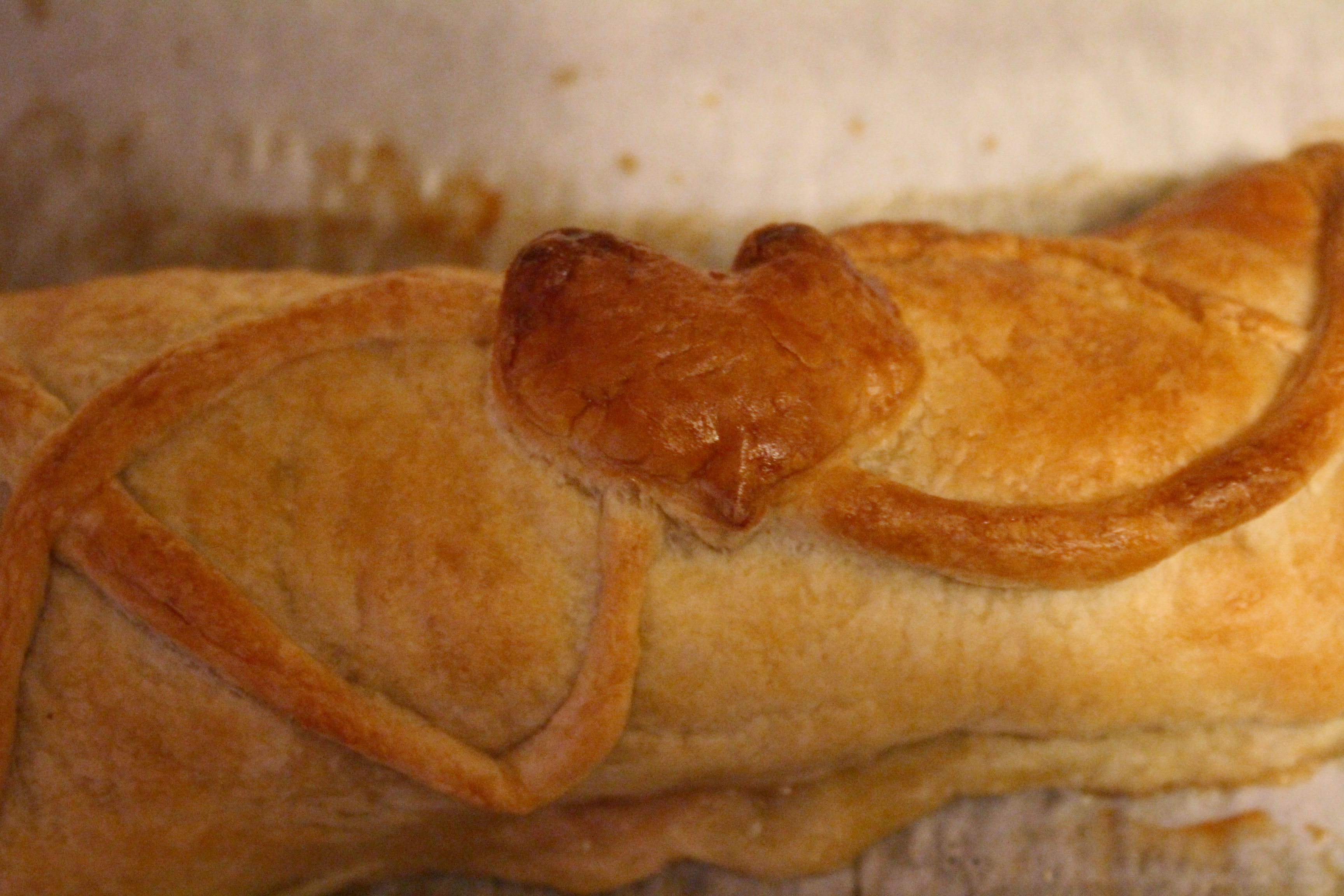 I think the cold meds are getting to me. I was in the kitchen this week making Pork Wellington for Earl's belated Valentine's dinner when I channeled Beyoncé.
If you don't know who Beyoncé is she is a popular pop/R&B singer. She is tall, amazingly beautiful and African American. She can shake her body in ways that defy all science and gravity. She can dance and pop her booty like her hips are mechanical. And the woman can siiiiing!!
You are probably thinking right now "Barb is it is like you guys are sisters from a different mister!" I hear that all the time! We are almost identical down to the long legs…and the uh..the….well that is about it.
So back to the story….I'm starting to make dinner and I really needed to get my energy pumping. I scrolled down on my IPOD and turned up Miss Beyoncé. I had my "Halo" on and "Put a Ring On it" going as I was browning my meat. I was "Irreplaceable" and "Flawless" as I rolled out my puff pastry. But I went hog wild when "Bootylicious" started going.
I had my spatula microphone in my hand, I twirled my hair all over the place (which really isn't recommended when you are cooking food) and got on my tip toes so I could feel like I was in high heels. I started using my hips to close cabinets so I had a good dance space and started singing…..
Honey, can you handle this?
Crazy Eyes, can you handle this?
Readers, can you handle this?
I don't think they can handle this!
Barely move, I'm sick
Lookin gross, gonna die
Saddest chick, insides ick
What to make for dinner tonight?
Spotted me a tender loin
There you are, come on
Don't you wanna eat with me
Can you handle, handle me
I gotta get much better if I'm gonna cook for you tonight
I gotta work my welly if I'm gonna cook for you tonight
Read my lips carefully if you like what you see
Pork, fork, uncork so you can eat with me
By my looks I got you shook up and scared of me
Tie on your feedbag, it's time to dig in
I don't think you ready for this welly
I don't think you ready for this welly
I don't think you ready for this
Cause my dinner's too delicious for ya babe
By the time my song was over, my wellingtons were rolled up, decorated and ready for the oven. When Hubby got home from work, I was still singing "I don't think you ready for my welly" and shaking my bacon. He knows I'm no Beyoncé but then again she is no me (in the kitchen).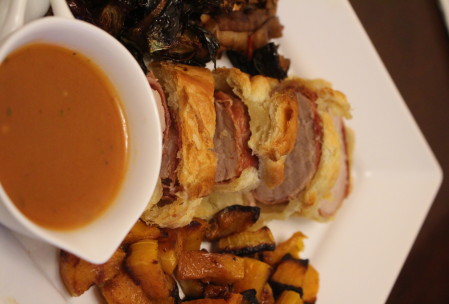 Pork Wellington
Author:
Ingredients
Pork Wellingtons
1 Pork Tenderloin
4 ounces prosciutto
1 sheet thawed puff pastry
olive oil
1 egg beaten with 1 Tb water
Gravy
1 Tb butter
1/2 cup each chopped onion, carrot and celery
1 Tb tomato sauce
1/4 cup apple juice
1/4 white wine
3 cups vegetable broth
2 Tb water and 2 tsp cornstarch mixed
1 Tb Onion jelly
1 Tb Truffle butter (or regular butter)
1 tsp thyme
Instructions
Wrap tenderloin in prosciutto.
Heat olive oil over medium high heat in a large skillet.
Brown tenderloins on each side. (I don't like them too brown.)
Chill.
Roll pastry so that it is long enough to wrap the tenderloin like a package. You will have some extra but you can use that for design.
Wrap up the pork and place it on a parchment lined baking sheet.
Brush with egg/water mix
Decorate.
Cover and chill.
Oven at 400 bake for 30-35 minutes.
Make the gravy while they are cooking.
Saute the veggies in olive oil until soft.
Add tomato paste and cook another minute or so.
Deglaze with apple juice and wine.
Simmer to reduce.
Add vegetable broth and simmer another 10 minutes.
Strain out the veggies.
Return to a clean pot and bring to a boil.
Whisk in cornstarch mixture.
Finish with jelly, butter and thyme.
Taste for seasoning and add salt and pepper if necessary.
Serve either on cut up wellingtons or on the side.