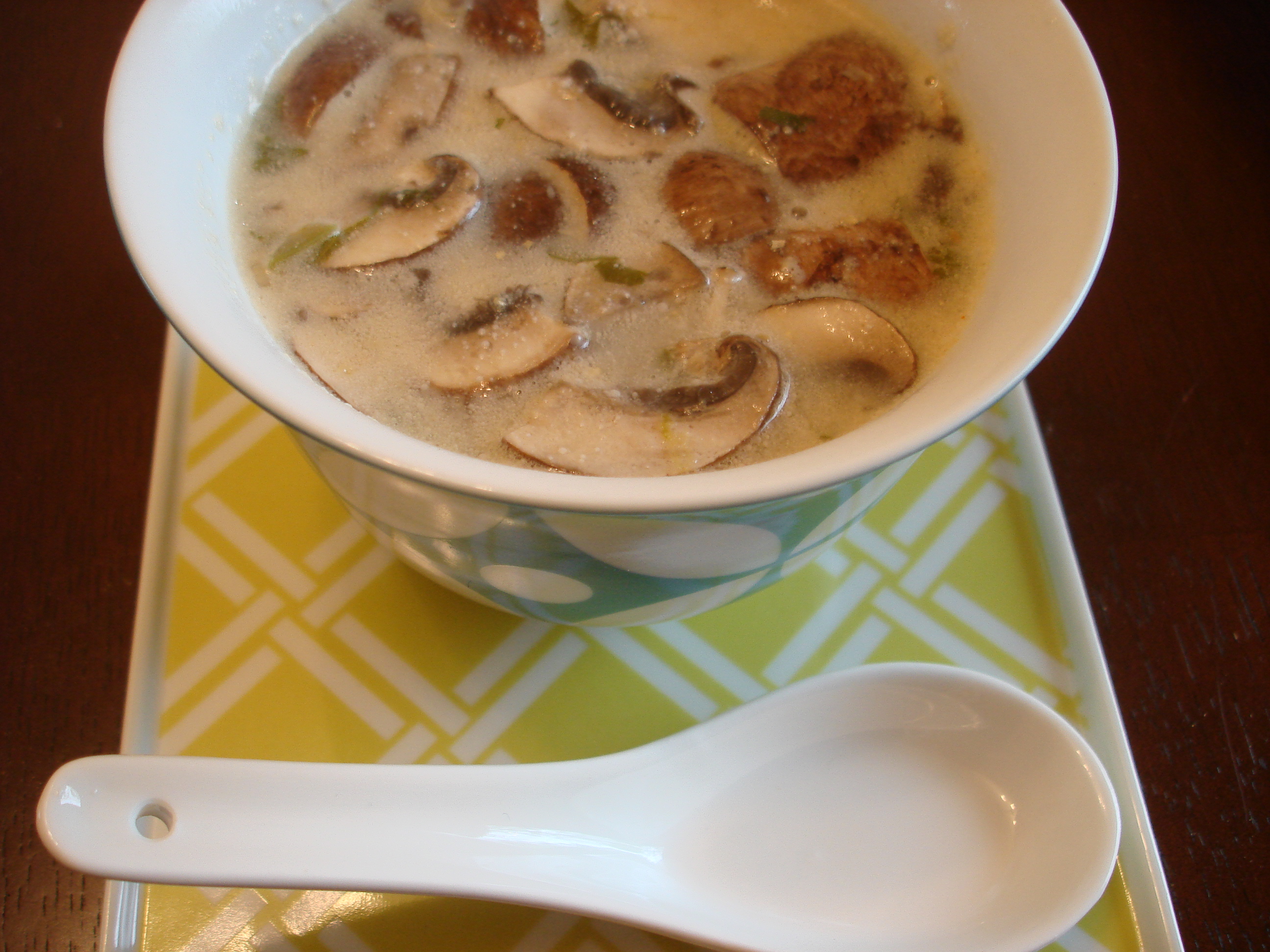 A few years ago, I took a class on Thai cooking.  My main goal was to come out of the class with a masterful knowledge of Pad Thai, my favorite dish.  We don't have anything close to Thai food in my small town and I really wanted to know how to satisfy my cravings.
The other items on the class schedule were really of no interest to me especially the Tom Kha Gai (chicken galangal soup.) It is a coconut base soup.  I'm not a fan of coconut.  I think it was because Gilligan's Island made it look very unappetizing to me.   (No offense, Mary Ann.)
Since I know that I need to try new things, I decided to eat a bowl of the soup that we created in the class.  I was shocked at how good it was.  It first grabbed me because it was incredibly aromatic.  I don't know how to describe it but to say it was mildly floral.  When I took my first bite, it had a mixture of sweet and hot.
I am not ashamed to admit, I went back for seconds!!!  Since that class, I have tweaked the recipe to suit my small town supplies.  I can't get some of the authentic Thai ingredients but I can make it taste like I have them!
Author:
Ingredients
3 cups chicken broth
1 Tbsp. Minced ginger
1 stalk lemongrass, bruised and cut into 2" lengths (I have also found that a tablespoon of the jarred, chopped lemon grass tastes quite good in this recipe)
Zest of one lime
2 cans lite coconut milk
1/2 pound sliced button mushrooms
1/2 pound chicken, pounded and cut into thin strips
1/2 Tbsp. Sambal
2 ½ Tbsp. Brown sugar
3 Tbsp. Fish sauce
1/4 cup lime juice
1 jalapeno, small dice
1/4 cup cilantro leaves
Lime slices for garnish
Instructions
Combine broth, ginger, lemongrass and lime zest in a heavy soup pot and bring to a slow boil.
Reduce heat and allow to simmer 5 minutes.
Add coconut milk and return to simmer
Mix sambal, lime juice, sugar and fish sauce in a small bowl.
Add mushrooms and sambal mixture
Taste to correct seasoning. If bland, add more fish sauce.
Five minutes before season add chicken to simmering soup. (Simmer until chicken is cooked through)
Serve with jalapeno, cilantro and sliced lime.
Notes
I freeze my chicken and then cut it into thin strips. It comes out beautifully.
If you are afraid of a spicy heat, slowly add the sambal and keep tasting. Always add a smidge less than you think you want because it will taste hotter after it sits.
The bad news with my Thai class is that I still can't make an authentic Pad Thai.  The good news is it is a great introduction into the wonderful flavor of coconut milk without the three-hour tour!