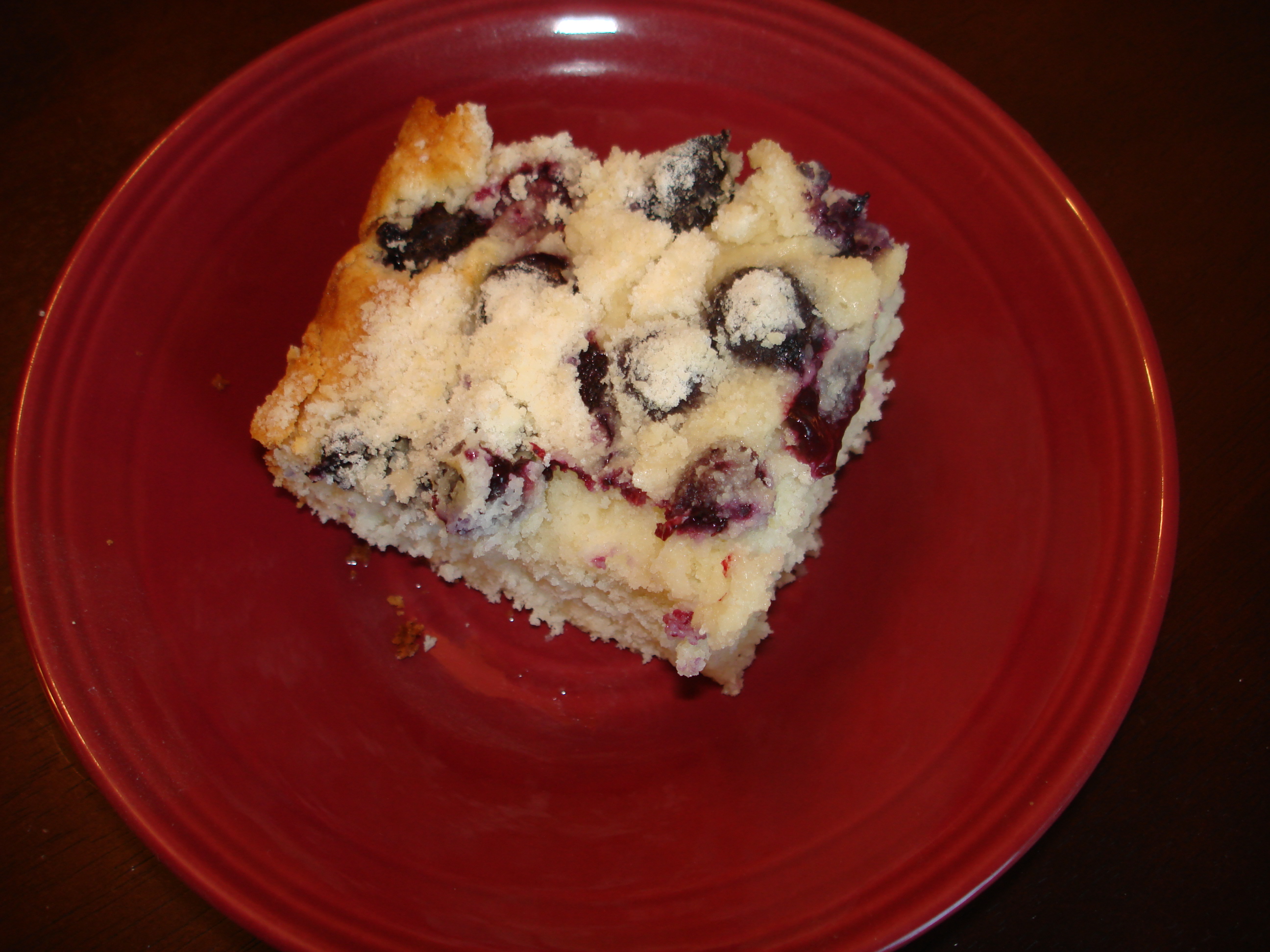 Did your mom ever make a recipe that you didn't care for as a kid but now as an adult you are kicking yourself for not eating it?  The dish that always comes to mind for me is my mom's blueberry coffee cake.
It really was a silly thing to dislike.  It was cake for goodness sake!  I just couldn't get past those stinkin' little blue balls.  I think I watched Willy Wonka and the Chocolate Factory one too many times and was afraid I would turn violet if I ate too many of them.  (The thought of having to be juiced still frightens me.)
The only thing that intrigued me about the recipe was the name "Blueberry Boy Bait."  I tried to picture my mom in her younger days reeling in the boys with her coffeecake!  Whatever works, right?
Well over the years, I would slowly try one of two more bites that included berries.  I started to realize there was a delightful contrast between the sweet cake and the mild tartness of the blueberry.
It has become the staple dessert I make on Fourth of July weekend and I am grateful that my mom kept encouraging me to eat it.
Author:
Ingredients
2 cups flour
1 ½ cups sugar
2/3 cup butter
2 tsp. baking powder
1 tsp salt
2 egg yolks
2 egg whites
1 cup milk
1-pint blueberries
Instructions
In a large food processor (or by hand), mix flour and sugar.
Let the processor cut in the butter until you have a crumble topping.
Set aside about ¾ cup of the topping.
Add the baking powder and salt.
Add milk and egg yolks.
In a separate bowl, beat the egg whites until they are stiff.
Fold both mixtures together.
Poor into lightly greased 9" x 13" pan.
Gingerly place blueberries on the top and sprinkle with topping that was set aside.
Bake at 350 degrees for 45 minutes (or done in the middle).
The nice thing about this recipe is that it can be a breakfast coffeecake or a BBQ dessert.  It is quite flexible as far as baked goods go.
I don't know if I ever made it for my husband before we married but I know it is one of his summer favorites.