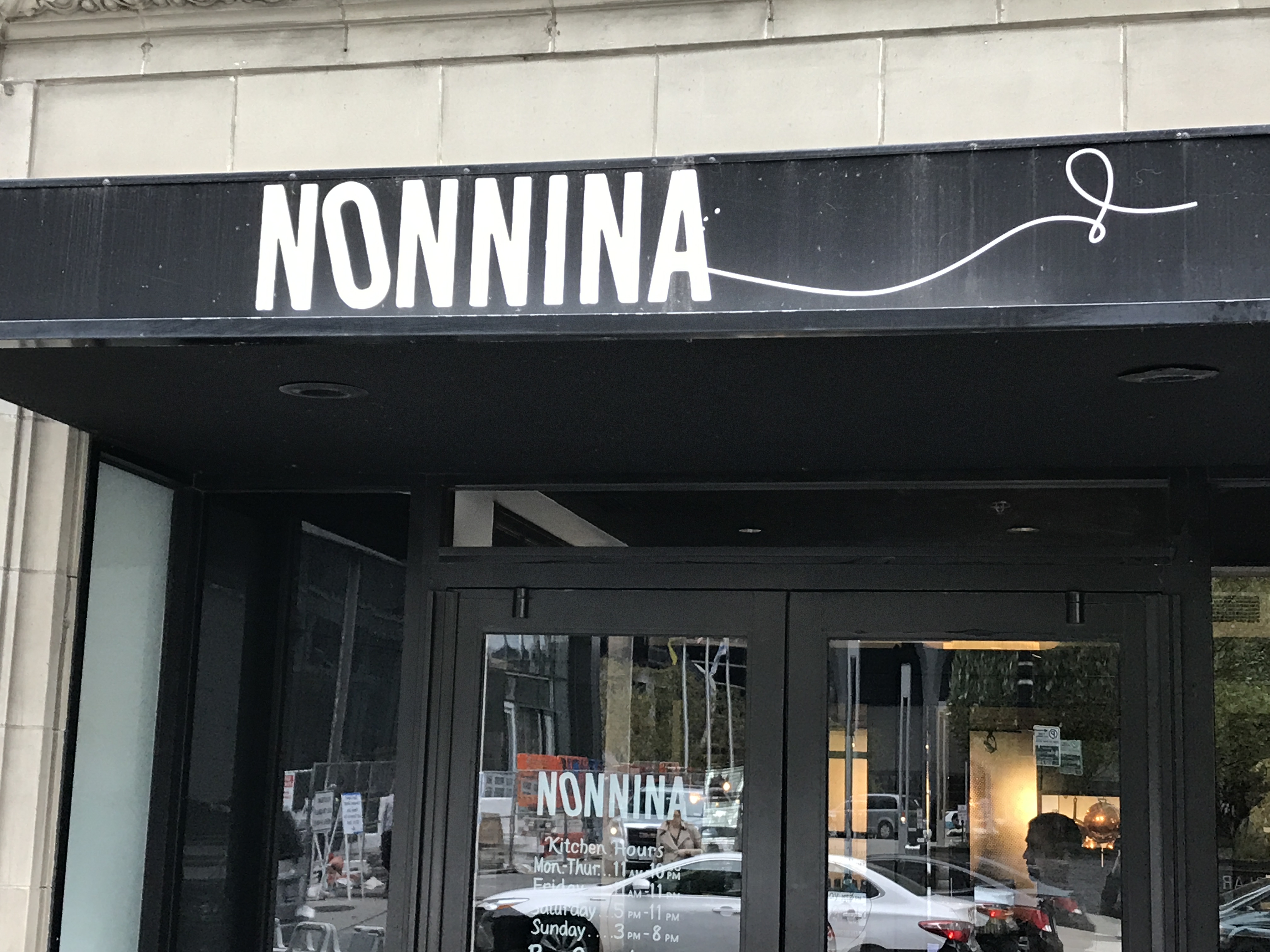 The doors open and greetings commence.  Whether it is a boisterous hello, a firm handshake or maybe pulling each other in for a hug, it says a lot about an experience if you feel welcome the minute you cross the threshold.  (Think of the feeling you have/had each time you went to you grandma's house during the holidays.)
As I sat this week waiting for the rest of my party to arrive at Nonnina (340 N. Clark, Chicago, IL), I watched the staff address each guest. It seemed they knew everyone and those they didn't know were welcomed like they were old friends.  There was an energy in the air that can only be explained if you have firm Italian roots.
Nonnina honors the timeless cooking techniques, recipes an atmosphere of the "nonnas" (Italian Grandmothers) who influenced partners Tony Priolo, Ciro Longobardo and Ricardo Brizuela growing up.  From the copper pots hanging in the kitchen to the delicate floral bread plates, the gigantic photograph of their grandmothers tells us we are about to eat a meal that is filled with love, Italian heritage and respect for everything Italian cooking is all about.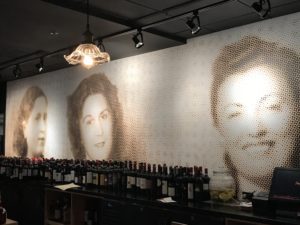 We started with Burrata. The burrata itself was amazing with its firm outer shell or pouch made from fresh mozzarella.  The inside of the burrata "pouch" was like silk and spread like butter.   (I think I heard angels sing when I sliced into it.)  Served with stewed sweet peppers, salty capers and crostini drizzled with olive oil and aged rich thick balsamic, it is a remarkable way to start a meal.
Our other antipasti was Cauliflower Arrosto.  I learned a couple things from this dish…arrosto means roast in Italian and there is nothing better than roasted cauliflower….except roasted cauliflower coated in Calabrian chili peppers, lemons and capers.  I love spice, I love cauliflower and I just loved this dish.  I don't normally pair the words Italian with Spicy but it made me want to explore more dishes that highlight Italian hot peppers.  (Geography fun fact…Calabria is in southern Italy in the toe part of the boot…in case this comes up in Jeopardy.)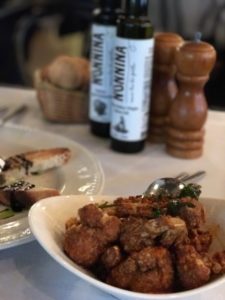 We also indulged in a Mushroom and Prosciutto Pizza.  Indulged…because we were ordering other entrees BUT Chef Priolo makes such good pizza, I couldn't leave without one.  It had sweet tomato basil sauce and earthy mushrooms on top of a crust that has a little chew but it isn't heavy.  ("00" flour I believe.)  Topped with the BEST Prosciutto di Parma and fior di latte (which is an artisanal cow's milk mozzarella with a higher moisture content and smooth meltability), it is one of my guilty pleasures.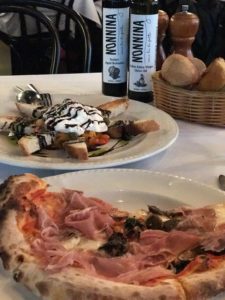 The pasta special was house made ravioli stuffed with local butternut squash and ricotta and tossed with nutty brown butter, crispy sage leaves and walnuts.  And you know another reason why being Italian is great?  There was a slight crumble of amaretti cookies on top!!  The entire dish screamed fall without being "basic."  (And FYI….all pasta is made in house and can be made gluten-free…or ordered as an appetizer portion.)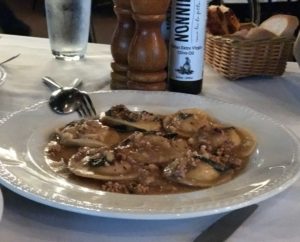 Finally, it was time for dessert but instead we had….Eggplant Parmigiana.  If you grew up with an Italian grandmother there is an appreciation for eggplant parm that compares to no other so I was willing to skip dessert!
Nonnina makes their eggplant parm with thin but not too thin slices of eggplant and then really allows the flavor to shine by not putting on too much breading and just enough tomato sauce to add a little sweetness to vegetable but not so it is drowning.  The parmigiano cheese adds a little fattiness to the meatless dish so it is satisfying on so many levels.  It is exactly the way I like it.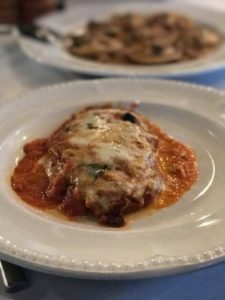 There was absolutely no room left for any of Nonnina's delicious desserts ( but next time I'll save some space.  (Plus my husband LOVES Nonnina's desserts…and if I would have eaten one without him…he would have been sad.)
Don't forget to check out Nonnina's wine list, cocktails and Happy Hour specials.
If you don't have time to sit in the beautiful dining room, Nonnina TO-Go has a counter service "grab and go" spot right next door….it has a great array of sandwiches, salads, pizza and desserts.   (It could be like if your Grandma sent you home with food minus the plastic containers you have to return next time you come over!)
There is something about growing up in an Italian family or with Italian relatives.  There is an unbreakable bond with those roots or in this case the apron strings of our grandmothers.  It is great that Chicago has an Italian restaurant that can make anyone feel like they are part of that history.