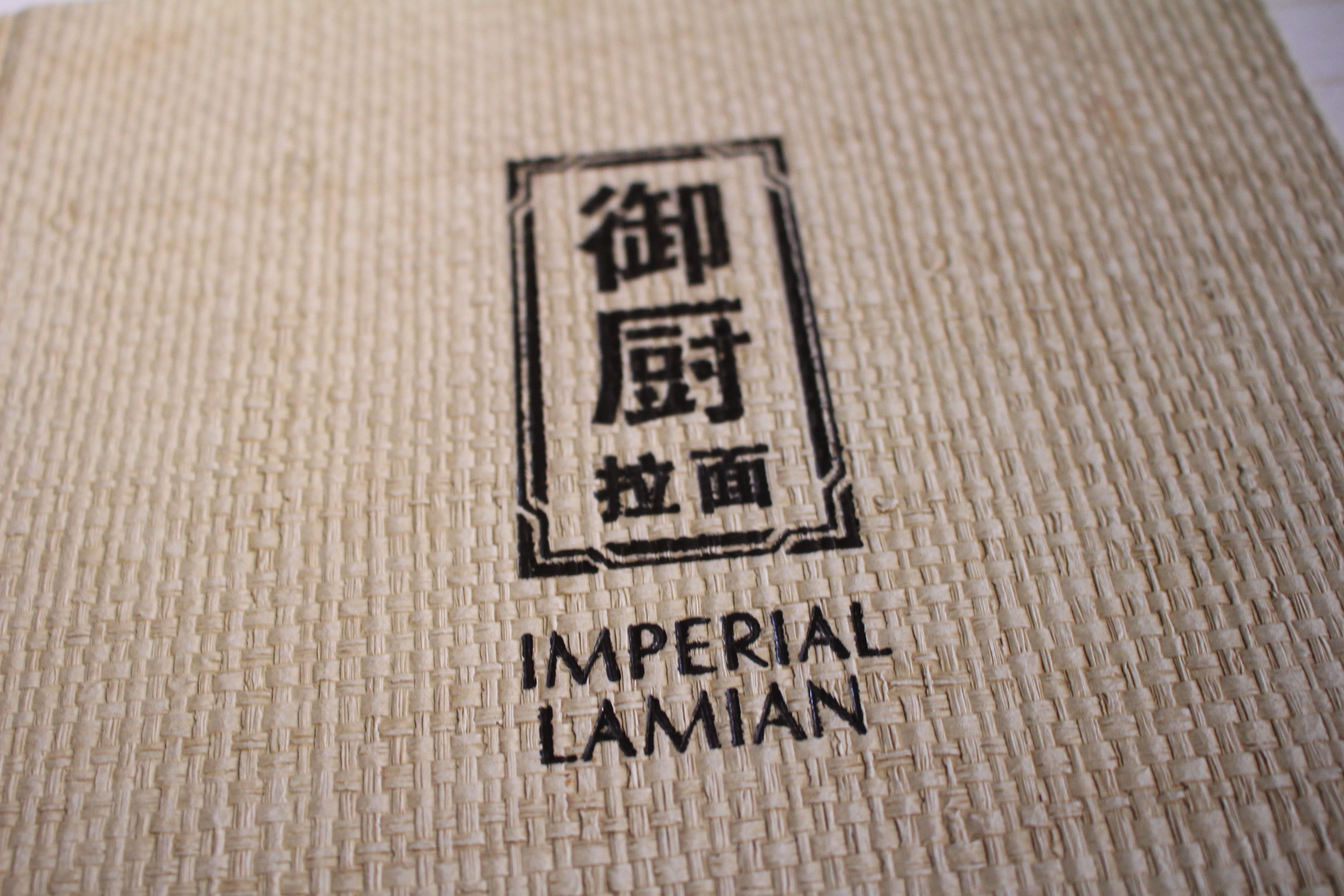 WARNING: I AM ABOUT TO MAKE YOU REALLY HUNGRY. DO NOT STOP. GO DIRECTLY TO IMPERIAL LAMIAN TO SATISFY YOUR HUNGER.
I'm not sure of the exact timeframe but last year I started stalking a restaurant before it even opened. I started noticing their posts on social media and each one was better than the last.
They would show these pictures and videos that just made my mouth water and my stomach grumble with hunger. I anxiously awaited their opening and am happy to say I FINALLY got myself to the city last week to try Imperial Lamian (6 W Hubbard St., Chicago, IL)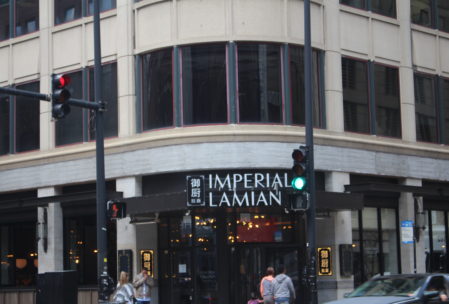 The buzz for Imperial Lamian was huge because the Imperial Group is HUGELY popular in Indonesia (24 restaurants) and this was their first foray in the United States….and they chose CHICAGO!!!!!!!! (Sorry, I got excited again!)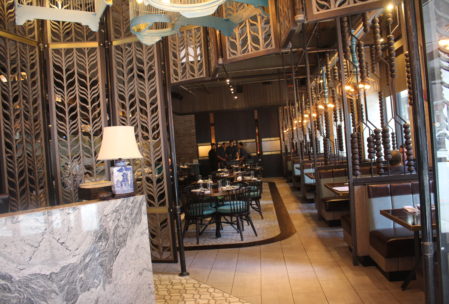 The big hook was that they were going to offer truly authentic Chinese food. I've never been to China so I can't give you an honest opinion on what is authentic or not but I'll tell you what….I've never tasted food like this before.
Open for lunch and dinner (click here for their hours), the menu has everything on it from Starters to Dim Sum to Classic Wok Fried Dishes to the can't be missed Lamian (pulled noodles, check out this video on YouTube of how these noodles are made.  It is pull and slap method that produces strands of noodles!!!!). Dishes are meant to be shared like a traditional Chinese family meal. If you are dining alone at lunch, you can order one of the 5 lunch set options and still have the full Imperial Lamian experience.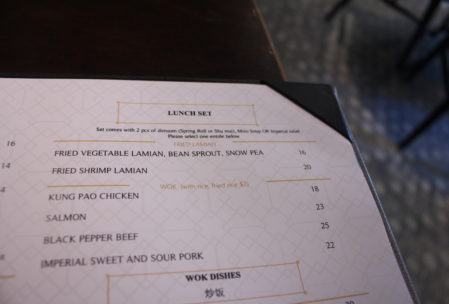 I had the joy of going for lunch but luckily I was with someone who was game for trying a lot of dishes!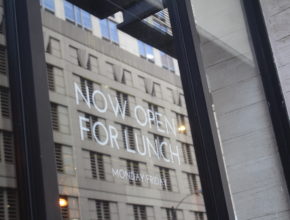 So we started with a…um….Starter.  We tried the seared turnip. Now before all my picky eater friends stop reading, I was a little scared to try this dish. My past experiences with turnips were that they were a  little too "earthy" for my taste buds.  (But you know the saying "when in Rome"….in this case not really Rome but Chicago…you try new things!)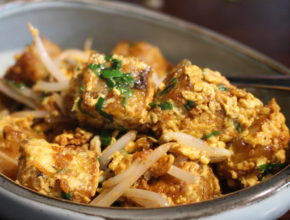 This seared turnip is made with XO sauce, egg and bean sprouts. You've heard of magic mushrooms…..I think this was a magic turnip. It reminded me of a tender piece of tofu in pad Thai (yes, I know that is Thai and not Chinese but most folks have tried pad Thai before and will get the comparison.) Between the delicate texture of the turnip and flavorful chilies in the XO sauce, I was in shock at how scrumptious this dish tasted. (XO sauce is a popular sauce in southern China made with dried seafood, chili peppers, onions and garlic.)
Next, we enjoyed the Crispy Duck Salad. It was a great display of bright green lettuces with thinly sliced shallot, pomegranate seeds and a crispy piece of sliced lotus root. This was really light and fresh tasting. I originally thought it might be heavy because I've never had duck on a salad. Imperial Lamian puts the shredded duck under the greens so they stay crisp and don't get wilty.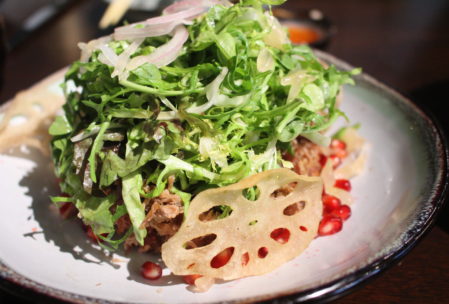 The next two dishes were being launched for Mother's Day weekend but I personally hope they are part of the regular menu. The first dish, the Zhao Ji, made me clap as it came to the table. A dumpling filled with pork, chives, oyster mushrooms, shallots and spring onion was steamed but then they finish it off with an intricate rice flour batter in the pan, which then is browned up attached to the dumpling as they fry it at the end. It looked like dumplings cooked in lace. It was absolutely beautiful (and delicious!!)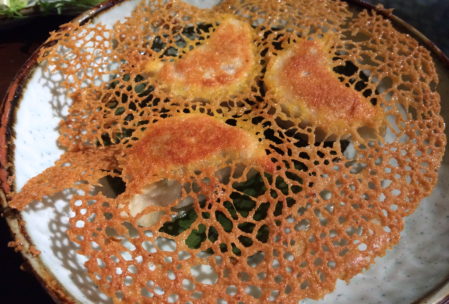 The next one was called Ham Siu Gok (I am hoping I got the name right). It was a dumpling filled with balanced mix of minced pork, mushroom fried in a way that it was crispy on the outside and pillowy soft on the inside. Texturally, it was so unique. I loved the mix of crispy and soft. Plus it tasted both savory and sweet. It truly was an adventure for your mouth. The flavor of the dumpling itself was so good on its own; I hardly wanted to dip it in the chili aioli.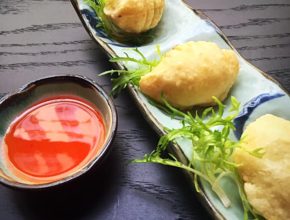 My learning experience of this luncheon included a tutorial on how to eat some dim sum in particular the Shanghai Xiao Long Bao. Known as soup dumplings, these little babies had minced pork and broth packed inside and wrapped up into a bundle. (The broth is congealed in the dumpling. When it is steamed, it becomes a liquid inside the dough. It is an amazing technique!)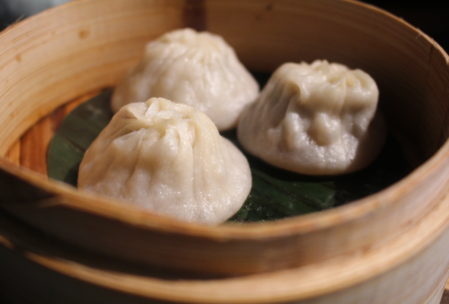 I asked how to eat them and was given some cool instructions so I could enjoy them best. Using the chopsticks, you pick the dumpling up at the top taking care not to squeeze it too hard. You place the dumpling on your soupspoon and poke a little hole in with your chopstick. The broth slowly drizzles out and you can slurp it from your spoon. After all your broth is gone, you can dab your dumpling with a little black vinegar and ginger and pop the whole thing in your mouth. WOW!!!!
Imperial Offers only the pork bao at lunch but has 6 other varieties (crab, duck, truffle, gruyere, pork and Szechwan) at dinnertime. (I want to try them all and would die happy if I didn't have to share any of them!)
Now you can't go to a restaurant named after a noodle without eating some noodles. (Well, you can but that would be downright silly.) The Lamian can be served either in a broth or fried. I had the Minced Pork Lamian, which was a generous mound of fresh Lamian noodles, pork broth, mustard greens and bok choy.  (Do you just say Lamian or do you say Lamian noodles? I can't tell if I am being redundant. I have so much to learn.)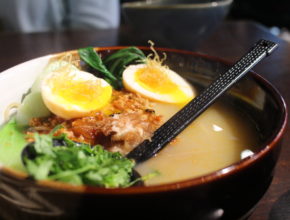 The Lamian is served in a nice big bowl. You grab the noodles with your chopsticks and use the ladle to add some broth to your individual bowls. Don't miss getting an egg on it because it is like icing on a cake. (Maybe they say egg on the Lamian in China?) To me it incorporated my two favorite things….noodles and soup. It was really satisfying and honestly it was the perfect lunch for me.
If you are the kind of person who can't leave a Chinese restaurant without something wok fried, Imperial Lamian has a great list of items that will put a smile on your face with fried rices, poultry, seafood and beef dishes.
I ordered the Black Pepper Beef (mixed peppers, red wine reduction, cracked black peppercorns) and some brown rice. I loved how the pepper seemed to pop on my tongue after I finished each bite. It wasn't a hot pop but one that made you relish the peppery goodness of a perfectly wok fried piece of meat.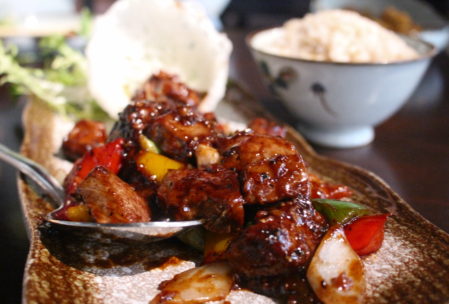 When I left Imperial Lamian, I thought of the quote "Good things come to those who wait." I think this is one of the first restaurants that I just watched intently on social media waiting for it to open. My first visit did not disappoint and it only made me start looking at my calendar for my next trip to the city so I can try more.
Thank you to everyone at Imperial Lamian for making this such an enjoyable learning experience especially to my server, Gerardo. He answered so many questions and was so gracious with his explanations. He truly helped me expand my small town knowledge on how to enjoy this stunning cuisine.