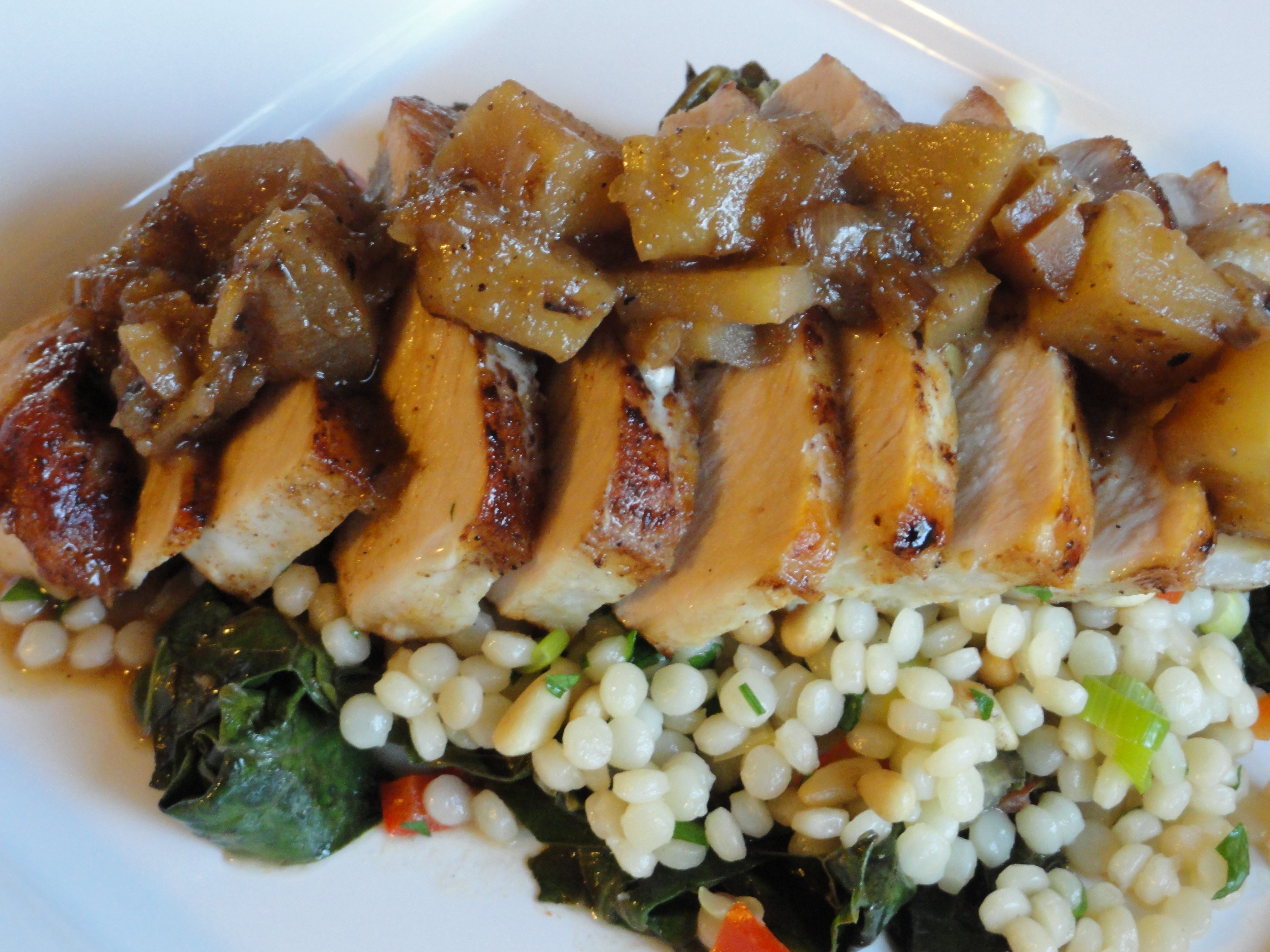 For whatever reason, I've had a really hard time focusing my thoughts today.  Actually, to say I've had thoughts is an exaggeration; my mind has been blank.  I just feel so dull.
Dull, you say?  Yep, like I have no personality.  Whoops, there I go again, living the life of a Brady Bunch character.  (Cue Intro Music) In this case, I'm Peter Brady from Season 3.  (The fact that I know it is from Season 3 is not pathetic, is it?)
One of the top Brady lines ever came from the episode called "Personality Kid."  Peter is called "dull" at a party and at his father's urging he tries to reinvent himself.   (Today's parents would just tell him that he is perfect as is and then go blast the other kid on Facebook.)
The main thing people remember from this episode (besides the awesome Lavender outfit Greg was wearing when he gave Peter a pep talk) is what was on the menu.  Peter does an imitation of Humphrey Bogart and says "Pork Chops and Applesauce."  It is hard to do that line justice on a blog.  You have to imagine a goofy looking kid in the 70's saying it and then you'll be rolling on the floor laughing!  (Okay maybe not that funny.)
Anyhow, I watched that episode and thought that it is apple season; I should make some pork chops and applesauce.  Except there is one problem, I really can't stand the texture of applesauce.  I've never been a fan and couldn't think of a way to write enthusiastically about pureed apples.
My mind really did blank out as I tried to figure out what to make with my pork chops that would do Peter's line justice.  Given the fact that Peter said that line as Bogart, maybe I should honor both of these wise men and cook a Casablanca/Brady Bunch inspired pork and apple dish.   (I might add this may be the first only recipe inspired by that pairing.)
As a foodie, I SHOULD have thought that people in Morocco probably don't eat pork because of their religious beliefs but I didn't. (Honestly, I went for Morocco because I had an abundance of cous cous in my pantry and wanted to use it up as a side dish.  I had NO clue that Casablanca was in Morocco.  Remember, I am geography impaired.) More Brady Music
I made the dish with the thought if a rogue pig was on somebody's land they might still eat it if they were hungry enough.  Yep, let's go with that.  (Okay, I'm not dull, I'm nuts.)
Author:
Ingredients
Moroccan Spice Mix Ingredients (Mix all these ingredients together in a bowl)
1 tsp EACH cumin, ground ginger, paprika, salt, pepper, & paprika
1/2 tsp EACH cinnamon, coriander, clove
1/4 tsp cayenne pepper
Pork Chop and Apple "Sauce" Ingredients
4 boneless pork chops (you can use bone in but times will vary)
1 Tbsp oil
1 Tbsp butter
2 Tbsp Brandy
2 apples (I used Macintosh)
1/4 cup shallots, chopped
1 cup chicken broth
Moroccan Spice Mix
1 Tbsp honey (optional
Instructions
Rub spice mix on both sides of pork chops. (It is about ½ tsp per side)
In a large skillet over medium/high heat, melt butter with the oil.
Sear chops about 4-5 minutes per side until just done. (They will continue to cook as they sit.) Check your temp with a thermometer to be sure.
Remove from pan and keep warm.
In the same pan, add the shallots and cook over medium heat for a few minutes. You want light cartelization but not browning.
Stir in the apples and sauté another 2 minutes.
Deglaze the pan with the Brandy.
Add chicken broth and another teaspoon of the Moroccan mix.
Allow to reduce over medium/high heat.
Taste your sauce. My apples were SUPER tart so I added a little honey to sweeten up the sauce a little.
Remove chops from the warmer, slice and serve with the apple "sauce" over the top.
I've really been trying to expand some of the spice mixtures that I use on a regular basis.  This recipe really allowed me to step out of the box a little bit.  I had some spice mix leftover and I saved it for another day.
I served this over cous cous that was adorned with toasted pine nuts, sautéed red pepper and green onion. And like all quality 70's sitcoms, this recipe can be completed in 30 minutes!  I'm not so dull after all!