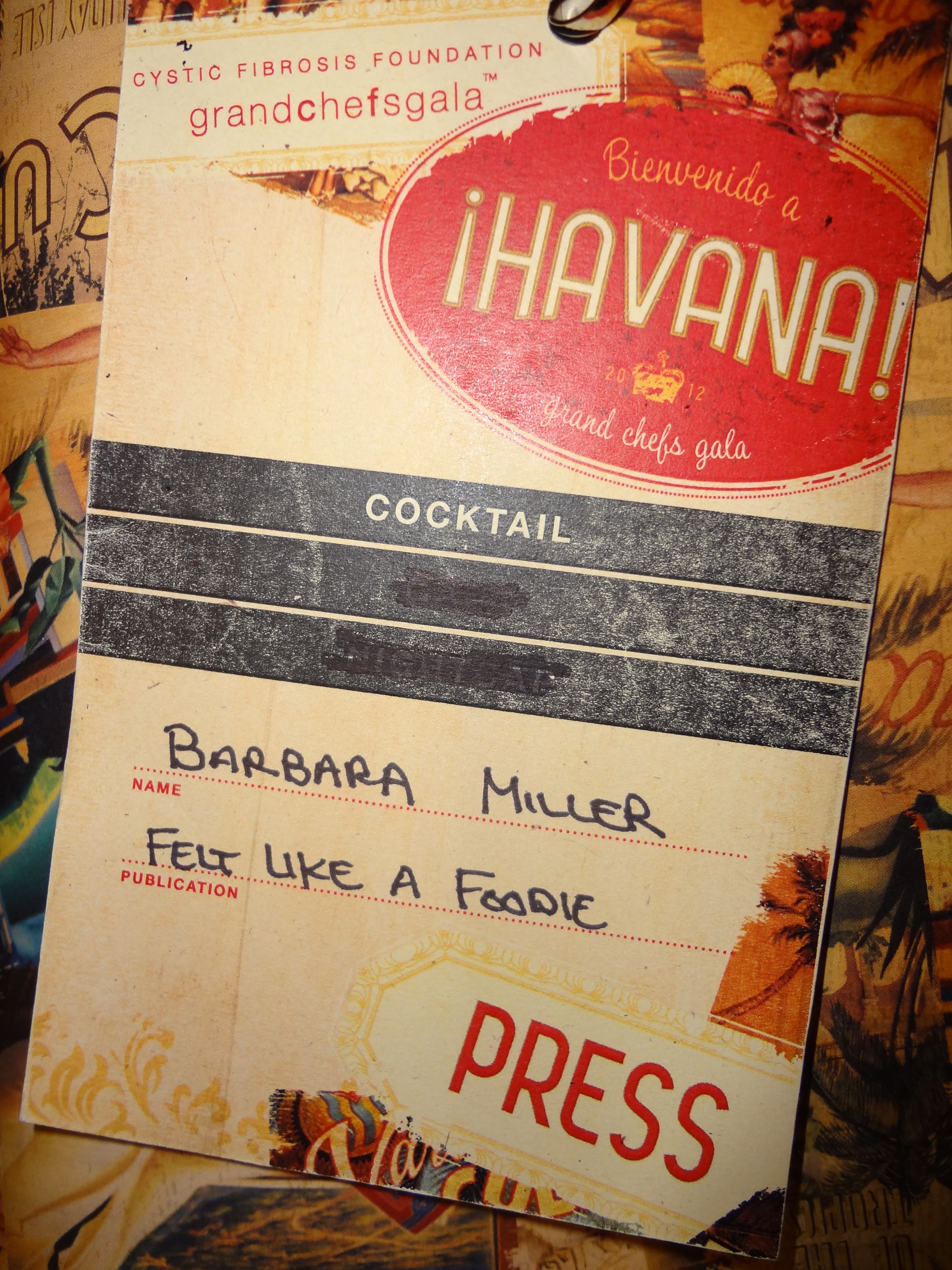 I knew it was going to be a spectacular night when I stepped off of the elevator.   My nostrils literally flared with joy as the scent of all different dishes passed my nose.  This was my first (and hopefully not last) Grand Chef's Gala benefitting The Cystic Fibrosis Foundation and I did not know what to expect.  (More on the event in my previous post today.)
I walked into the International Ballroom and stood still for a moment to take it all in.  It was the Academy Awards of food! There was table after table of some of the best restaurants and culinary artists that Chicago has to offer.
I had to go for my favorite dishes first….beefcake!  So I went for the familiar faces and tastes at IPO (Trevor Hoyte, supreme braised beef cheeks), The Purple Pig (Jimmy Bannos Jr., pork shoulder and mashed potatoes), and Vie (Nathan Sears, housemade angolotti, ham hock broth and lemon olive oil).  I kept my cougar-side down to a dull puurrrrrr so I wouldn't scare them off!  (Okay, if they weren't scared before, they are now!)
I did get star struck when I met Beverly Clark from aria.  She is on this season's Top Chef and made sensational pork and kimchi yucca pasteles.  Chef Beverly was such a sweetheart and we will keep cheering her on in the Top Chef Last Chance Kitchen!  (If you are behind on your Tivo, don't read the previous sentence so I don't spoil the surprise.)
When my mouth wasn't busy talking, I was filling it with food.  There were a bunch of wonderful bites but I have to give double thumbs up to Lockwood's Celery Root Soup with Warm Salmon, Prasino's Tuna Tar Tar with avocado, wasabi caviar on a sesame cracker, and Avil's Cretan beef and eggplant.
My other favorite's were not only given a thumb's up for taste but a gold star for presentation such as Michael Jordan's Steakhouse (Carpaccio of dry aged beef on little wooden platters), Libertad (tuna coconut mojito ceviche served with sugarcane spoons) and Gaetano's (bread cannoli stuffed with pheasant and chicken).
Now if this were the Oscar's the music would be playing right now and I would be panicking trying to fit in everyone's name!  So quickly thank you to:
Bistronomic, Blackbird, Blue 13, Coco Pazzo, Davanti Enoteca, Flemings Prime Steakhouse, Grace, Heaven on Seven, Hugo's Frog & Chop House at River's Casino, Inovasi, L2O, Leopold, Markethouse, Marigold, Mercadito, Mercat a la Planxa, Mexique, Nana, Piccolo Sogno, RIA, Rockit Bar & Grill, Sabor Saveur, Salatino's, Saloon Steakhouse, Technique at Le Cordon Bleu, The Bristol, The Signature Room at the 95th,  and my mom.  (Okay my mom wasn't there but if I am going to have an Oscar moment, I have to thank her.)
The honor I accepted this evening was being part of this lavish event.  You all spoiled me with your rich food, warm reception and engaging banter.   And thank you for making my first year as a small town food blogger  a dream.