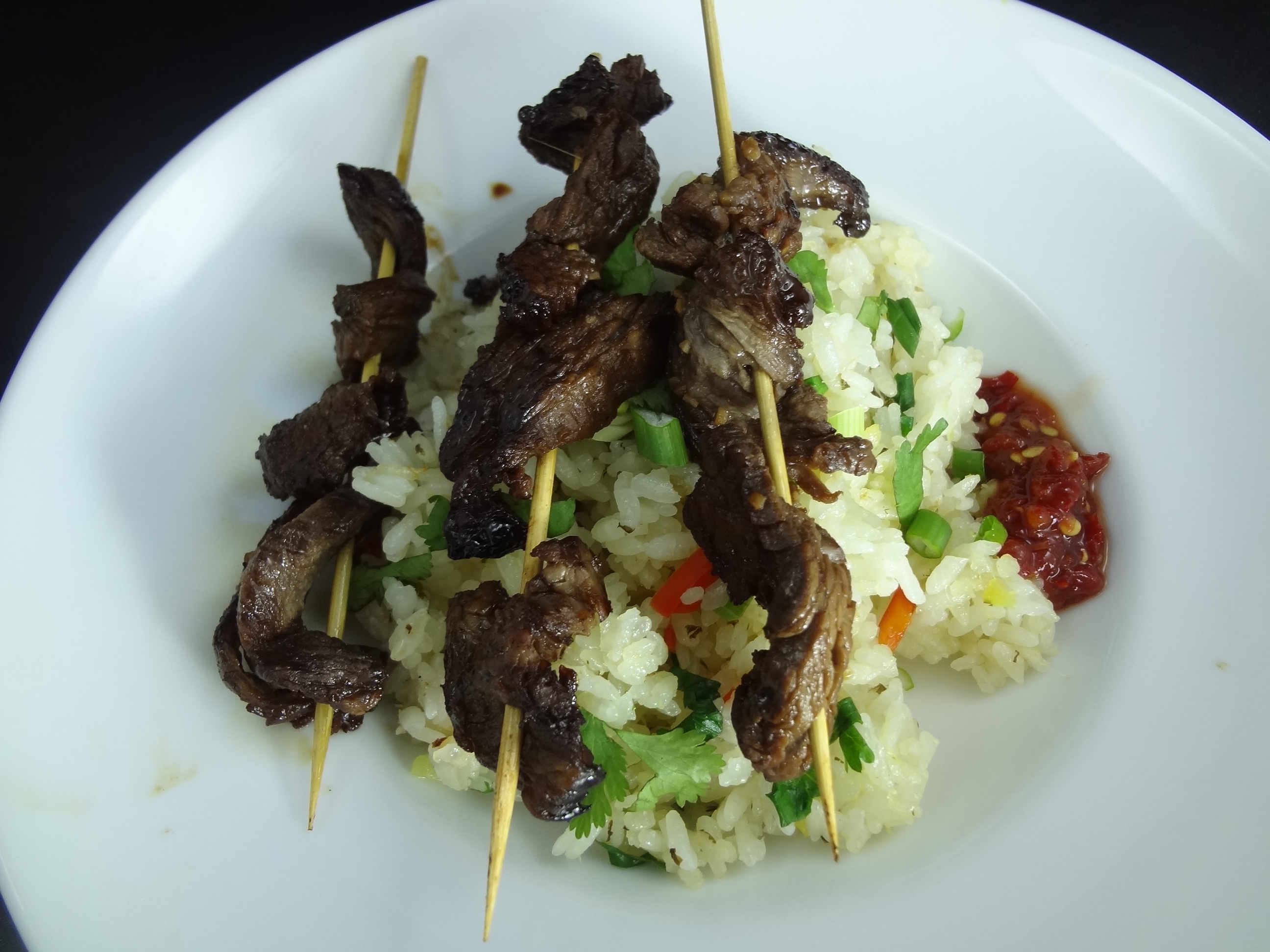 Happy first day of Spring!!  It is a glorious sun-shiny 20 degrees here in the Midwest today.  Brrrr!  It is hard to think of spring menus but I'll do my best especially with the big holiday around the corner.
To me it should be one of the biggest holidays of the year but like most things, I think it has lost some momentum.  People just don't celebrate it like they used.  Sigh.  Remember how our ancestors did it…..wiggly imagination lines…..wiggly imagination lines.
They would put on their Sunday best and gather around the fire.  Pats on the back would be received and everyone would cheer because it was Food on a Stick Day!  (Officially celebrated on the 28th of March but I wanted to make sure I got in on the celebration.)
Food on a Stick Day??  What holiday did you think I was talking about?  From the early days of the cave people (I don't say "caveman" because that is sexist), food was enjoyed on a stick.
Even our earliest ancestors realized that if you put anything on a stick, it made it taste better.  (Dinosaur on a stick, yum!)  They also discovered you can charge twice as much for things on a stick too!   (That didn't happen until after the wheel and concession stands were invented but I'm getting ahead of myself.)
So the other week, I made one of my favorite things on a stick, Thai beef.  I had originally thought I'd be able to grill it for this blog but given the ice on my grill, I'll have to wait on that one.  (Yes, I know many of you grill all year long which explains why my people are becoming extinct and yours are thriving!)
It is one of the earliest recipes that I learned (sorry but I don't know original source) but one of my favorites.  The big key is to cut the steak very thin!!!  I actually toss it in the freezer for about 15 minutes before I slice it, the thinner the better!
Technically, you don't need to put it on a stick but it works great as a pick-em up appetizer.  (And I always seem to have guests who haven't learned to use tools like forks yet.)
Thai Beef on a Stick
Ingredients
½ cup cilantro
½ cup light soy sauce
¼ cup sugar
3 Tbsp garlic, minced
¼ lime juice
Zest from lime
2 Tbsp toasted sesame oil
1.5 pounds flank steak sliced VERY thin
Sticks that have been soaking in water
Optional garnishes
Green onions, jalapeño, cilantro leaves, toasted almonds, fried shallots, pickled red onion…
Directions
Mix cilantro, soy, sugar, garlic, lime juice, lime zest and sesame oil.  Whisk until sugar is dissolved.  (If you are having trouble getting the sugar to dissolve, heat it a minute or two.)
In a nonreactive container, add beef slices and cooled marinade.  (Note I say cooled marinade because if it is hot when added to the beef it is so thin that it will actually cook some pieces.)
Let marinade in fridge for about an hour.  Preheat grill (or broiler in this case).
Take your presoaked sticks and load a few pieces of meat on each one.  Don't overcrowd them.
Grill (or broil on a pan) about 2 minutes.  These babies are going to cook fast!!!
Serve on a platter with your favorite garnish.  Please note in my picture there were originally 4 skewers but one of the mysteriously landed in my belly.
I hope everyone has something on a stick in the next week or so.  Maybe I'll try to get one of my Easter devilled eggs on a stick just for fun!!!