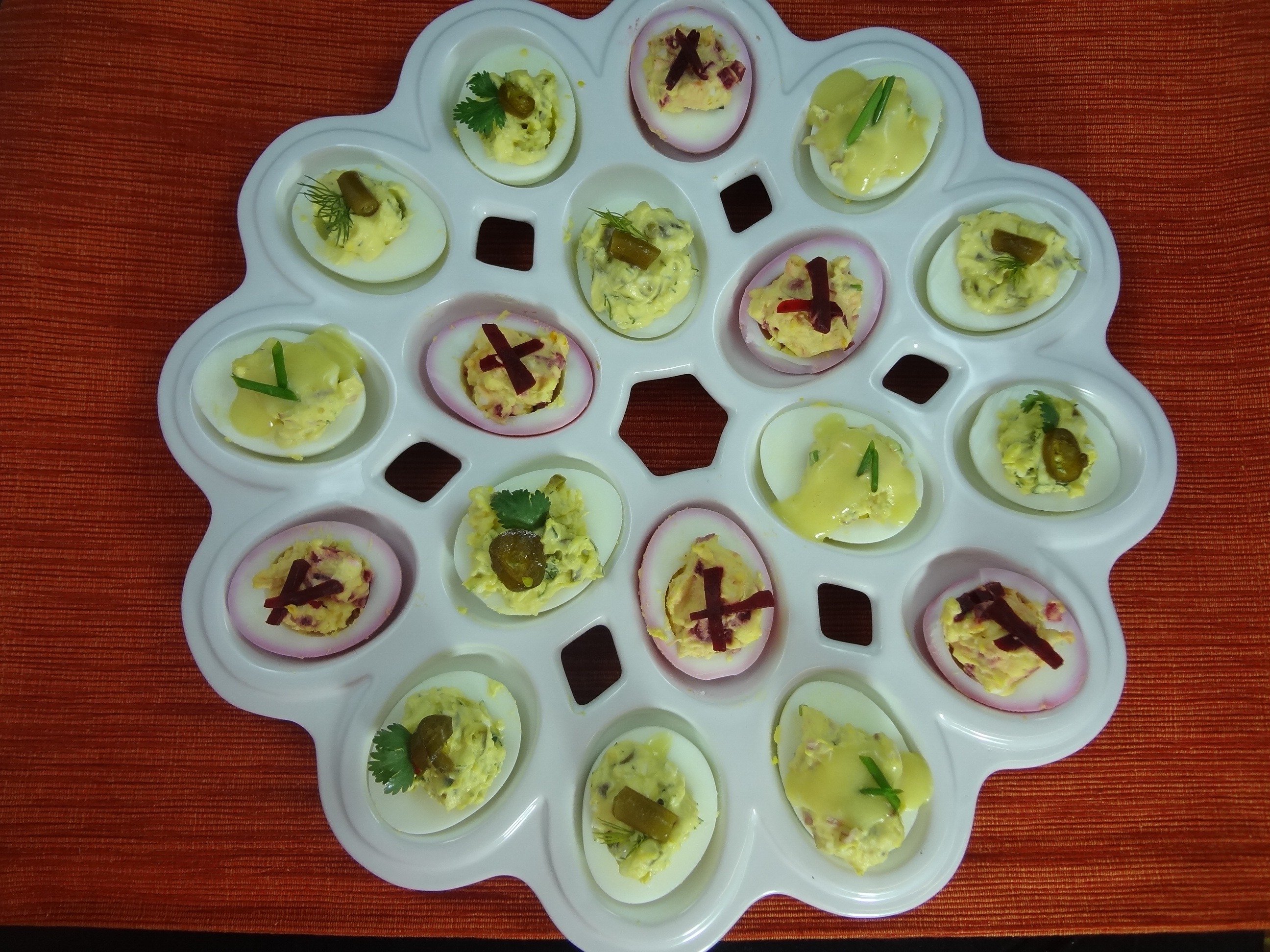 Don't you hate you go to your favorite blog (moi?) and the writer isn't writing about the intended topic.  It's like a quilting blog only talking about their garden, or maybe a golfer talking about hiking or how about a foodie talking about how she can't eat and doesn't want to cook because she has been having a flare up of her Crohn's disease.  (This is all hypothetical, of course.)
Well THIS foodie actually got her hinny in the kitchen today.  I knew Easter was just around the corner and felt the need to do some more deviled eggs.  I had so much fun the other year making up variations; I wanted to challenge myself to come up with some new eggs.
So I looked in my pantry and had one of two thoughts.  My first was an ode to eggs (I'll do this next year) but then I saw all of my jars of pickled veggies from the summer and decided to do more of an ode to pickles with an ode to eggs teaser.  (If I were a food blogger who went off the topic this is where I'd blame all off the wall comments to my meds but that isn't me.)
This cold start to spring has brought back fond memories of all the fun I had last year pickling my veggies.  I had about two dozen jars of miscellaneous pickle-try to choose from so I thought this would be a great opportunity to incorporate it some deviled eggs.  (Plus it didn't make me go to the store in the snow for ingredients!)
To make it easy for those of us who have too much on their plate, I made a big batch of "starter mix", separated it into 4 batches and seasoned it accordingly.  My ode to pickles included Pickled Beet Deviled Eggs, Dilly Bean Deviled Eggs and Cowboy Candy Deviled Eggs.  And a teaser for next years Ode to Eggs, I made a Deviled Egg Benedict!  (Just imagine what I'd come up with if I felt good!)
Deviled Eggs 2013:  I made 3 eggs (6 halves for those of you who didn't excel at math) of the 4 variations (a dozen total).
Starter mix:
12 hard boiled eggs, cooled, peeled and sliced in half lengthwise (If you are making the beet eggs, don't slice them in half yet.)
1/ 4 cup mayonnaise
½ tsp salt
In a small bowl, soak 3 WHOLE hardboiled eggs in about ½ cup of beet juice.  The eggs need to be covered or there will be an uneven color.  Let it sit for an hour in the refrigerator.*
Remove Yolks of all the eggs and mix with mayonnaise and salt.  If you need to add a little extra mayo to smooth it out, feel free to do so.  But remember you will be adding other ingredients so it might smooth out on its own.  (I ended up using ¼ cup with an additional Tablespoon.)  Line up the white halves so they are all ready for filling.
*Use caution when cutting the "beet eggs".  Cut them after you cut the regular eggs so you don't egg up with pink in your starter mix.
Pickled Beet Eggs
¼ cup starter mix
1 Tbsp orange zest
1 tsp orange juice
1 Tbsp finely diced, pickled beets plus a smidge more for garnish.
6 halves of hard-boiled eggs
Mix ¼ cup of starter egg mix with 1 Tbsp orange zest and 1 Tbsp orange juice.
Gently stir in the diced beets.  Only give them a twirl or two or your egg mix will be a weird pinky-orangey yellow.
Scoop into your 6 halves and garnish with some pickled beets.  (I love how soaking the whole eggs in the beet juice gives it the pretty pink edges.)
Dilly Bean Deviled Eggs
¼ cup starter mix
1 tsp pickling liquid from dilly beans
1 tsp chopped dill (a sprig or two extra for garnish)
1 Tbsp chopped dilly beans (and a couple extra for garnish)
6 halves of hard-boiled eggs
Mix starter mix with mustard and vinegar.  Taste.  Add dill and dilly beans.
Scoop into your 6 halves and garnish with a piece of bean and tiny sprig of dill.
Cowboy Candy Deviled Eggs (Spicy)
¼ cup starter mix
1 tsp lime zest
1 tsp lime juice
1 Tbsp candied jalapeños "cowboy candy" (add a couple of slices for garnish)
1 tsp cilantro (a little extra for garnish)
6 halves of hard-boiled eggs
Mix starter with lime zest and juice.  Slowly add the jalapeños and stop when you have enough heat.  Mix in cilantro.
Scoop into your 6 halves and garnish with a slice of jalapeño and leaf of cilantro.
Deviled Eggs Benedict
¼ cup starter mix
1 tsp stone ground mustard
1 tsp champagne vinegar
1 tsp chopped chives (reserve a couple for garnish)
2 Tbsp finely chopped ham (or Canadian Bacon)
¼ hollandaise sauce
6 halves of hard-boiled eggs
Mix starter mix, mustard, vinegar, chives and ham.
Scoop into 6 halves.  If you don't want to get hollandaise on your other eggs, place on a separate dish. Drizzle each egg with about a half tablespoon of hollandaise and garnish with some chives.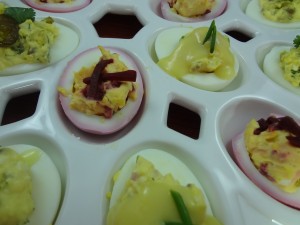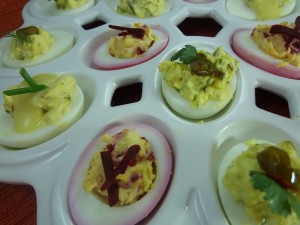 I hope everyone has a great Easter.  (And honestly, I wanted to make eggs because I bought this pretty plate!)  I was hoping to make it to Chicago but for now I think this bunny will be hopping to a brunch closer to home!!