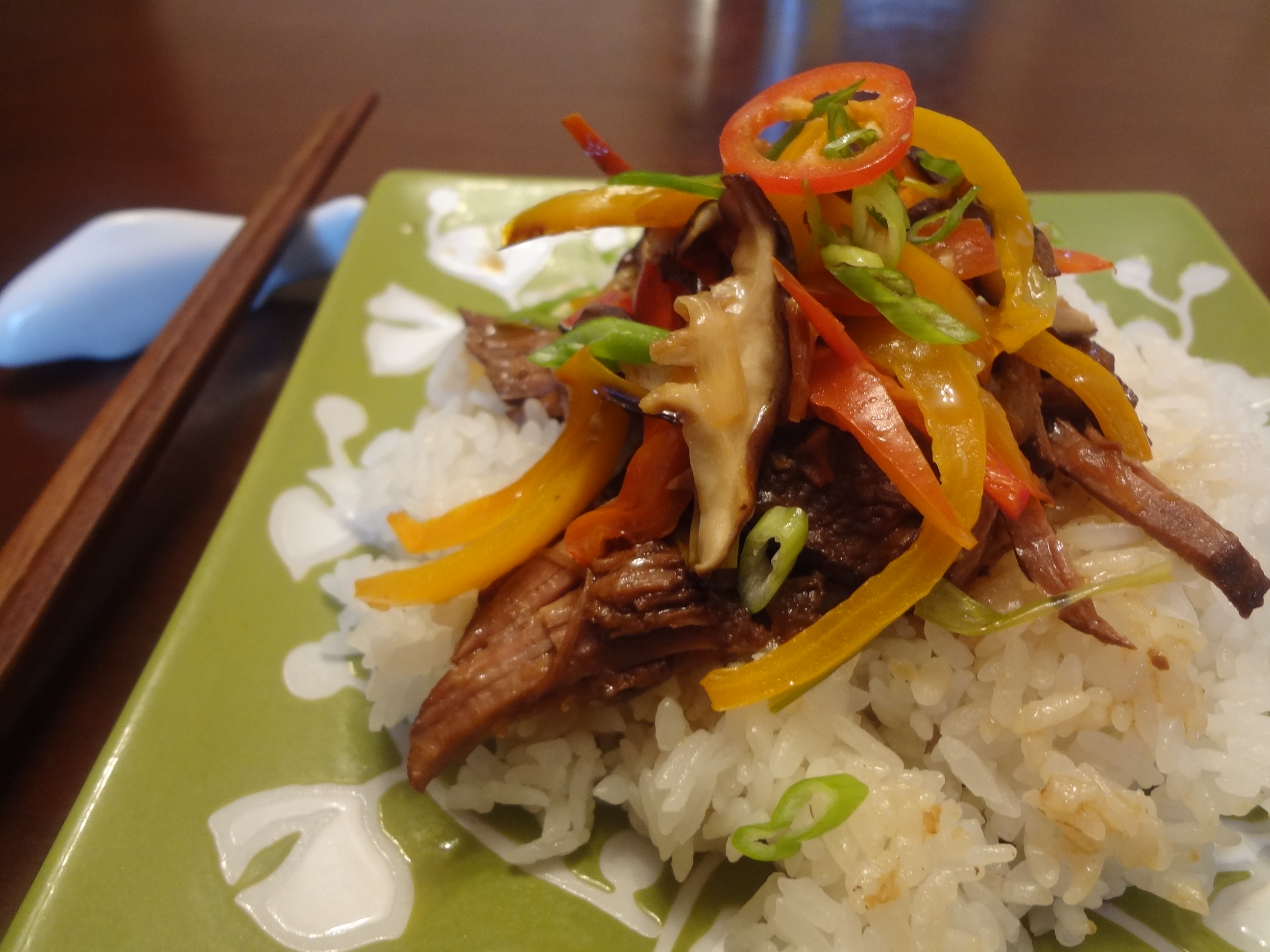 "Jack Sprat could eat no fat.
His wife could eat no lean.
And so between them both, you see,
They licked the platter clean."
No other nursery rhyme could fit my household better.  My husband is not a picky eater by any means.  He is quite adventurous when it comes to food and cooking for him is a pleasure.
The only thing he doesn't like is fat on his meat.  (Any way I wrote that sentence it sounded bad.  So for my friend Drew who is stuck in NY with Sandy I will insert the appropriate "That's what she said" comment.)
For me, fat is flavor.  I love a beautiful piece of marbled meat.  The unctuousness that comes with a little extra fat makes my mouth water!
So when I learned to make beef short ribs, I was in for some trouble.  I KNEW that the fat would render down into the buttery richness that I adore.  My husband just doesn't care for it.  (If you ever want to have fun, make him some pork belly.  He will dissect that baby like a world-class surgeon.)
I tried making short ribs for "Jack" one time but had to pick around the pot and separate the pieces into his and hers.  (It was a bit tedious but worth the hassle.)
So, I talked to a butcher (Sam) about my dilemma.  He suggested that I use a combination of "jersey" boneless (I still don't know if he meant Jersey as in the state or the breed of cow) and add one piece that wasn't boneless.
Genius!  I tried it and must say we licked our platters clean.  (Okay, the sauce was wickedly good too.)  "Jack" didn't have any scraps of fat left on his plate and I didn't have to cut up his meat.  (I mean the beef, not some sort of weird Lorena Bobbitt reference.)
Compromise is what marriage is all about….and like most nursery rhymes….it is the key to living happily ever after!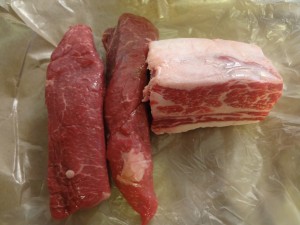 Soy-Glazed Short Ribs (This is sort of a merger of a recipe I learned at Chopping Block and a couple off of Food Network.)
Ingredients
(Serves two)
1 pound boneless beef short ribs
1 pound bone-in beef short ribs (You can use all boneless.)
1 cup pearl onions (peeled)
2 tsp garlic, chopped
1 Tbsp ginger
¼ tsp red pepper flakes
½ cup ponzu (substitute low sodium soy sauce)
2 Tbsp soy sauce
2 Tbsp rice wine vinegar
2 cup chicken broth
Juice and zest from ½ orange
3 Tbsp palm sugar (or brown sugar)
3 Tbsp Hoisin sauce
Grapeseed oil
flour, salt, pepper
water
Garnish:  Green onions and a drizzle of sesame oil
Directions
Break out the ol' crockpot because eventually everything will end up in there.
Heat large heavy pan over medium high heat, add grapeseed oil.  (Dredge ribs in flour while pan is heating up.)
Sear all sides until brown, remove from pan and place in crock pot.
With heat on medium low, sauté the pearl onions until they caramelize.  (These will add a nice sweetness to the dish and they will all but dissolve with the final cooking in the crockpot.)
Add garlic, ginger and chili flakes and cook about 1 minute.
Slowly add the chicken broth and scrape all the brown goodness off the bottom of the pan.  Stir in ponzu, vinegar, orange, sugar and Hoisin.
Bring to a quick simmer and then add all of this liquid to the beef in the crock pot.  (I've added a half cup of water to the pot in times that the sauce doesn't cover the meat.)
Put the crock pot on low and let it cook for at least 5 hours.
The meat pretty much shreds itslef and I serve it over rice with green onions.  I love the flavor of toasted sesame oil so I always put a squiggle on top of the dish.
I also sautéed 1 red pepper, 1 yellow pepper, green onion and ½ pound of shitake mushrooms to put on top.  It is a perfect veggie dish for such a rich dish.
All joking aside, "Jack" really is a fun diner; I wouldn't change a thing about his food tastes or taste in a wife!  (I'm also grateful he is nothing like Peter, Peter the pumpkin eater!)