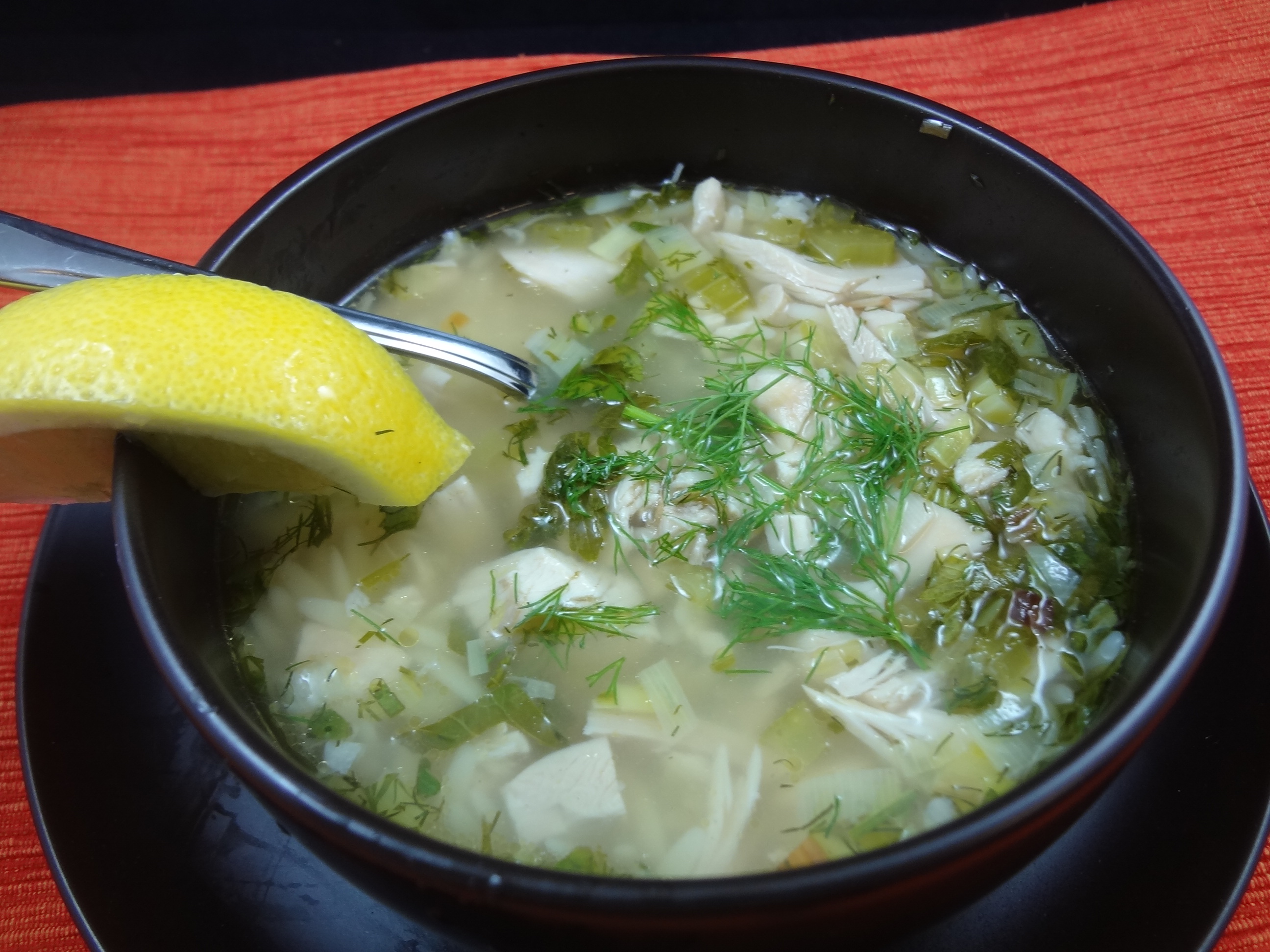 Happy Easter!!!  I'm sure many of you have spent the day working hard in your kitchens making your family's favorite holiday meal.  (Or if you don't celebrate Easter, you enjoyed the crowdless malls and movie theatres!)
Either way, Monday is right around the corner and it is time to figure out something easy to make for dinner.  Every week, I look through all of the recipes that I bookmark online or recent magazine articles and then make something completely different!  (It is a mad cycle, which I wish I could correct!)
One of my new year's resolutions was not to hoard so many recipes unless I am hoarding recipes that I use and in my mind that is justified.  (Can you enable yourself?)
So with a little extra quiet time this week, I was scanning through my online recipe file and came across a recent Bon Appétit FB link to a soup called "Lemony Chicken and Orzo Soup."  I like chicken, pasta and lemon so I was all set until I saw one of the ingredients.  (Insert scary, I'm frightened to retry things I don't normally like music.)
DILL!!!!!!!!  ARghhh!!  I'm not a fan or at least I used to not be a fan.  My first thought was skip the dill but then I put on my big girl undies and said no I'm going to try it again.  (Now, technically "big girl" undies are HUGE on me but that really isn't relevant.)
The picky girl in me had started to wean myself to like dill when I started canning this summer.  You can't make dill pickles or dilly beans without dill.  Using the fresh herb and learning how its flavor can enhance something you do like was very eye-opening.
What happened next was an Easter miracle (okay maybe "miracle" is a bit too much.)….I made the soup and it was super-duper delicious.  I made it pretty true to the original (Here is the link) but tweaked a couple of things to suit my time constraints (watching Jeopardy with my husband) and availability of ingredients in my house.
The one thing I did learn today was that my DILL-ema was over!
Extra Lemony Chicken and Orzo Soup (based on a Bon Appétit Recipe)
Ingredients
1 Tbsp olive oil
1 medium leek, white and pale green part only, halved lengthwise, finely chopped into slices
1 celery stalk (with leaves) sliced into equivalent size pieces as the leeks
12 ounces cooked chicken (I used some leftover rotisserie in the fridge)
4 cups chicken broth
1 lemon, halved (half for the actual soup, remainder to be sliced as a garnish)
¾ cup COOKED orzo
3 TBsp chopped FRESH dill and some extra to sprinkle on bowls
Salt and pepper
Directions
In a large heavy pot over medium heat, heat olive oil.  Add leek and celery, season with a little salt and pepper and cook until softened (7-10 minutes).  (STIR frequently because leeks seem to brown quickly.)
Add broth and juice from half of a lemon and bring to a simmer.  Add chicken, dill and orzo and let cook another 10 minutes or so on low.
Taste for seasoning.
Serve each bowl with a little extra lemon and sprinkle of fresh dill
Bon Appetit's version put a little extra time in by cooking their chicken in the broth and I'm sure that added some fabulous flavor.  I am not a fan of chicken soup with chicken thighs, so I opted to use up some leftovers.  (I am a fan of leftovers!)
In addition, I cut down my amount of broth since I did not cook my orzo in the broth and used already cooked orzo.  I like to cook my pasta separately because I find that when I cook I can control the al dente-ness better in a pot of water than in a pot of broth.  It SHOULD be the same concept but I always seem to screw it up and make too mushy of a pasta.
I also think that it makes the soup taste lighter when the pasta is cooked separately.  (All of this is just my personal taste and what do I know…I used to hate dill!)