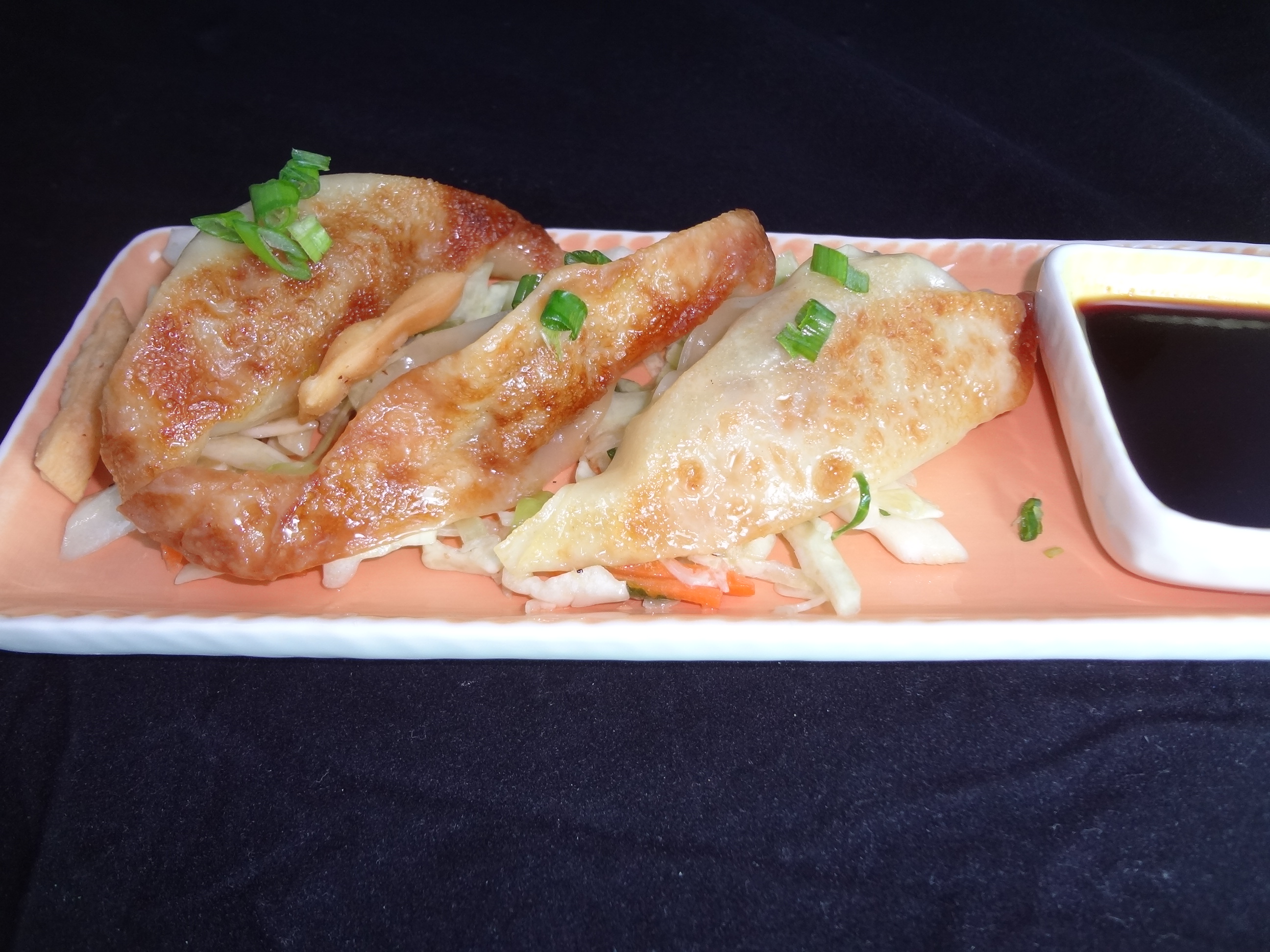 "Let's order Chinese."  It was one of my most feared dinner recommendations as a kid.  I hated Chinese food.  Everything was always mixed together and it was almost impossible to get away from vegetables.  (And even if I could pick out the veggies, they still managed to get their flavor intertwined in the sauce and meat.)
There was always the good old stand-by of getting sweet and sour chicken and keeping your fingers crossed that it was just a white container with plain nuggets.  Of course if this was the case, I have memories of my sisters telling me that I was hogging the chicken.  (Actually, they wouldn't tell me, they would tell ON me!!)
It wasn't until my teenage years that I stopped protesting so much and actually tried some of the different things that were ordered.  One of my newfound favorites was Mu Shu Pork.  Pork and mushrooms wrapped in a "pancake" with a sweet Hoisin sauce.  It essentially was like a taco.  (And I liked tacos!)
My biggest issue with them was that the ratio of pork to pancake to sauce was never equivalent.  Still being semi-picky, I needed all three components for me to actually like this dish.  (Once again, sisters are telling on me because I apparently didn't build MY pancake correctly.)
So this week I had a craving for Mu Shu Pork but wanted to try something that would give me all the flavors without skimping on one of the components.  (I also wanted to make something that wouldn't give me flashbacks of being yelled at by siblings.)
I decided to make a potsticker.  It was the perfect way to construct a vessel that would hold all of pieces that made me first fall in love with Mu Shu Pork.
Mu Shu Stickers
Ingredients
12 ounces ground pork
3 tsp Hoisin Sauce
1 Tbsp fresh ginger, minced
1 tsp garlic, minced
3 green onions, white part only, diced
4 ounces chopped shitake mushrooms
24 round potsticker wrappers  (I had to use wonton wrappers.)
1 egg
2 TBsp grapeseed oil
Chinese cabbage salad (optional garnish)
Directions
In a medium size bowl, add pork, Hoisin sauce, ginger, and garlic. Mix well and fold in the green onion and mushrooms.
In a separate small bowl, mix egg with 2 Tbsp of water.  Deal out the dumpling wrappers on your counter and place about half a tablespoon in the center.
DO NOT GET ANY ON THE EDGES!!!!
Paint the edges of the wrapper with the egg mixture with a pastry brush.  Fold each wrapper in half so it resembles a half moon.  Make one pleat in the center and three on each side.
Press gently on the counter to flatten the bottom and set aside until all 24 pot stickers are sealed.
Over high heat to a medium high heat, heat a NON STICK sauté pan.  Add the grapeseed oil and coat the pan.  Watch your heat so that you don't burn the pot sticker.
In batches (don't overcrowd your pan), add pot stickers and brown them for about 1-2 minutes.  Don't poke at them, let them brown.
Add about half a cup of water, cover the pan and steam until the water is almost evaporated.  It usually takes about 6-8 minutes; they will be a bit puffy.  If the water evaporates before they are done, add more in small increments.
The bottoms will recrisp after the water is gone but be careful not to burn them!  (I will make my batches, steam them and then recrisp as I'm ready to serve them.)
Serve with dipping sauce of equal proportions of Hoisin sauce and soy sauce.
I served mine over a Chinese cabbage salad so we could make it more of a meal.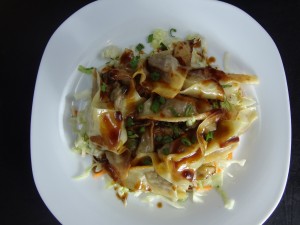 Looking back on my picky years, I have a lot of regrets about food that I missed out on eating.  I think that is why I make a conscious effort of trying everything placed on the table.  (Plus now I am not afraid of being walloped by sisters!)