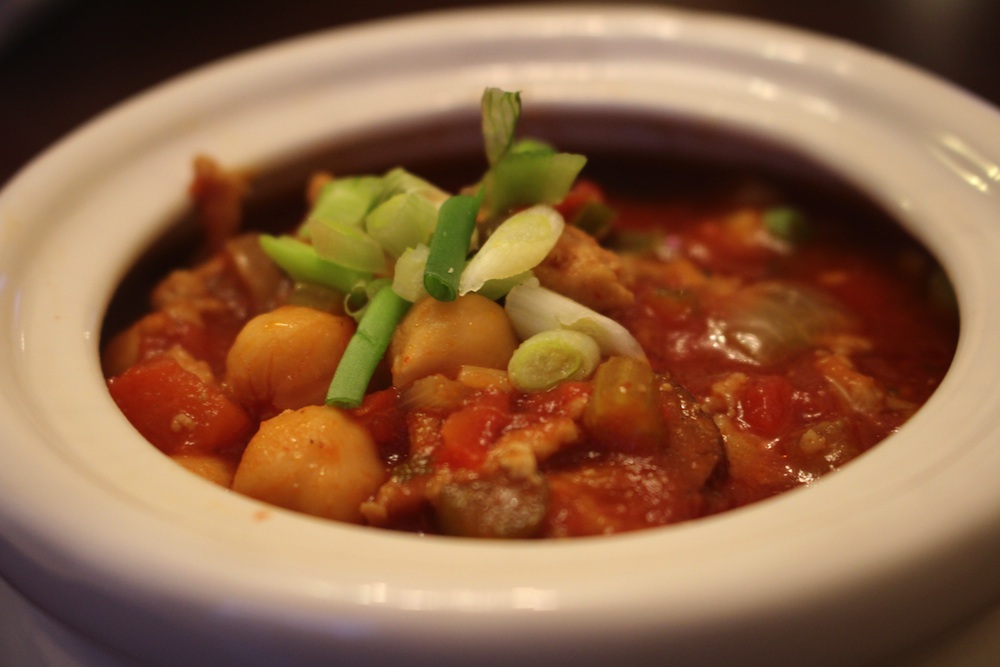 Brrrrr!!!!  If you don't live in the Midwest, I consider you lucky right now.  The last two days have been filled with incredible amounts of snow and wickedly low temperatures.
It is so cold…..how cold is it…it is so cold that we are eating with plastic silverware so that our forks won't stick to our tongues.
Our area of NW Indiana is known for being part of the Snowbelt and we lived up to that name last night.  It has been bad enough that a state of emergency has been declared and we are being asked to stay off the roads.  (I couldn't even see the road so that wasn't going to be a problem.)
We were well warned that this weather system was coming but I was not as prepared as I normally am.  I had food in the house but I didn't necessarily have a menu planned.  (I did have necessities like milk, almonds and PEZ.)
I was really in the mood for something like chili or gumbo but seemed to be missing at least one or two of the components of each recipe.  (Actually I am REALLY in the mood for pretty much anything they are showing on TV commercials because I know I can't go out and get it!)
So I put my big girl scarf on and did what I had to do….I improvised!!!  (Improvised means I pulled out what I did have and kept my fingers crossed that it would all taste great together!) 
I'm not sure what exactly goes into chili or gumbo to make it officially either one of those dishes but I do know what is in a Chumbo!  Thank you, Mother Nature, for the blizzard….I would have never made this delicious dinner without your help.
Chumbo
Ingredients
1 pound ground chicken
1 tsp paprika and black pepper
¾ tsp garlic powder
½ tsp EACH:  Onion Powder, Cayenne Pepper, Oregano, Thyme
12 ounces Andouille sausage, cut into ½ circles
¼ pound ground pork.
1-2 TBsp extra virgin olive oil
1 large onion, chopped
1 large red pepper, chopped
2 stalks of celery, chopped
1 jalapeno, chopped
4 cloves garlic, minced
½ bottle of beer
1 28-ounce can of plum tomatoes (squish them up with your hands)
3 ounces tomato paste
1 can of chick peas, drained
Garnish:  Sliced green onions
Directions
In large pot, brown chicken.  While chicken is browning, sprinkle with the paprika, black pepper, garlic powder, onion powder, cayenne pepper, oregano and thyme.
Remove.  Next brown the pork.  Remove from pot.  Brown Andouille sausage.  Remove from pot.
Add olive oil and warm over medium heat.  Add onion, red pepper, celery and jalapeno.  Sauté until soft about 5 minutes.  Add garlic and sauté another minute.
Deglaze the pan with the beer and cook until liquid is reduced just by half.
Add remaining ingredients. Put in your slowcooker and cook on low for 5-6 hours.
My Chumbo was a perfect belly warmer on a cold freezing day.  I hope that you all are staying warm and safe.   I will keep my fingers crossed that this is the last of my blizzard blogs!