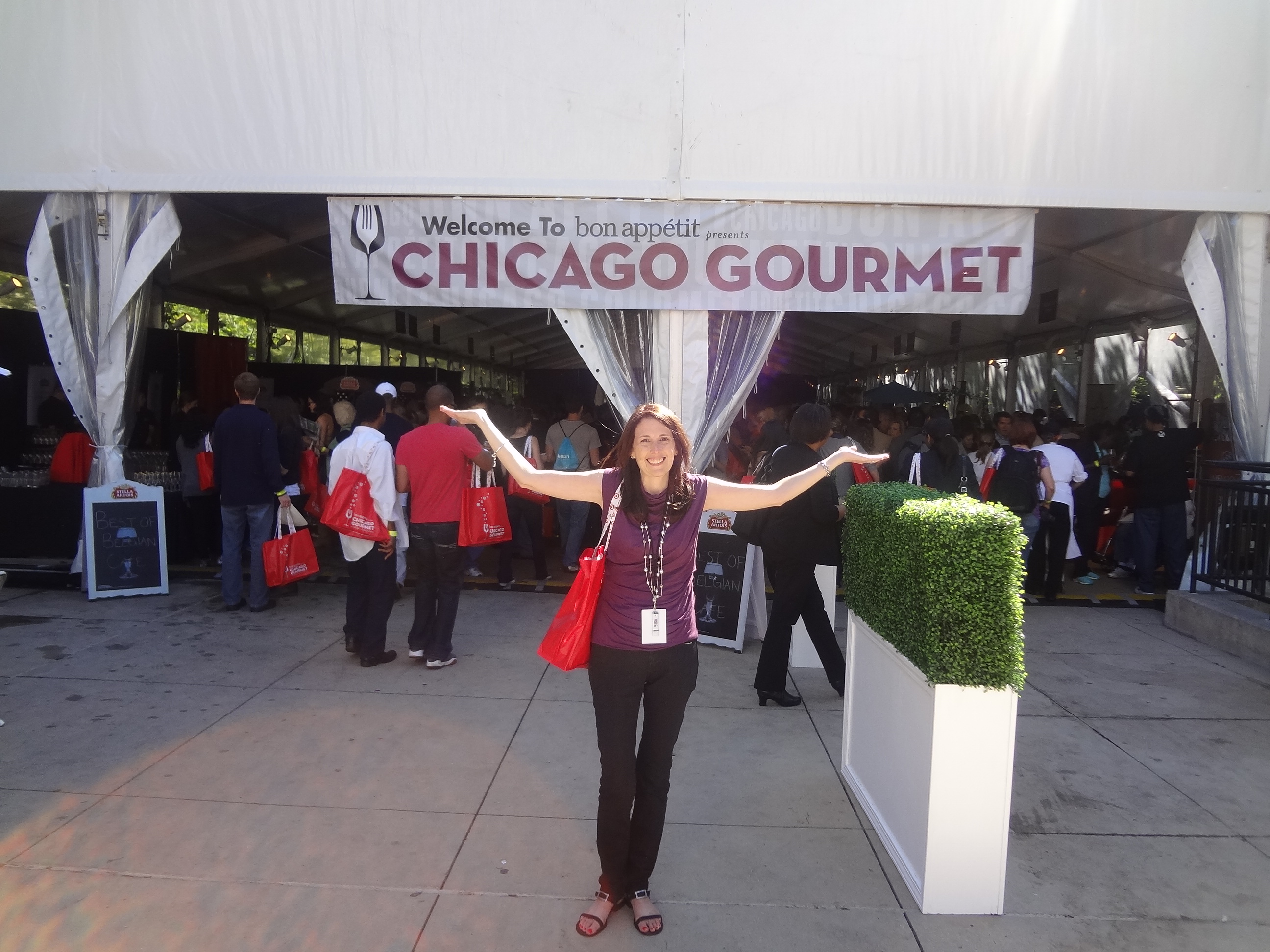 The last three days, I have sat down at my computer numerous times to write about the food at Chicago Gourmet this past weekend.  I view my notes and pictures and immediately get hungry and feel the need to snack.  Preferable snack on food from some of the best chefs and restaurants in Chicago.
But since I don't have the luxury of having these resources at my small town back door, I go back to looking at the pictures.  And like a computer's thesaurus…adjectives like tasty, succulent and scrumptious are bouncing around my head.
The adage of "a picture is worth a thousand words" has never rang (or is it ringed) truer in my mind.  Each image of the food and chefs tells a story to me that I never wanted to end.
My biggest challenge was trying to manage my time between the tastings and the cooking demonstrations that I spoke of earlier this week.  Luckily, there is an App for that.  (I'm serious.  Chicago Gourmet had a wonderful App that had everything on it from the schedule to the map to a "favorites" page.)
Speaking of some of my favorites….
Saturday
The phenomenal black truffle, short rib po'boy from Restaurant R'evolution (Chef Rick Tramonto's and Chef John Folse's new hotspot in New Orleans) opened every one of my senses.
Rockit Bar and Grill's Amanda Downing (the only female chef to participate in Friday night's Hamburger Hop) was a winner with me serving her delightfully juicy melted brie, date aioli, fried shallot angus burger on a red onion brioche bun.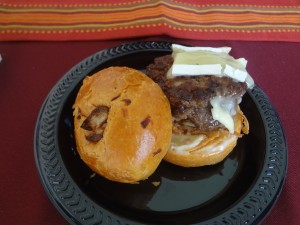 The restaurants (Oceanique, Michael Jordan's Steakhouse, RL Restaurant, Trenchermen, N9NE Steakhouse, Heaven on Seven, WAVE, Keefer's) that served at the Supreme Lobster & Seafood Co. Tasting Pavilion were all excellent.  I especially loved N9NE's tuna tartar and Keefer's salmon tartar.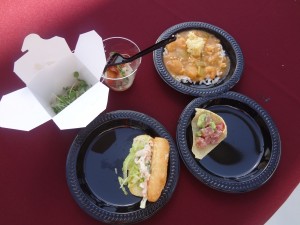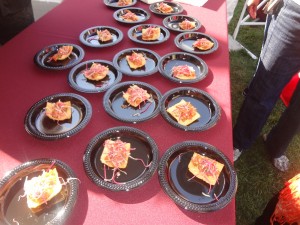 The best part of Chicago Gourmet's tastings is eating a food you normally don't like and falling in love with it!  I will never look at a piece of pineapple the same after tasting the most refreshing bite of the day, carbonated pineapple, by iNG Restaurant's.  (I will admit that I went back in that line more than once.)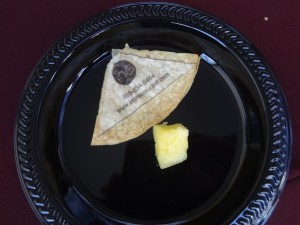 Sunday
LM Restaurant Groups's Mushroom bisque with country pate is going to be something I crave as the cool days of fall approach.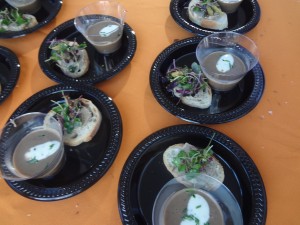 Chalkboard also did an excellent rabbit pate that hopped into my stomach joyfully.  (Okay, you know I had to do a pun at some point during this post.)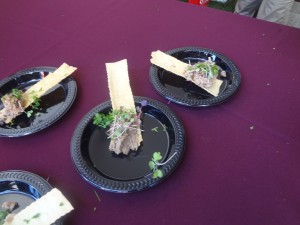 Lao Sze Chuan (spicy chicken), Sunda New Asian (braised beef) and Pecking Order (Kristine Subido's new restaurant) were all superb.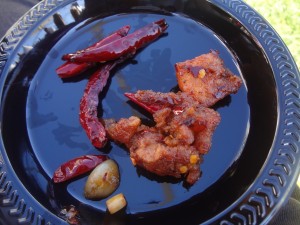 And if I had a gold star to give to any restaurant it would have been The Grill on the Alley.  Their lovely gazpacho with crab and big chunks of creamy avocado refreshed me with every bite.  I had my Oliver Twist moment saying "please sir, I want some more" at least 3 times.  I also had my Honey Boo Boo moment when they jokingly said I could just take the entire container and I almost dunked my whole face in!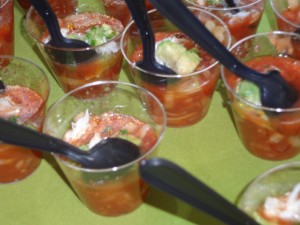 I thought the portion sizes served at Chicago Gourmet were just perfect.  It was enough to allow you to taste the uniqueness of each restaurant without filling you up before the afternoon sessions.  (Each pavilion had a noon session and then "reopened" with all new restaurants a few hours later. )
My only suggestion for next year is to request that all of the chef's have a sheet up describing their dish.  (Some of you did already do that so thank you.)  The lines move so fast sometimes that there isn't always the opportunity to find out exactly what we are enjoying from the chefs.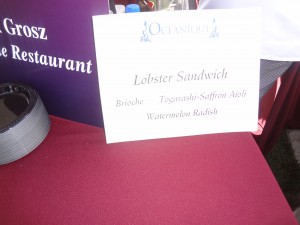 The time I did have talking with chef's I have been fortunate enough to meet this past year was wonderful.  I can't wait to see Chef Cory Morris (Mercat a la planxa), Trevor Hoyte (IPO), Tony Priolo (Piccolo Sogno),  James O'Donnell (Michael Jordan's Steakhouse) and Amanda Downing (Rockit) back on their home turf!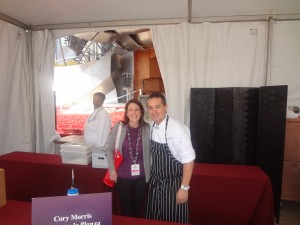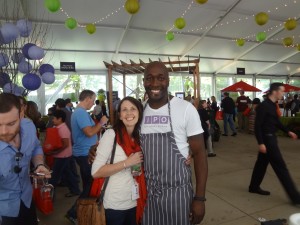 I did not even get close to tasting everything but I did enjoy every bite that passed my lips.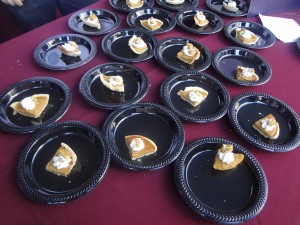 I've already marked my calendar for next year, September 27-29, 2013.  I could come up with another thousand words but can sum it up with 4 anticipation, expectation, excitement and suspense!