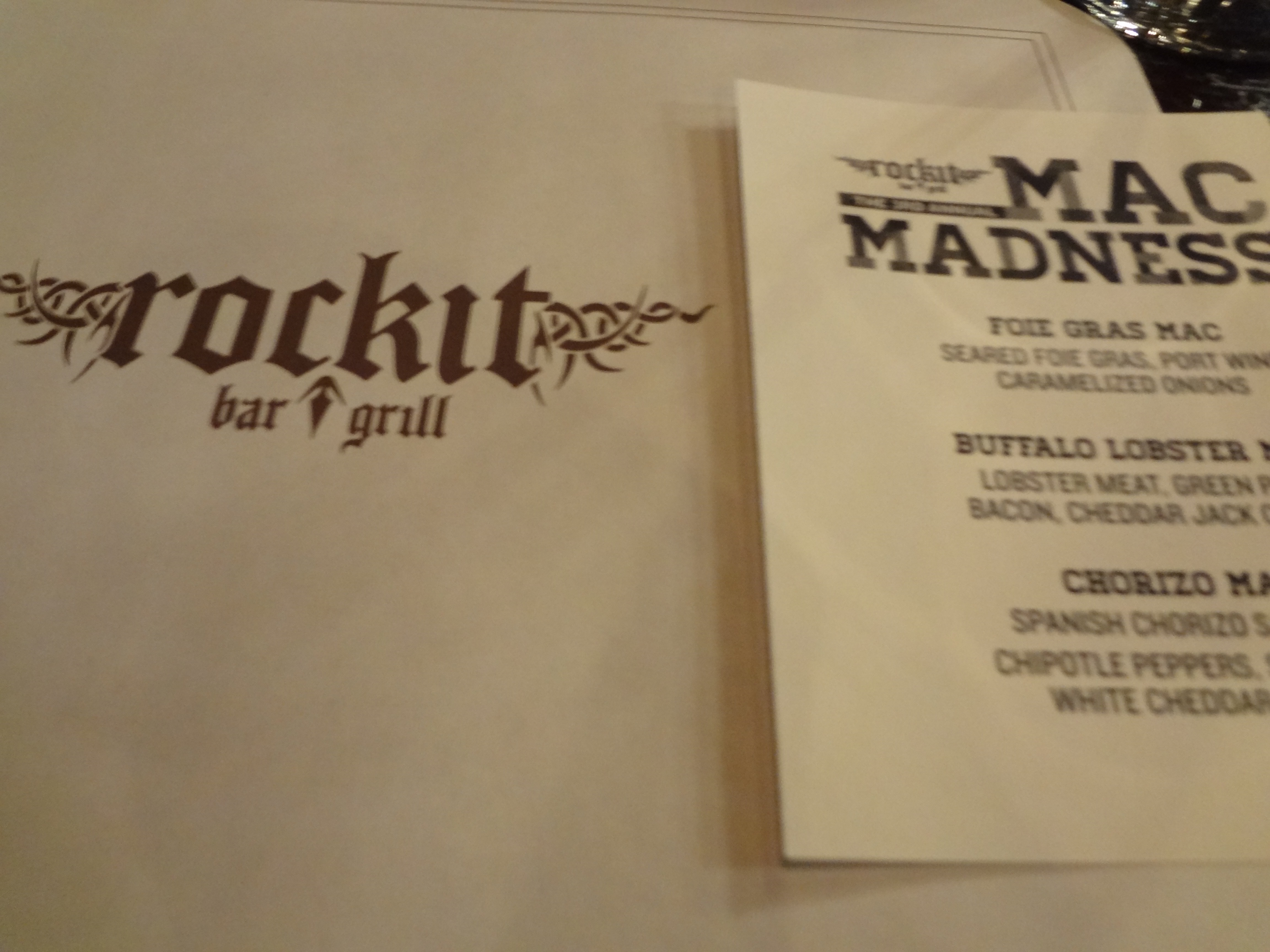 I have a secret.  It is something that surprises people when they hear it from me but has become part of me that I just can't hide anymore.  I think my husband finds it an attractive quality in me and even tells his friends about it.  (I have your minds just twirling right now, don't I?)
Yep, my secret is….I love NCAA March Madness!!!  Since the first time I filled out a bracket in 1997 (and won!), I have loved this annual sporting event.  I read sports pages, commentaries and watch ESPN for the entirety of the tournament.
There is a part of this tournament that is new to me and it may be new to a lot of you too and that is MAC MADNESS!  What is Mac Madness you ask?  It is an annual event at Rockit Bar & Grill in Chicago (2 locations, River North and Wrigley).
From March 12 to March 16, Rockit Bar & Grill will offer a different macaroni and cheese every day.  (Click here for the schedule).   Each dish will offer it's own gourmet but rustic spin that fits right in with Rockit's character.
Rockit (like the name indicates) has a cool and casual air about it while maintaining a suave, current design.  With leather seats, rich dark panels and some natural looking brickwork, I felt I was hanging out in my favorite rock star's lounge.  (I kept thinking this is how Lenny Kravitz would decorate his man cave).
The chic-ness (not really a word but it soon will be) is complimented by an AMAZING menu executed by Chef Amanda Downing.  Chef Downing uses her expertise at American classics and adds a contemporary spin.  Quintessential bar and grill classics (appetizers, pizzas, salads, sandwiches, entree's) are superbly prepared with the freshest ingredients.  (My friend, Beth, and I nearly got whiplash each time a plate passed our table because everything looked so good!)
So, when I was invited to try some samples of the Macaroni and Cheese that were going to be served next week at Rockit's 3rd Annual Mac Madness, I was curious to see what Chef Downing would create for these dishes.
The five offerings will be Buffalo Lobster, Chorizo, Foie Gras, Cheeseburger and Truffle Mac!  (I just "double dribbled" because this list made my mouth water so much.)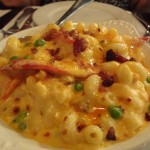 The Buffalo Lobster Mac had sweet HUGE chunks of lobster, smoky bacon, cheddar jack and peas.  The heat was subtle and was the kind that hit your tongue after you would take each bite.  I liked how you could taste each ingredient its own.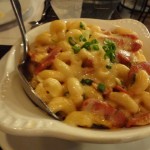 Next we had the Chorizo Mac, Spanish chorizo sausage, chipotle sauce, white cheddar and scallions.  This dish warmed my belly from the first bite to the last.  The heat from the chorizo and chipotle was enough to make your nose run but not burn your mouth.  The scallion's mild flavor gave a nice added contrast.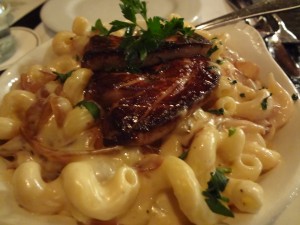 Finally (actually we had this first but it was my favorite), we had the Foie Gras Mac.  Beautiful pieces of seared foie gras were served on top of a cheddar, jack, Parmesan and Gorgonzola macaroni.  (Cavatappi was used in all of the dishes and was the perfect vessel to cling to the sauces.)  Now the foie gras melted in my mouth but the caramelized onions in port wine were just divine.  The mixture of the juices from the foie gras, the acidity of the port and the sweetness of the onions made you want more.  (We cleaned this plate like a Maytag dishwasher!)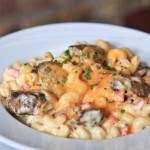 Other offerings for Mac Madness will include the Cheeseburger (mini black angus burgers, tomato, cheddar jack) and Truffle Mac (grilled chicken, truffle paste, wild mushrooms and gruyere).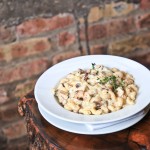 Even with the "gourmet" ingredients, there was an at home, comfort food feeling to these dishes.  I loved that the sauce was creamy and rich but not heavy.  I think that the cavatappi pasta choice was awesome because the cheese hid in so many places.  (I also like the fact that cavatappi is also called scoobi doo and who doesn't like Scooby Doo?)
I am anxiously awaiting the announcements about the teams who are going to be part of the Big Dance this year.  (Cool sports people know that Big Dance is part of the tourney lingo.  Yep, I'm that into it.)  And I think Rockit would be a fun place to fill out a bracket, talk some b-ball (we use that term too) and eat Mac & Cheese!!
Rockit Bar & Grill constantly has fun events(karaoke, brunch, Shamrock-it) going on at both locations.  Join them on Twitter and Facebook so you don't miss out!  (I loved the foie gras Mac & Cheese so much that I am thinking about making another trip to the city just for a bowl.  It was so good it would make a rock star want to slap their Grammy! )