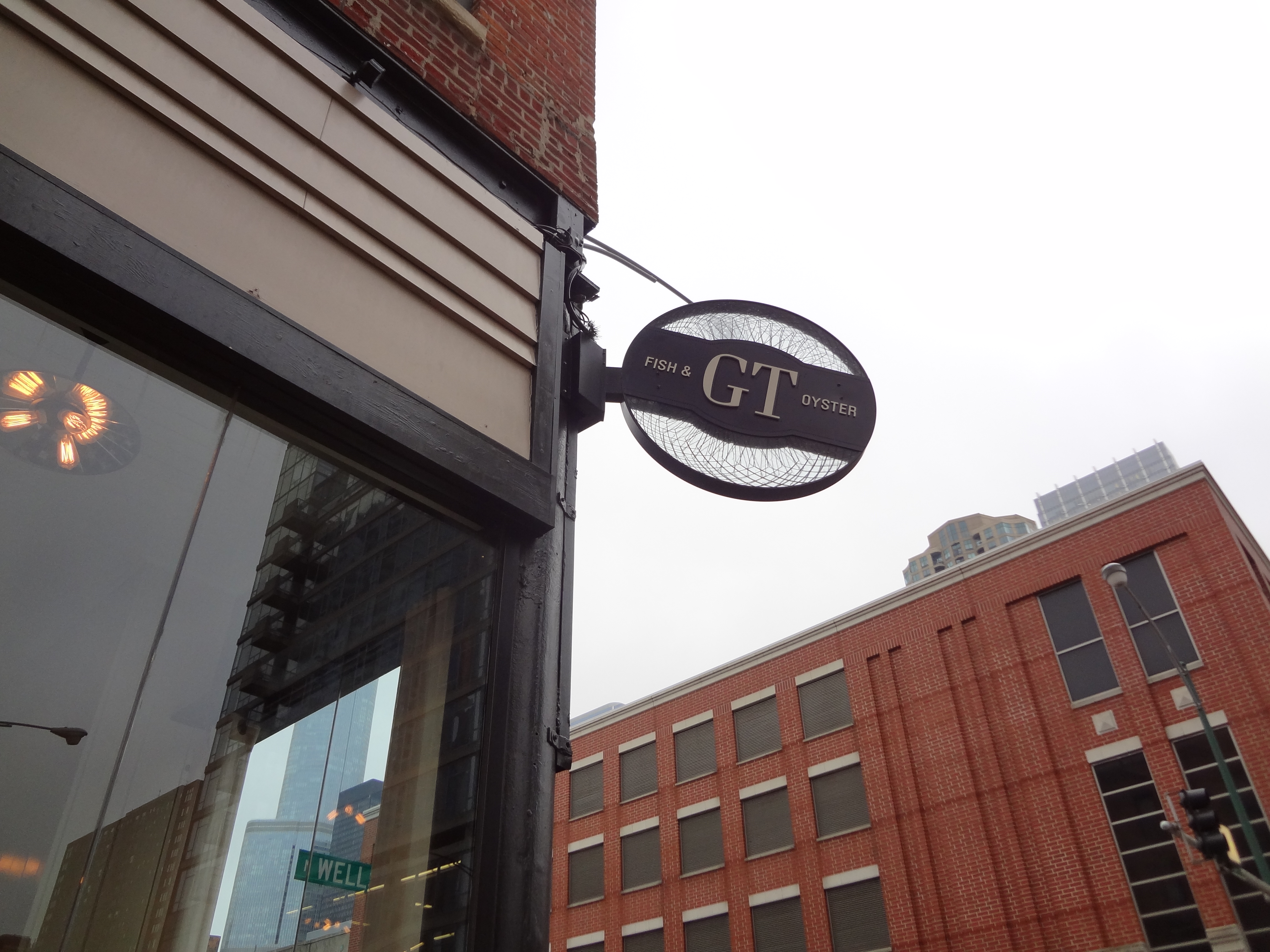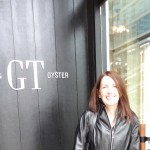 On February 29, 2016, I am going to look at the calendar and remember THIS leap year for a couple reasons.  First, it was unusually warm for Chicagoland (in the 60's) and very windy!  The other thing I will remember is the lunch AND dinner I ate at GT Fish & Oyster on 531 N. Wells Street.  (Okay, I didn't eat BOTH meals on one day but my old memory won't be sure of that.)
I had the pleasure of meeting Chef Giuseppe Tentori at the Food and Wine Magazine event I went this past winter.  Besides enjoying his fabulous food, I genuinely liked the guy.   Little did I know this amazing chef's background….
On Leap Day, I sat down and talked (he talked while I babbled and laughed nervously) to Chef Tentori and confirmed my first impressions, he is really down to Earth and loves what he is doing. He told me of his childhood days in Italy reflecting fondly on riding his bike (15 minutes each way) to his grandmother's farm.
He learned where his food came from, to appreciate fresh produce, try new foods and learn to develop flavors naturally.  This was the early foundation that built him into the uncomplicated but refined chef he is today.
At 13, he and a friend both decided that they were both going to go to culinary school and become chefs.  His friend didn't last very long in the program but Chef Tentori fell in love with cooking.  Admittedly, he said that he was very young for the initial program (he was away from home 5 nights a week) so he found a program closer to home and after two years graduated.
Chef Tentori had worked in Milan for three years when he was approached by Gabriel Viti (Gabriel's) to come to the United States of America to work with him at his restaurant.  (Now remember, Chef Tentori was not even 20 yet!)
He spent some time with Chef Viti before he headed out to Salt Lake City, Utah to become the sous chef at Metropolitan for two years.  Chicago called him home (or at least his new home) and it was then he started his illustrious 9-year career at the eponymous Charlie Trotter's.
His time at Charlie Trotter, built on the foundation that was laid when he was a kid.  His two years as chef de Cuisine gave him experience not only running the kitchen but the confidence to execute his simple and clean culinary style.
In 2008, he started down the path he is on today by accepting a position as executive chef (and partner) at BOKA Restaurant.   BOKA offered Chef Tentori the opportunity to take the reigns and create menus that fit the refined yet casual Lincoln Park neighborhood.  His unique style complimented the progressive American cuisine that was already in place.
(This is where I should go into the numerous awards such as one star by Michelin Guide Chicago 2010; "Best New Chef" by Food & Wine Magazine in 2008; James Beard Foundation "Best Chef Midwest" semi-finalist 2009, Jean Banchet Award 2012 Chef of the Year a, did I miss any?  But Chef Tentori would be the first to be humble about his honors and say the achievements while exciting and fun; could not be done without the teams that have worked with him.)
In March 2011, the BOKA restaurant group and Chef Tentori opened GT Fish & Oyster.  The upscale seaside atmosphere is somewhere between nice east coast fishing cabin to west coast yacht.  (I have never been on a yacht but if I was on one I'd like it to be this approachable and relaxing.)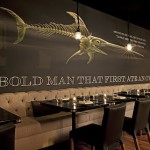 The attention to detail in all of the decorations and tables will impress you not matter where you are from.  (I loved the purse hooks on the endearing boomerang tables.)  And the large family style dining table made me want to plan a party!
The customers ranged from a hungry business man coming in for lunch to gaggles of girlfriends giggling over oysters to a couple on a date night deciding on the perfect bottle of wine to share that evening.  (My husband should be figuring out this is where I want to go on my birthday, hint, hint.)
Now let's talk about his food!  When I first started reading descriptions of Chef Tentori's cooking style there were parts that I understood like the use of fresh and seasonal ingredients.  I haven't been a "foodie" long enough to understand really what "innovative" really meant until I sat and read the menus.
With small plates meant to share, the menu (ever changing to stay seasonal and fresh) is easily broken down into four parts: COLD, HOT, OYSTERS and NOT FISH.
Cold plates include but not limited to a sunfish ceviche (chimichurri, jicama, radish, tostada), Hamachi Crudo (citrus, habanero, cucumber, tarragon) and a Foie Gras & Shrimp Terrine (apricot chutney, pickled onion, Szechuan peppercorn.)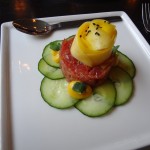 On my visits, I enjoyed the BEAUTIFUL Tuna Poke with mango, cucumber and black sesame.  It was refreshing to have a poke that allowed the tuna to shine without too heavy of a dressing.
My dining coach (calling Patrick my waiter seems like an injustice) encouraged me to try the Baja Shrimp Bruschetta.  The unique crispy toast had whipped avocado, small bits of grapefruit and HUGE shrimp on top.  Add the perfect amount of jalapeño and some crushed, toasted pistachio and you will never look at bruschetta the same!  (I licked my fingers at least twice because I was afraid I missed something.)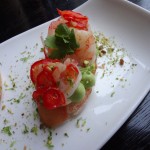 The Hot Plates included everything from Clam Chowder (with Nueske's bacon and house oyster crackers to Farde Island Salmon (escargot tortellini, elephant garlic, celery root, and smoked mushrooms) to a GT Lobster "Mac and Cheese."
Another suggestion from Patrick was the Oyster Po'Boy Slider, a delicate Hawaiian roll  with a fried oyster, kimchi and peanuts!  There was a great balance of heat and sweet in this dish that made me crave more!  In addition the lobster roll  (either traditional or Connecticut style) is a must with its fresh, large pieces of succulent Maine Lobster and fresh buttery bread.  (I see why you need to share these plates because I wanted to try everything.)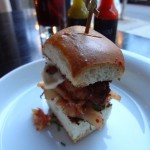 Luckily when I went for lunch, I had some dining companions.  We shared (okay, he ordered them and I helped myself) the mussels, which were presented cleverly on a cast iron pan.  This dish was a true representation of Chef Tentori's cooking style; a brilliant simple tomato sauce touched with garlic and perfectly cooked fresh mussels!  The chunks of garlic ciabatta bread were great venues to sop up every inch of sauce.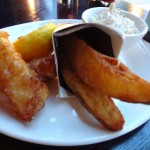 And for you fish traditionalists, Chef Tentori prepares a beer battered haddock and fries that would challenge the Fish and Chips in the best pub in England.  I loved how light the pilsner batter was on the fish and the togarashi/malt vinegar salted "chips."   (Another of Patrick's skillful suggestions.)
For you non-traditionalists and non-fish eaters, there are some options on the menu for you too like Berkshire Pork Belly, Duck Confit and Short Rib Agnolotti.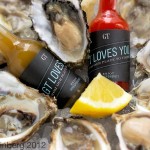 And you can't go to an oyster bar and not have oysters!  (Okay you can but this is the place you should try them.)  With anywhere from 6000-8000 oysters shipped in a week, you will have an oyster experience unique to this part of the country. The staff is informed every day of the availability of each type, how they taste and where they are from.   So if you are unsure of yourself, ask your server for descriptions. They were all very warm and happy to assist their customers.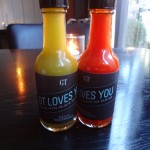 I had never had an oyster before and I will be the first to admit that it intimidated me!  All the oysters at GT Fish & Oyster are expertly prepared to insure the perfect oyster experience.  Shipped in from either the west or east coast there is always a variety to try and they really do each have their own unique flavor.  (Some were briny and some were salty.) The oysters are all served with ponzu, a housemade cocktail sauce, lemon and a couple custom hot sauces so you can eat them the way you like.
Finally, save room for dessert.  Sarah Jordan, pastry chef, has some delightful bites to end every meal perfectly.  (I didn't save room but next time I am going to have some Date Cake or the Key Lime Curd.)
GT Fish and Oyster offers both lunch and dinner hours.  The late crowd can enjoy half priced oysters after 10 p.m. and the bar has a wonderfully creative, selection of cocktails.  (I had a spicy, blueberry lemonade!  YUM!!!)
My time spent talking with Chef Tentori and eating his fabulous food will truly be a memorable experience.  His first impression is lasting and I felt like I had a friend cooking for me.  I wanted to jump in the kitchen and learn from him so I could imitate his clean flavors at home.  And even if it wasn't "leap day", I will remember this foodie fun day for years!