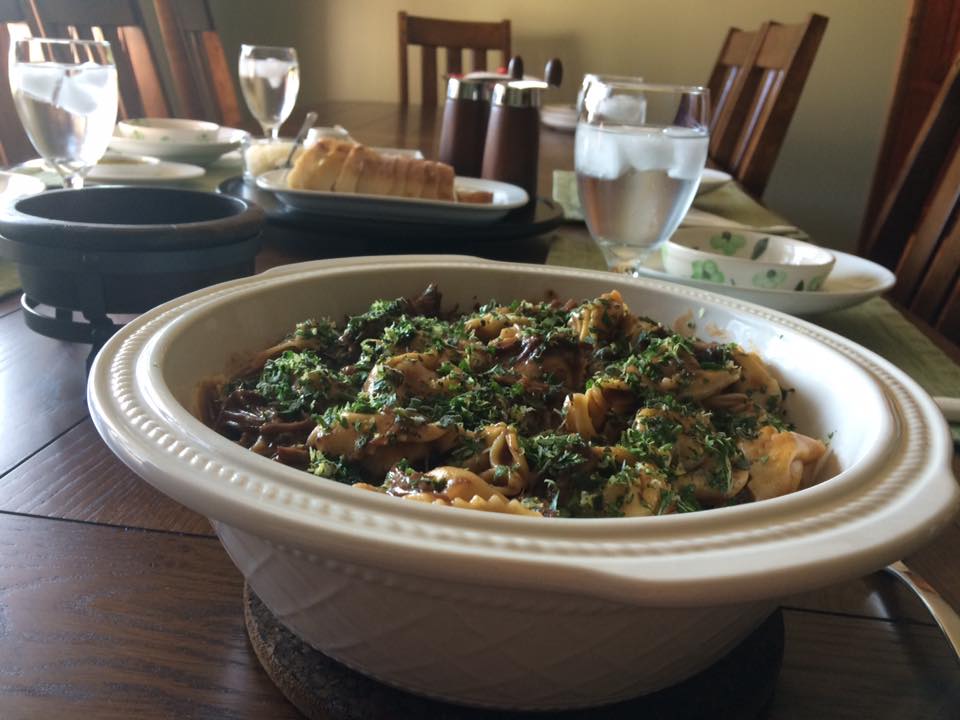 Do you still make believe? Do you see yourself as a rock star when you are singing into your loofah in the shower? Do you put on a new outfit and walk down the hall like a supermodel? Maybe when you are training your puppy to sit you pretend to be a lion tamer in the circus. It doesn't matter what you imagine it makes you happy.
I like to pretend I have a restaurant. I am smart enough to know a REAL restaurant is a lot of work. It takes countless hours (and dollars) to make it successful. You need a good team of people working with you and the energy of a twenty year old.
Having a make believe restaurant is much easier. The only hours I have to put in are the hours I cook and clean up. I don't have to worry about menu because I can change it on a whim. And I'll even admit that my pretend restaurant goes through many name changes.
My current pretend restaurant is called SPORK. It is a causal dining place that hosts a Sunday Night Supper Club. There are not a lot of seats at Supper Club so reservations are mandatory.
The menu is decided the Saturday before Supper Club and SPORK reserves the right to change it at the last minute.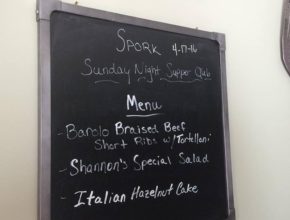 SPORK has become one of my favorite fantasy restaurants because I know the chef. She is a classy girl who loves white plates. She likes to cook almost everything from scratch and tries to keep her ingredients the best quality.
I will say that you probably don't want to be near her kitchen about a half hour before service. She tenses up a little bit and bangs things around a lot. Recently, she was heard using some very foul language. (She doesn't deny her performance anxiety or her creative use of swear words.)
The chef appreciates offers of help but has been known to physical harm if you get in her work triangle. She needs a little work on her hospitality skills but luckily her cooking makes up for these personality flaws.
The food that has been presented at SPORK varies every week. (Sort of like the multiple personalities of the chef.) It can be a classic Italian menu like manicotti and meatballs to something easy and fun like a Korean rice dish. A lot of the meals are served in bowls and if the chef had it her way everything would be eaten with a spork. (Hence, the restaurant name.)
So far SPORK has had great reviews. (They don't show up on YELP but I've seen some banter on Facebook.) The meals have been well balanced and full of flavor.
Even in my imagination, it is not perfect. The pastry skills of the chef need a little work but she will be the first to admit this is one of her weak points.
SPORK did an excellent dinner this past Sunday. The chef used a recipe she had learned at Le Cordon Bleu at one of their Bleu Ribbon Kitchen workshops. (The workshops will be ending at the end of June so don't miss this last opportunity to learn from some amazing instructors.)
I will say that the more I play restaurant, the more I appreciate the people I know who work so hard to do it for real every day.
The best part of this imaginary restaurant world is that I've had real friends here to enjoy it with me. (I save my imaginary friends for other things!)
Braised Short Ribs
Author:
This recipe is from the Le Cordon Bleu Taste of Northern Italy Workshop. The workshop is no longer offered so I'm going on good faith that I can print it. I tweaked a couple of things but not enough to call it my own.
Ingredients
1/4 pound pancetta, chopped
4 pounds beef short ribs
2 shallots, chopped
12 cloves of garlic
2 carrots, chopped
2 stalks celery, chopped
6 sprigs of thyme
2 sprigs rosemary
1 bay leaf (dry)
2 Tablespoons tomato paste
2 Tablespoons butter
1/4 cup flour
2 cups of red wine (Barolo was the one I used in class and at home)
2 cups of beef stock
1 cup low sodium chicken stock
Garnish
1/4 cup FRESH parsley
5 sage leaves
Zest of 1 lemon
Olive oil, salt and pepper
Instructions
Oven at 325.
Season short ribs with salt and pepper
Using a large heavy braised or dutch oven, heat a couple tablespoons of olive oil over medium high heat.
Sear the short ribs in the pot until both sides are golden brown (about 3-4 minutes per side). Work in batches and don't overcrowd your pan.
Remove from pan.
Reduce heat and add the pancetta. Cook until it is golden brown (about 5-6 minutes)
Add the shallots, garlic cloves, carrots and celery and cook until tender. (I added a little extra olive oil.)
Tie a piece of string to the thyme, rosemary and bay leaf. (You are making a bouquet.)
Add to pot
Add the tomato paste and cook another 2-3 minutes.
Add butter and let it melt.
Add flour and cook for another minute.
Slowly add the wine. Cook until it is reduced by half.
Add the stocks and return to a boil.
Add the ribs and place the pot in the oven covered for 3 hours.
Remove the ribs and keep warm.
Pour the liquid contents of the pot through a strainer.
Discard the solids (but I would highly recommend sneaking the garlic cloves out because they were like butter!)
Reduce the liquid to about 4 cups. (It should seem thick and saucy.)
Taste for seasoning and add salt and pepper.
For the garnish, chop up the parsley, sage and lemon zest. It should be fine and well incorporated.
I shredded up the beef and added it back to the sauce and served it with a 18 ounce package of cooked tortellini. Don't forget to sprinkle the garnish on the top!!! FABULOUS!