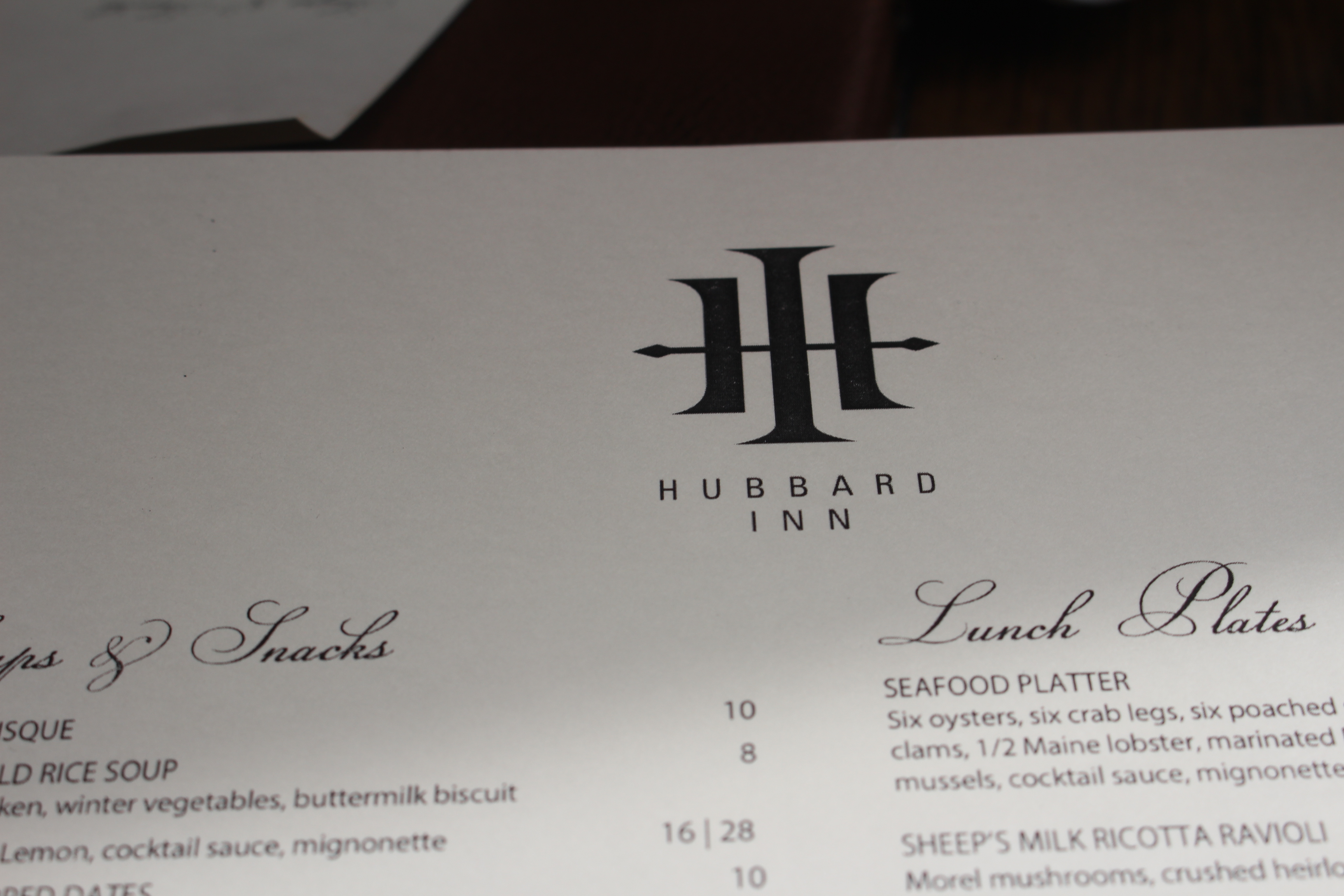 I feel like a robin in the spring. I've hidden away all winter in my rockin' robin hideaway and am now ready to fly. I am enjoying the sun shining brighter and the brilliant greens that are growing on our lawns and in our trees.
Unlike the robin, I am lucky and don't have to poke my beak in the Earth looking for my food. I have the luxury of a kitchen and now that the weather is nice I can go experience some new places a little further from home.
This week I drove to Chicago and had a fabulous lunch at Hubbard Inn (110 West Hubbard St.). Walking in I immediately thought that it emanated a cozy yet vibrant atmosphere. Between the striking orange booths, beautiful wood tables and amazing eclectic art collection, I didn't know where to look. (I didn't realize that it was 3 stories so I can only imagine all the unique nuances on each floor.)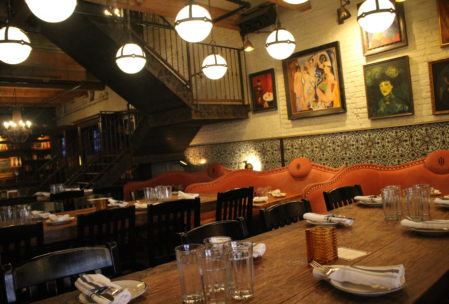 I will say it was hard not to gaze at the bar with the enormous "chalk" board of beverages enticing people with classic cocktails and house specialties. (Hubbard Inn has a Happy Hour M-F between 4-7 with a specialty cocktail and local beer highlight each week. Plus there is a great Raw Bar Tues-Fri.)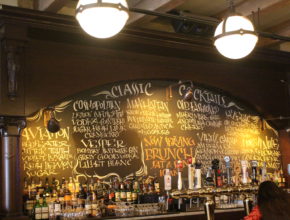 We, my awesome dining companion Laura and I, were able sit at one of the high top tables by the window. It was a nice sunny day so it was perfect. (We thought about sitting out on their patio but there was rain in the forecast.)
The lunch menu was just chock full of options. Everything was offered from soups and snacks to salads to entrees to burgers and sandwiches. It was almost impossible to decide because everything looked really good.
Luckily Hubbard Inn offers a nice Prix Fixe lunch option if you want to try more than one item. For $22 you can chose either a snack, soup or flatbread AND a choice of one of their salads, entrees or sandwiches!!! (If you do the math, it is an amazing deal especially when you consider the oysters are one of their snacks! I do think there may be extra charges for things like foie gras. A couple higher ticket items like the seafood platter aren't included in the prix fixe menu but that is reasonable in my opinion.)
We decided to order two of these meals and split everything. We started with the Bacon Wrapped Dates stuffed with goat cheese and topped with a dazzling red pepper sauce and microgreens. The red pepper sauce really made this a special date. It was a little tart, which was a perfect compliment to the creamy goat cheese, salty bacon and sweet date.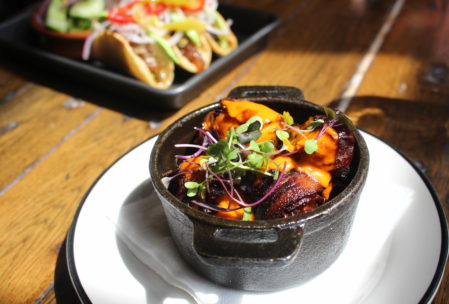 The Tuna Tartare Tacos were a cute trio of corn filled taco shells with cubes of fresh tuna, a little sesame, soy sauce, a velvety slice of avocado, pickled jalapeno and some Fresno chilis. I will have to say that this was my favorite dish of the day. I love when I can taste every component of a dish in each bite and to me this is what makes a perfect taco. Add in the fact that the tuna had such a nice flavor….I was in heaven. (They serve the tacos with cooling cucumber salad so make sure you take a bite of it after one of the hot peppers.)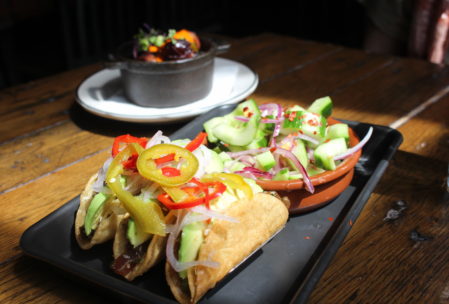 Next we had the Mushroom Asparagus Flatbread with gruyere cheese, king oyster mushrooms, roasted shallots and a truffle vinaigrette it was the umami lover's dream. I liked that there was almost a mushroom puree or pate spread on the bottom of the flatbread in lieu of a "sauce." Texturally, it made the dish more interesting because you had nice gratifying bites of mushroom next to some soft lusciousness .  I liked the mouthfeel of it all.   Chef Matt Wilde prepared the asparagus so the pieces were small enough to taste in each bite but not so small they were invisible.
Hubbard Inn's array of sandwiches and burgers gave you options from turkey, beef, lamb or bison. We went for the Bison Burger that had a lobster butter, truffle cheese, arugula, pickles on a brioche bun. The bison was perfectly done and there is nothing more satisfying than cutting into a big burger and seeing the clear juice dripping down the side onto the bun and plate. It was a thing of beauty.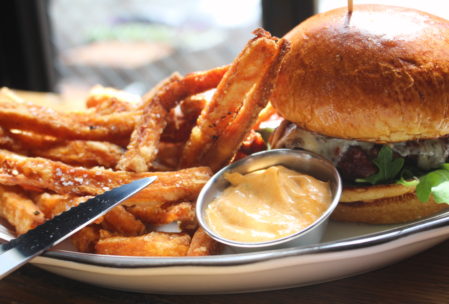 Don't miss out on ordering the sweet potato fries on the side. They were super crispy on the outside and buttery sweet potato goodness on the inside.
We were more than full with all of these dishes but decided to try one more thing…the Chickpea Crepe. I would call this a vegetarian's delight because it was a crepe made with chickpea flour FILLED with chunks of roasted cauliflower, spinach, harissa, brown lentils and oven roasted tomatoes. Topped with a light salad with cucumbers it is an optimal dish for that person who doesn't eat meat or is looking for a healthier lunch option that is not "just a salad." (And if you are a Vegan, they can leave out the yogurt sauce to fit your dietary needs.)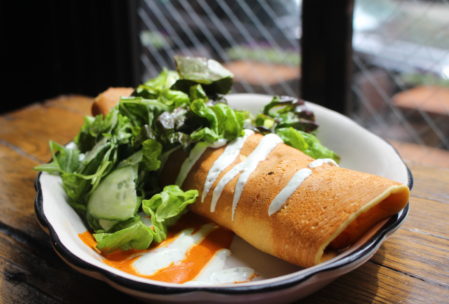 Hubbard Inn is open for dinner too and rumor has it has one of the most awesome brunches in the city. (I'll get in for brunch one of these days and blog on it soon.) If you want to treat your mom to a nice treat, there will be a special Mother's Day Brunch (10am-3pm, $25 for adults and $15 for the kiddos.)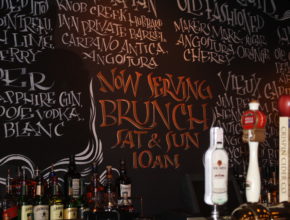 They are going to be having a lot of fun "theme" menus coming up (like a Kentucky Derby Hot Brown Sandwich and Mint Juleps and a Pop-up dinner May 17 honoring the Knickerbocker Hotel with a 3 course dinner with drink pairings) so keep an eye out on their Facebook page or Events page.
As I sat by the window at Hubbard Inn, I felt an overwhelming feeling of contentment. My belly was full and satisfied, I could still lick the richness of my burger off my lips and I felt the warmth of the sun remind me that life is good. I did not eat like a bird but I am one happy robin.
Thank you to everyone at Hubbard Inn for making this such a great springtime expedition. Everyone from the hostess to the servers were so delightful and welcoming and I look forward to coming in again.