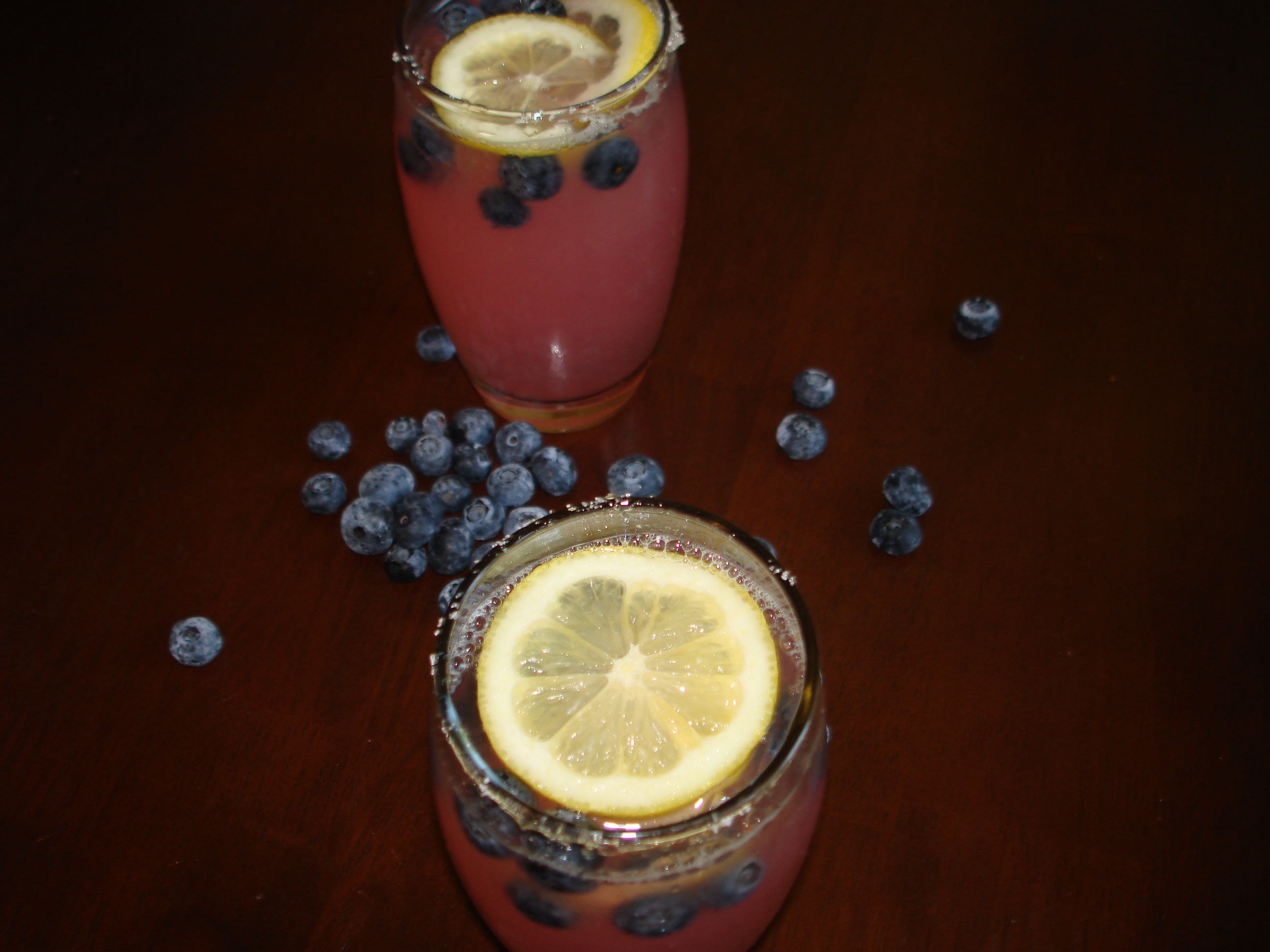 I did something last night that I've never done before.  I was shocked at how much I enjoyed it.  It was sweet and tart all at the same time.   The best part was that it was a woman responsible for my pleasure!  I'm sure you have guessed by now, I now have new favorite lemonade.
I went to dinner with three amazingly sweet women last night.  When the waiter asked for our drink orders, I asked for"fun" lemonade.  He told me that they didn't have fun lemonade just the regular stuff.  (I don't think he appreciated my wit.  He asked if we had any questions about the menu and I asked what was the font.  Isnt' that funny?).  Anyhow, I was a bit bummed and pouted like a little kid.
One of the employees overheard my desire (tantrum) for lemonade and came over to our table.  She asked if she could muddle some blueberries into lemonade for me!!  (I've never had a muddled drink before so I was very excited).  Who said pouting doesn't work??
When she came back to the table, she presented me one of the best lemonades I've ever had.   You could see and taste the mushed up blueberries!  They gave the lemonade a pretty hue without being cloying like commercial pink lemonade.
Tonight, I emulated the wonderful taste that I had experienced yesterday.  This will be my new favorite summer treat.
Author:
Ingredients
3/4 cup white sugar
3/4 cup water
1/4cup blueberries (put them in the freezer)
1/3 cup blueberries
3 cups water
1 cup FRESH lemon juice (please don't use the bottled stuff for this, it will make me cry)
A little extra sugar to rim glasses
Slices of lemons
Instructions
In a small saucepan, dissolve the ¾ cup of sugar with the ¾ cup of water. (This is how you make simple syrup also).
When the sugar is dissolved, add the lemon juice.
In a large bowl, muddle the fresh blueberries. (If you don't have a muddler, you can just gently mash them with a wooden spoon).
In a large pitcher, add the muddled blueberries and lemon juice simple syrup.
Add 3 cups of water. TASTE. If it is too sour, add more water. Too sweet, add more lemon juice.
Put in the refrigerator for at least 30 minutes.
When you are ready to serve, rim the glasses with a little bit of sugar.
Place a few frozen blueberries in your glasses.
Add some ice.
Strain the blueberry lemonade into each glass. (You don't HAVE to strain it but I discovered that the muddled blueberries get stuck in your straw.)
Add a couple slices of lemon and serve.
I enjoyed the company at dinner last night and can't wait to see them again.  (They are also faithful readers so I am hoping they will be tickled that I made this my next post).  In addition, I have to thank the mystery gal who made my drink at Duneland Beach Inn in Michigan City, Indiana.  You not only made my drink you made my night!