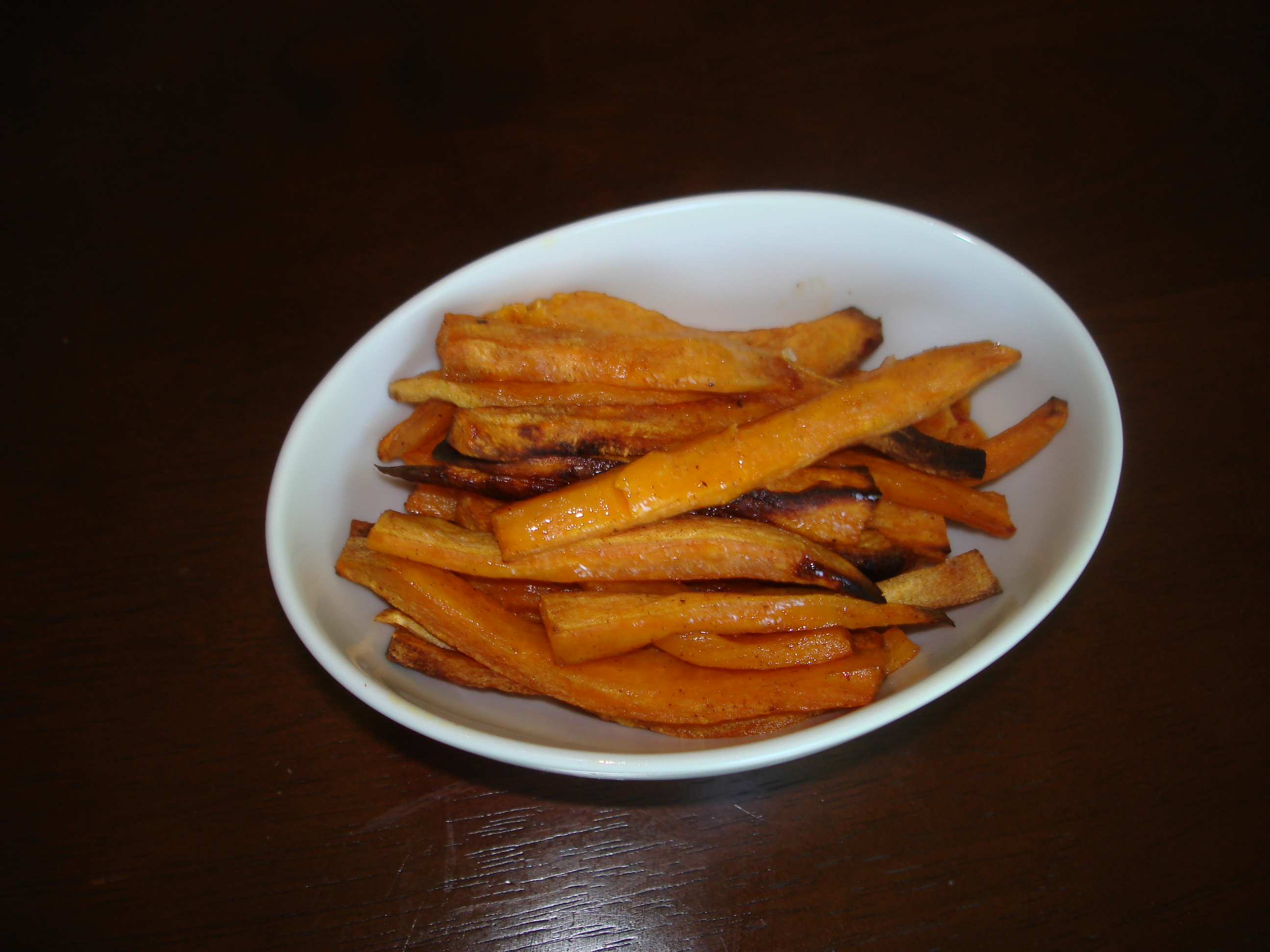 Everyone has a guilty food pleasure…..or two.  It usually is something that we know is bad for us but we indulge and eat it anyway.  One of my guilty pleasures is French fries.  I love to go on errands and grab some fries as my energy booster.  The thought of the salty starch combination makes my mouth water.  I've become the weird lady stuffing her face in a minivan at the local grocery store.  I know people see me indulging but I don't care. (It's not like people have cameras at their fingertips and can put me on the Internet.)
Even when I'm at home, I crave French fries.  Luckily, I rarely fry things in my house so I'm unable to quench my desire.  Roasting regular potatoes won't do it for me so I have started to cut up a sweet potato into "fries" and roast them instead.
I yam not kidding you when I say what came out of my oven was fabulous.  (I know a sweet potato and yam are completely different but yam works better in a sentence.)   My sweet potato roasties (my new name for them since technically they aren't fried) satisfied everything I love in a French fry and more. It didn't have the exact texture but the taste made up for it.  It was seasoned so it was salty, sweet, and spicy all at the same time.  Just marvelous!
It is a must try for this barbeque season and it may just turn into your newest indulgence.
Recipe Type:
Side Dish or Snack
Author:
Ingredients
1 Tbsp grapeseed oil
1/2 tsp sea salt
1/2tsp cinnamon
1/4 tsp nutmeg
1/4 tsp red pepper
1 large sweet potato (this should serve two)
Instructions
Preheat oven to 425 degrees.
Skin your sweet potato and cut into "fries". (More like Wendy's and not Steak & Shake)
Put sweet potato in large bowl and coat with grapeseed oil.
Add spices and mix so sweet potatoes are evenly coated.
Place on a parchment lined baking sheet in one layer. If you have a lot of potatoes, use two baking sheets. You don't want them overlapping or on top of each other.
Roast for 30 minutes, gently turning every 10 minutes.
They will be super tender when they are done with some color on them. (I like a little bit of a burnt edge so I pop them under the broiler for a minute or two).
I still get my French fries when I'm doing errands but have now made the sweet potato roasties my side of choice at home.  The moisture content in the sweet potato doesn't allow them to get crispy in the oven but you won't even think of that when the flavors hit your mouth.  You will think Yam, that's good!!!  (Maybe I pushed it with that one!)