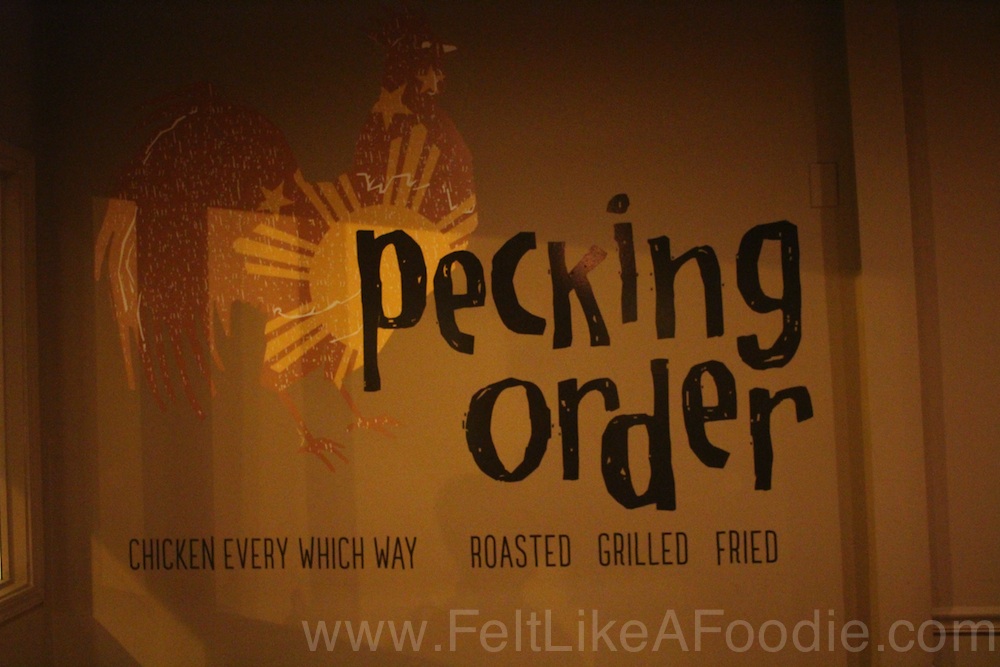 Am I the only one who feels you never forget your first?  I mean, the first chef to truly knock your socks off with their food.  (I'm not sure where you thought I was going on this one.)
When I first started blogging, I had the honor to enjoy a huge feast prepared by Kristine Subido at WAVE restaurant.  I am not sure what was more captivating, her food or her personality.  Either way, I knew she was a chef I would want to follow for the rest of my foodie days.
Early in 2012, Chef Subido announced she was flying the coop and leaving WAVE to start her own restaurant,Pecking Order (4416 North Clark, Chicago) which would showcase a food that everyone loves…chicken.  Not any chicken, chicken that is prepared "any which way" (fried, roasted, grilled) after it has been marinated in an authentic Filipino marinade (some of the ingredients include cane sugar, tamari, garlic, vinegar and lots of love) that has been handed down in her family for generations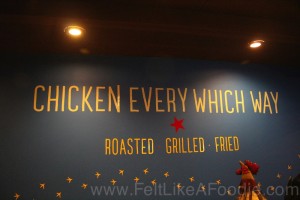 With her mom's (Melinda) guidance, Pecking Order's menu showcases classic flavors found in Filipino homes (like banana ketchup or calamansi).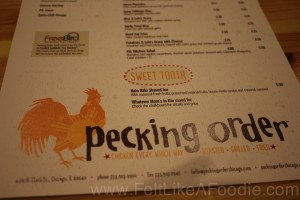 Are you saying that you never tried Filipino food before?  Well that is okay neither had I!  Think of Pecking Order like your favorite chicken restaurant…you order chicken your favorite way and whole bunch of sides to share with family and friends.  (Or you can be selfish and keep all of your sides to yourself but that is rude.)
The hardest part is deciding what comes first…your chicken or your eggs.  In my case it was the Pinoy Eggs (5 minute egg wrapped with house-made longaniza, then breaded, fried and drizzled with a sriracha aioli) and Coconut Adobo Rice Arancini (
Garlic rice, stuffed with coconut chicken adobo, served with green onion-garlic sauce).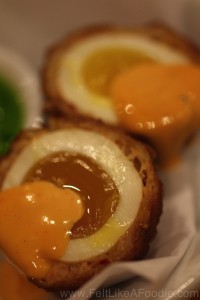 Resembling what many of us think of as a Scotch Egg, the creaminess of this yolk was sensational next to perfectly spiced longaniza (sausage made with Filipino spices.)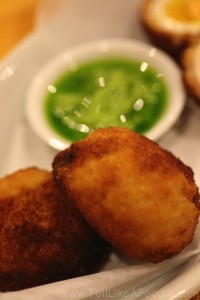 The crispy adobo arancini (a great play on a Filipino classic and an Italian favorite) were sensational with nice big chunks of flavorful chicken complimented by sweetness of coconut and the house made bright green sauce.
Next I tried both the chicken wings (twice cooked and crispy) and the grilled chicken (basted with a reduction of the family marinade.)  The delightful flavor on this chicken was something I have never experienced before and it was juuuuuicy!  I love a good juicy piece of chicken.  And if you want it juicer, add one of the three custom made sauces (banana ketchup, P.O. Sauce & chili vinegar).  There are napkins on the table so make sure you get your hands dirty!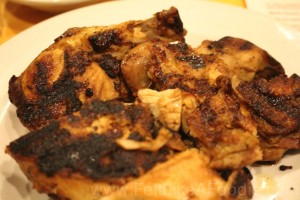 I was in LOVE with those wings especially because I had some of Mom's pickles (jicama, daikon, ginger and carrots) on the side.  And the grilled chicken was the perfect vehicle for trying all the sauces.  My favorite was the P.O. Sauce made with soy, brown sugar, vinegar, spices, garlic and chicken liver.  (Yes, I said chicken liver!!)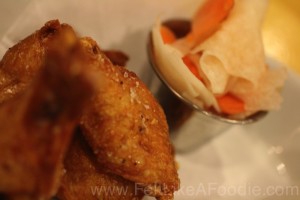 You can't have chicken without some sides!  When I saw garlic fried rice, all I could think of was the soy-laden version that is the norm in most restaurants.  This fried rice was actually made in garlic oil and topped with light brown, aromatic little pieces of garlic.  It was such a pleasant surprise.  (And really light tasting.)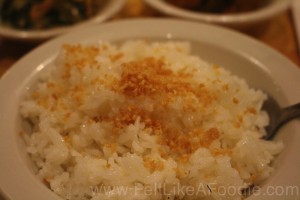 The greens were made with the stand-by's known in the south like bacon and crispy onions but taken to a new exotic place with the coconut milk and ginger.  
I also was able to try plantains for the first time, which were fried and topped with jackfruit.  I was full so I considered the plantains dessert because they had just enough sweetness to satisfy any cravings.  But if you want more, Pecking Order has Halo Halo Shaved Ice and daily specials!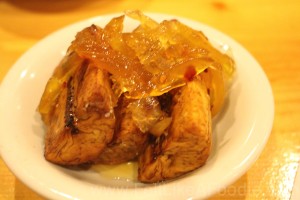 You can keep up with specials, events, and promotions by following them both on Facebook and on Twitter @peckingorderchi.  (They also offer take-out and delivery.)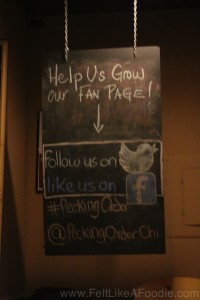 Pecking Order will be offering some Thanksgiving Solutions in the next week so keep your eye out!
Chef Subido has created a really great menu (and restaurant) that is a true compliment to her as a chef and to her heritage.
On a personal note, I want to thank Kristine for setting the bar for me on chef visits.  You made my first steps in the foodie world so much fun and I will forever be grateful.  (I guess you always do love your first!)