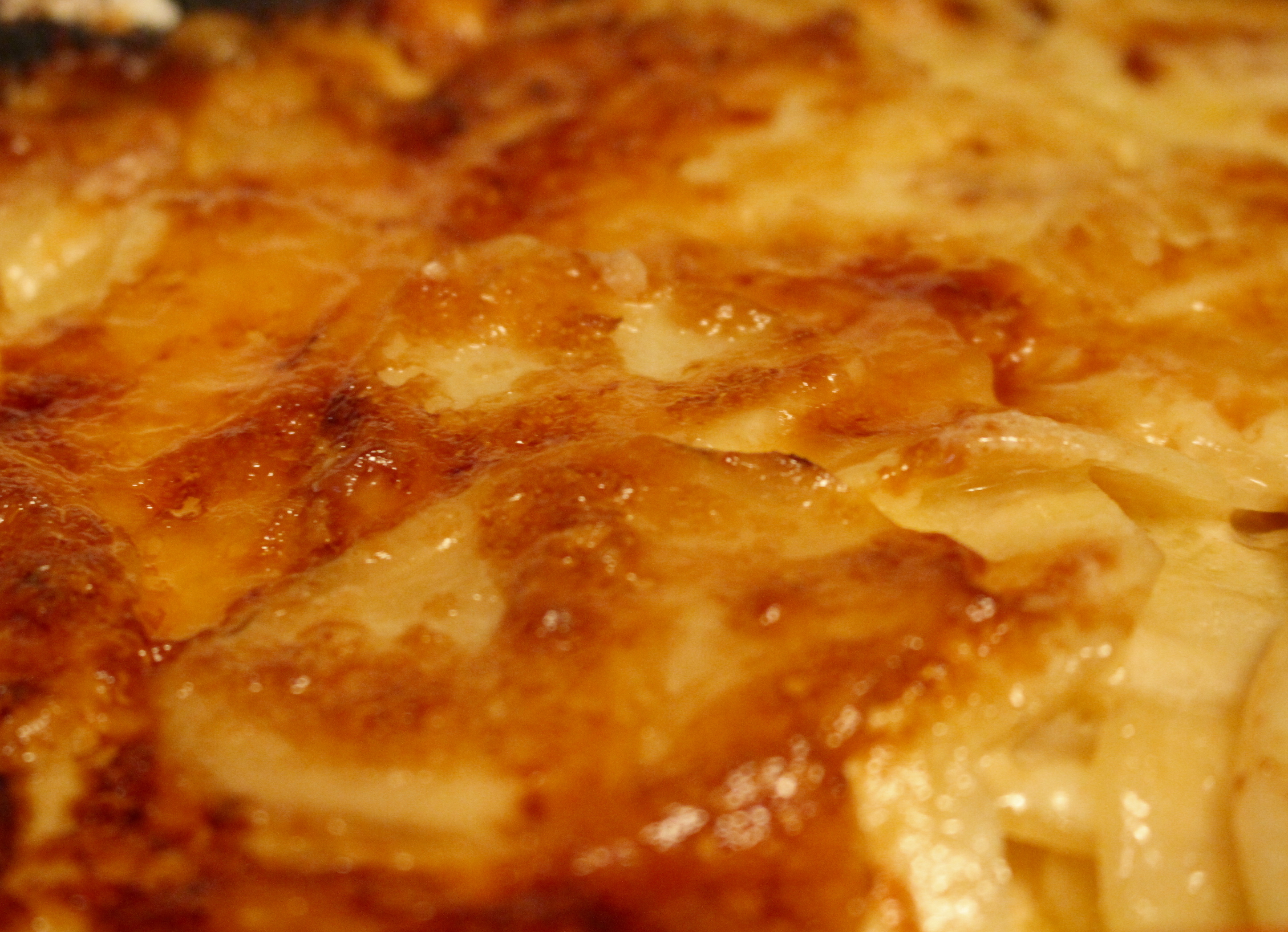 I am so happy it is October!!! September was exhausting and more fun than a barrel of monkeys. Wait…is a barrel of monkeys fun? Some monkeys are aggressive so there might be some tension in the barrel maybe even some poo throwing. So pretty much anything sounds better than a barrel of monkeys.
If you are still reading after that bizarre tangent….I also like October because of comfort foods. (Monkeys don't care about comfort foods because they usually live in warmer regions or barrels.)
One of my favorite things I ate last month was potatoes au gratin at Shaw's Crab House. We had a fabulous dinner there for our anniversary (nothing beats their Grand Crab Buffet on Saturday nights) and I ate my weight in potatoes.
Now it is a bit crazy to go to Shaw's and eat potatoes (or to write a blog about potatoes but keep talking about monkeys) but have you ever had their potatoes au gratin!? They are fabulous!
The only problem…I do not have their recipe. (In all fairness, I have never asked.) So over the years, I have played around with different recipes but I have never achieved that Shaw's perfection…until now! (If I were a monkey, I'd be swinging from the trees making a lot of joyful noises!)
I think here are the keys to potato fabulousness:
Obvious first key, pick a good melty cheese. Cheddar, Gruyere, fontina, Gouda, Emmentaler and Muenster are really nice choices. (A mix is even better!)
Get the cheese to room temperature. It will lessen the melting time and keep the cheese from seizing.
Did I say seizing? (Like the monkey on the bottom of the barrel.) Cheese that is heated too long or at too high of a heat can have protein tightening and that is what pushes all the fat out of the cheese. This results in a big oily mess.
Shred it yourself. I just think it has a better texture and is great exercise. (Unless you are carrying a barrel of monkeys, which is really good exercise.)
Cut your potatoes as thin as humanly possible! I don't preboil my spuds so to insure they are going to cook evenly…they need to be thin.  I use my mandolin.
Finally, keep an eye on them as they cook. We all like different levels of brown…that is your call (like the call to the ASPCA when you find out your neighbor has a barrel full of monkeys in their backyard.) You do need to make sure the spuds are cooked so don't be afraid to poke a knife in the center to make sure they are all tender.
Potatoes Au Gratin (Restaurant Style)
Ingredients
1 ½ pounds russet potatoes (about 3-4), peeled and thinly sliced,
2 Tbsp butter, separated
2 cloves garlic, minced
2 Tbsp flour
¼ tsp salt
¼ tsp paprika
1 cup heavy cream (don't skip the heavy cream)
½ cup milk
6 ounces gruyere (about 1 ½ cups)
Directions
Preheat oven to 350 degrees F.
Take one tablespoon of the butter and grease up a 1 ½ quart baking dish. Give it a good healthy schemer.
Meanwhile, in a medium saucepan, melt the remaining tablespoon of butter over medium-low heat. Add garlic and cook for about a minute or two. It should be fragrant but not browning.
Sprinkle the flour on and cook another minute. SLOWLY whisk in the cream and milk. You want to incorporate the flour evenly because that is going to thicken the cream a little nicer.
Remove from heat and add the salt and paprika. DON'T ADD THE CHEESE!!!
Reserve about 1/3 cup of the cheese and set it aside.
Add the potatoes and remaining cheese in layers…potatoes..then cheese…potatoes then cheese.
Pour the cream mixture over the top and cover with remaining cheese.
Cover the potatoes for the first 20 minutes. Uncover and bake another 40 minutes. It should be all nice and bubbly. Let it sit for at least ten minutes before serving.
I was thrilled with how this recipe came out! I love Gruyere but will try it with some other cheese mixtures.
I'm still going to indulge in potatoes au gratin when I go to Shaw's BUT it is comforting to know that I can make these babies at home. (In a monkey free zone.)