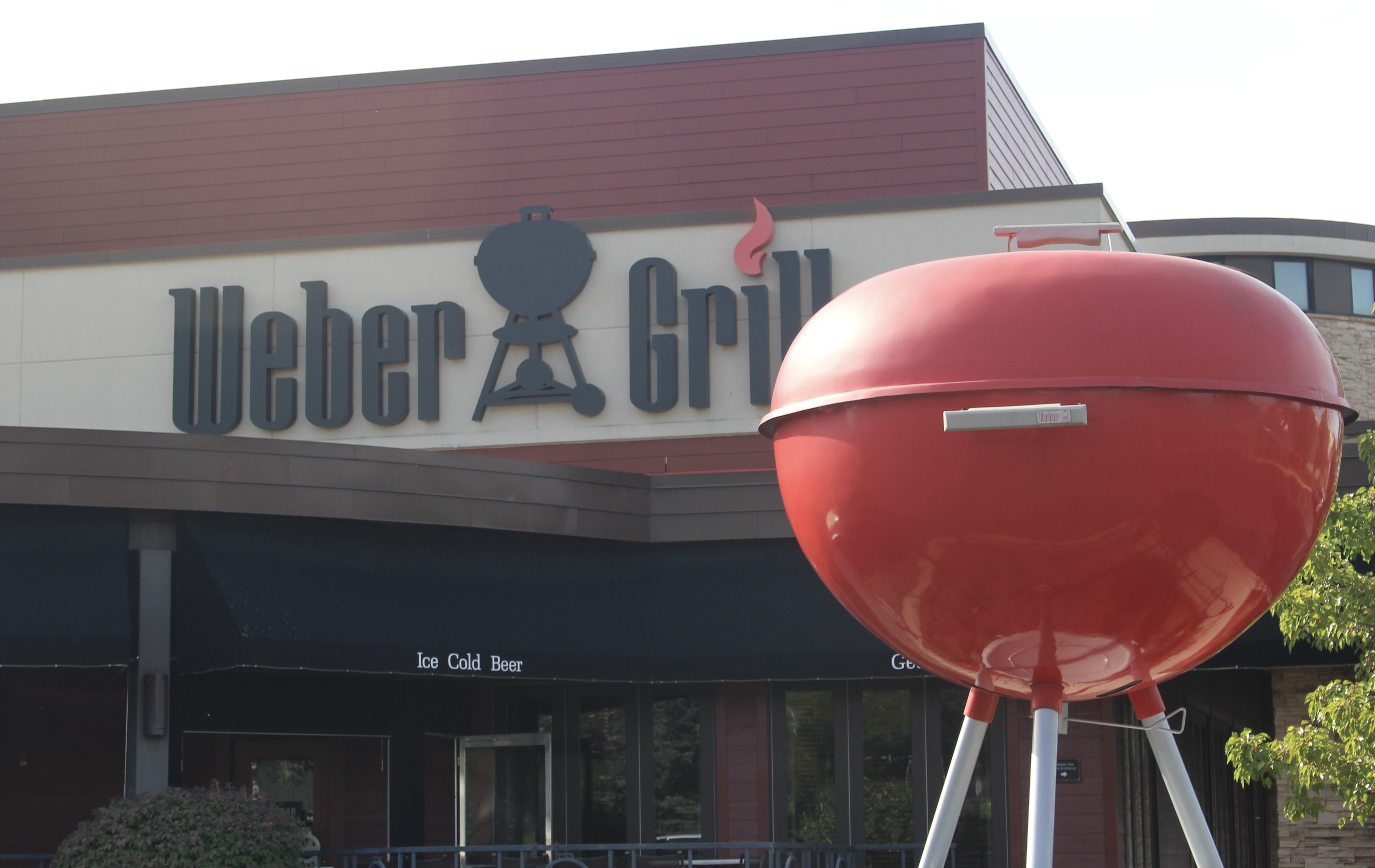 Can you believe it is already the end of October?  It seems like it was just yesterday that I was in Schaumburg, Illinois to help you find some new favorite restaurants during the Meet Chicago Northwest Restaurant week.  (Mark your calendar for February 23, 2018-March 4, 2018 and start your planning for next year's event!)
I had so much fun that we (the great folks at Meet Chicago Northwest and myself) wanted to share a few more restaurants this week.
With the weather starting to chill off, what is the first thing you do?  (Besides curse the weatherman).  If you are like me, I give my grill a good cleaning and kiss it goodbye for the season.  I know there are neighbors who grill all year but you can't eat at their house every night.  What can you do when you crave that char and sizzle only a good Weber can provide?
You head to Weber Grill Restaurant (1010 N. Meacham Rd, Schaumburg IL).  From the moment you walk in, you can hear that sizzle and pop and it gets your stomach rumbling.  With everything on the menu from "Firestarters", salads, burgers (which I heard people in the lobby raving about), sandwiches and "Fire inspired entrees," there is an option for everyone!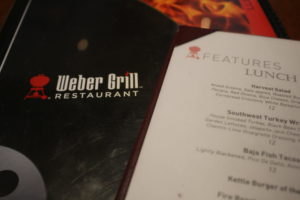 I started with a Mediterranean Grilled Vegetable salad.  Filled with mixed greens, grilled asparagus, artichokes, grape tomatoes, roasted red peppers, shaved red onion, Kalamata olives, chunks of feta cheese, pepperoncini and herbed pita croutons, it was a meal within itself (you can add a protein for a little extra) or a great option for a couple to share. My favorite part was that the salad was tossed with a white balsamic vinaigrette but also had a drizzle of aged balsamic vinegar.  It was like the yin and yang of salad dressings that allowed each ingredient to still shine in their own fresh flavors.   It was so vibrant in taste and in appearance.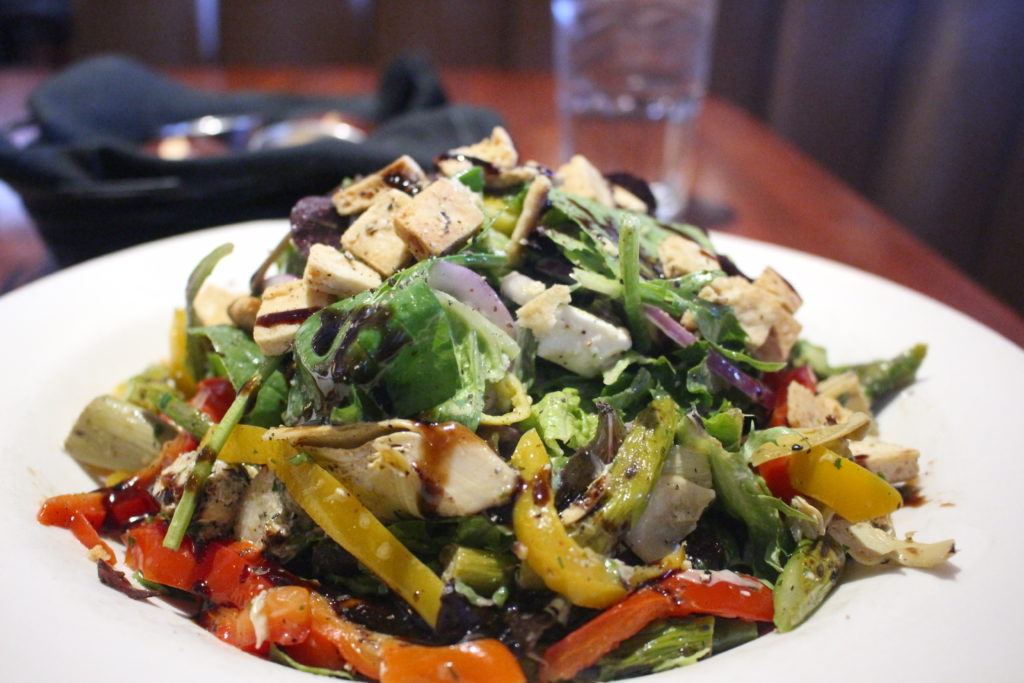 This next part is super hard because I had 3 entrees and they were all so good.  The Beer Can Chicken took me by absolute surprise.  It was AMAZING!  A half chicken, brined and rubbed with beer can seasoning (Weber makes their own season blends available at the restaurant and  in stores) and cooked old school on a grill.  (I'm leaving out how they put the beer can in the chicken because it seems like a private moment if you ask me.)  The flavor Weber Grill pulled out of this chicken made it one of the best bites of chicken I've had in a very long time.
The Plank Grilled Bourbon Salmon with herb garlic green beans is a must for any grilled salmon fan.  The honey bourbon glaze was mildly sweet but it was a nice balance to the woodsy-grill flavor that a plank adds to salmon.  And I hate to use this forbidden word but…. it was so moist!!!  (And it is REALLY good for you too…salmon is a great source of Omega 3 fatty acids….a little foodie nutrition fun fact to start your week.)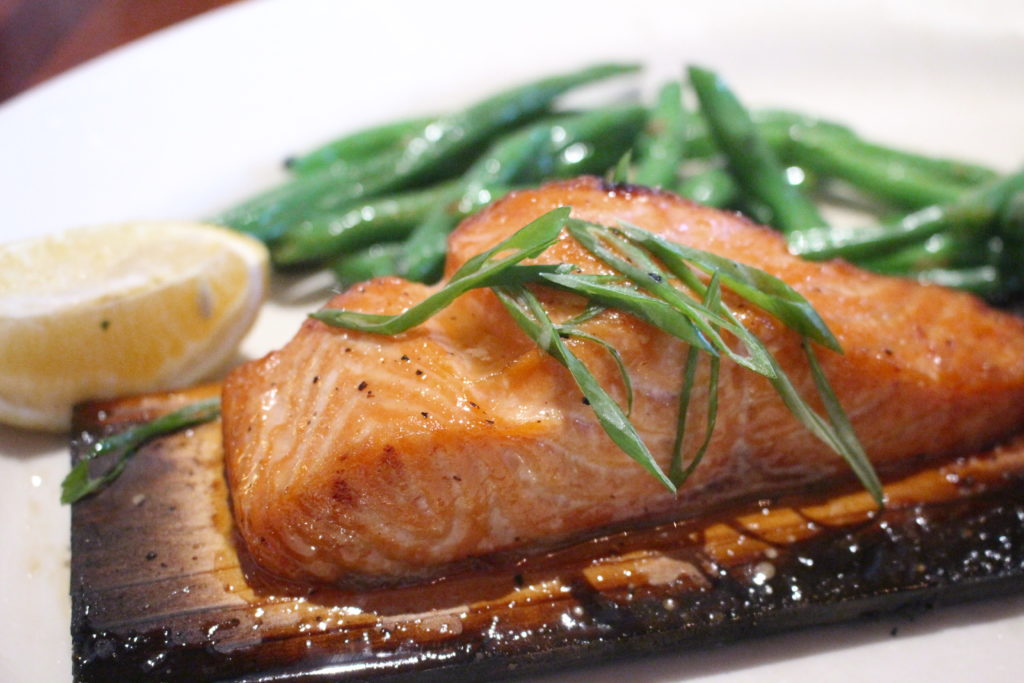 And you can't think of Weber Grill without thinking of a steak.  The Ribeye was a char-grilled, black angus, 28 day aged 16-ounce beauty served with just enough red wine demi-glace to enhance the flavor.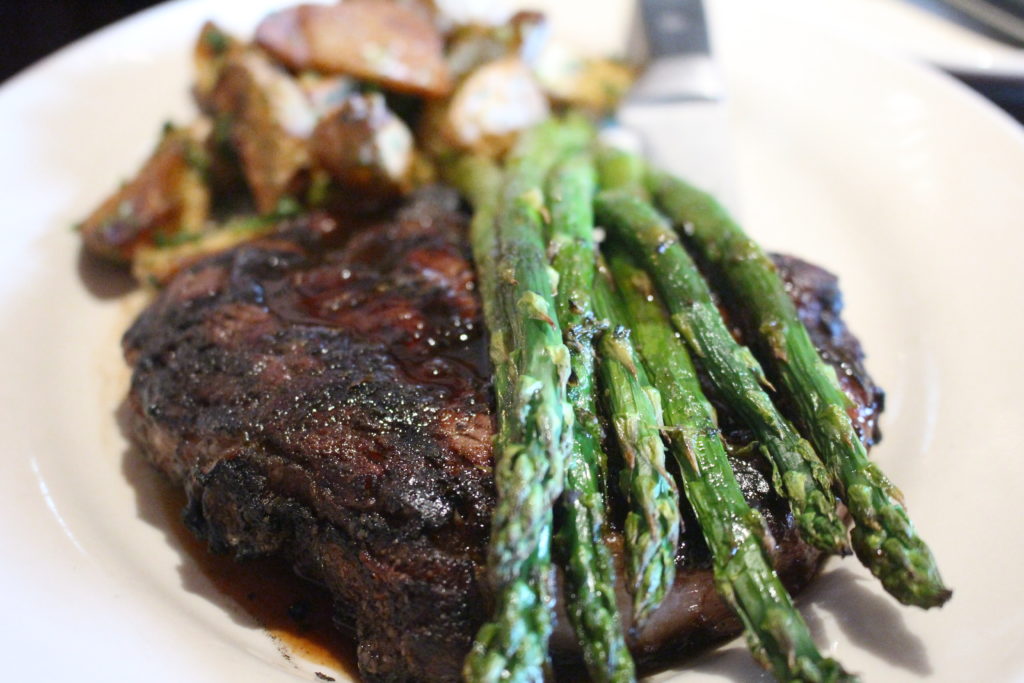 My server, Viggo, was an incredible help by leading me to order it medium rare so that the fat could render properly in the meat and he was spot on.  The fat on the steak melted in my mouth like a piece of bone marrow. It was unctuous and rich. If a bite of meat can be luxurious….I was in the lap of luxury with every forkful!
Finally, don't forget dessert.  The seasonal caramel apple cheesecake was great but I'm not sure I could go to Weber Grill again and not order the crème brulee.  (And I wouldn't share it…not even a spoonful…get your own.)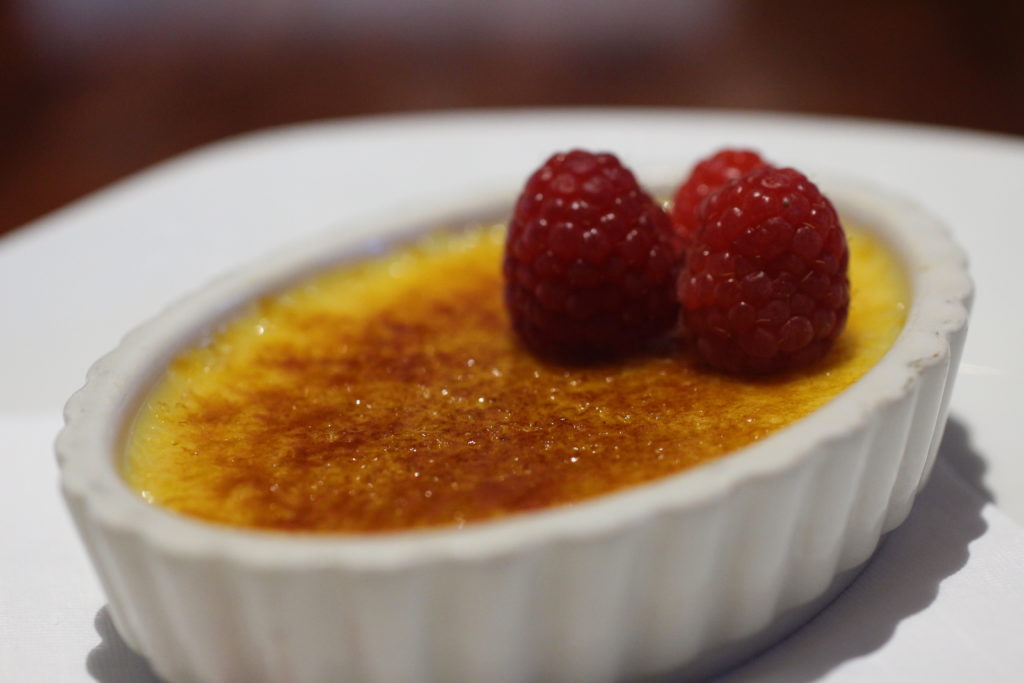 If all this grill talk has you wanting to learn more, Weber Grill Restaurant also offers classes (I hope to take one next year) all year round.  They have a couple neat ones on their calendar for the holidays so take a peak.
And speaking of holidays, if you are hosting Thanksgiving this year and feel like cooking for your in-laws is like walking over hot charcoal….Weber Grill to the rescue. Whether you want to dine in with your entire family or bring home an incredible platter of smoked turkey (whole or carved) and great sides like garlic mashed potatoes/asparagus/corn bread, Weber Grill can help you out.  (They even have salads and desserts!!!)
Weber Grill has an amazing catering menu (click here) so plan ahead and let Weber Grill do everything but the dishes. (Or just order some of your favorite dishes so you can eat them with your other Thanksgiving leftovers!)
Thank you to everyone at Weber Grill for hosting me. I hope some of my readers give you a try next time they are in the area!