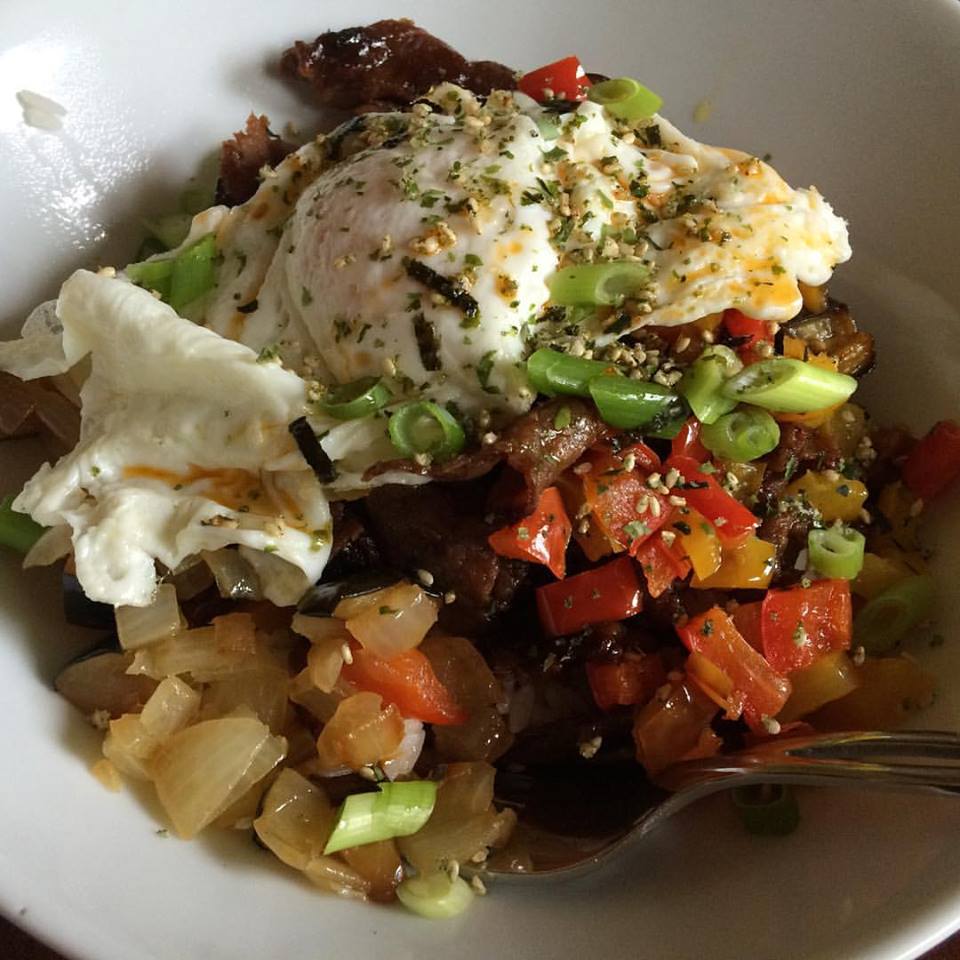 Do you have a favorite meal?  That go to dish that makes you happy every time you eat it?  It could be a recipe that you follow to the teaspoon or something you wing without a second thought. It is your "thing" to eat whenever you are trying to figure out a menu plan for the week.
For me that meal has become my rice bowls.  They are simple, filling and delicious.  I probably make them every other week just because these bowls are a great way to use up produce at the end of the week.  They are also great because you can vary the ingredients enough that it never gets boring.
The other great part is that you can just use what most of us have in the house and it is a great option on busy nights, last minute options or when you just get back from a vacation and need to write a blog.  (Hmmm, who would do that?)
The last few months, I have received numerous requests for a recipe.  I don't have a recipe but I thought I could share how I build a bowl.  Just don't overthink it and it will be perfect.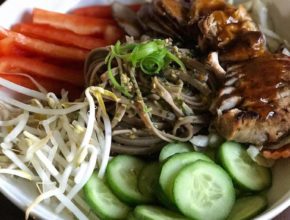 HINTS:
Have all of your ingredients chopped before you get started.
Consider your oil flavor when cooking your ingredients.  I like sesame oil, grapeseed or olive oil but don't underestimate a good peanut oil.
Don't over season.  With each ingredient being cooked separately, think collectively of how it is going to taste.  If you drown each ingredient in soy sauce, you will be eating a bowl of salt.
BASE:
Cook your base while you are sautéing the veggies and meat.
Cooked white rice.  (I like to use a short grain because it is "stickier".)
Brown Rice (Not my favorite but I know there are folks who live on this stuff)
Leftover Fried Rice
Noodles (Yes, these are "rice" bowls but I do love to use buckwheat noodles on occasion)
VEGETABLES (Pick 4 or 5 of your favorites and they don't all have to be cooked.)
About a ¼ of EACH vegetable will be used in EACH bowl so don't skimp!
Cook each veggie separately!  You may think it is easier to plop it all in one pan but trust me you will extract better flavors if you do it in steps.
You can use the same pan but set each veggie aside after you cook it.  (I keep a large dish on warm in the oven and set them aside.)
Think about your textures.  You don't want it to be super soft and you don't want it to crunch either.
It is really only limited by what you like/dislike
Examples:
Red pepper strips (uncooked)
Red pepper chunks sautéed
Bean sprouts (raw)
Peas
Edamame (shelled and steamed)
Cucumber (raw)
Mushrooms sautéed
Green onions (raw)
Eggplant (cooked)
Baby bok choy (cooked)
Peapods (raw or cooked)
Spinach (raw or cooked)
Radishes (raw or pickled)
Onions (cooked)
Carrot slivers
Anything in the squash family…zucchini, yellow squash, butternut, acorn
SEASONING
I never season everything the same.  I like to sauté one vegetable with garlic, one with ginger and another with a splash of ponzu, soy or teriyaki.
If you like some spice, don't add it yet.
PROTEIN
I marinate all my meat in a Tablespoon or two of soy or ponzu sauce.  I will also add a little ginger, a dash of sesame oil and garlic.  When thinking quantities, I use about ¼ pound of meat per bowl.
Ground pork
Thinly sliced beef
Ground beef mixed with gochujang (spice it up!)
Teriyaki Pork (Here is a link from HomeChef for a nice way to use pork tenderloin in a rice bowl.)
Please note….I rarely make a rice bowl with chicken.  I love chicken but for some reason I don't care for it in my bowls.  Just a personal preference.
GARNISH (Pick at least 2 or 3):
Don't skip the garnish.
Add
Sesame seeds
Nori
Crispy onions (you know the ones you always have leftover at Thanksgiving from your green bean casserole)
An egg…fried, poached, over easy
Kimchi
Sriracha
Chili Oil
Green onion slices
BUILD IT
I like to mound the base in the center and then put the veggies and protein around it kind of like a clock.  Top it with your favorite garnishes and you are good to go!
Give it a try next time you don't know what to do for dinner or when you have a mishmosh of produce in your fridge.  This is a great way to incorporate more vegetables into your diet and it can be a fun way to entertain if you want to set up a build a bowl bar.
I can't wait to hear what people have tried!