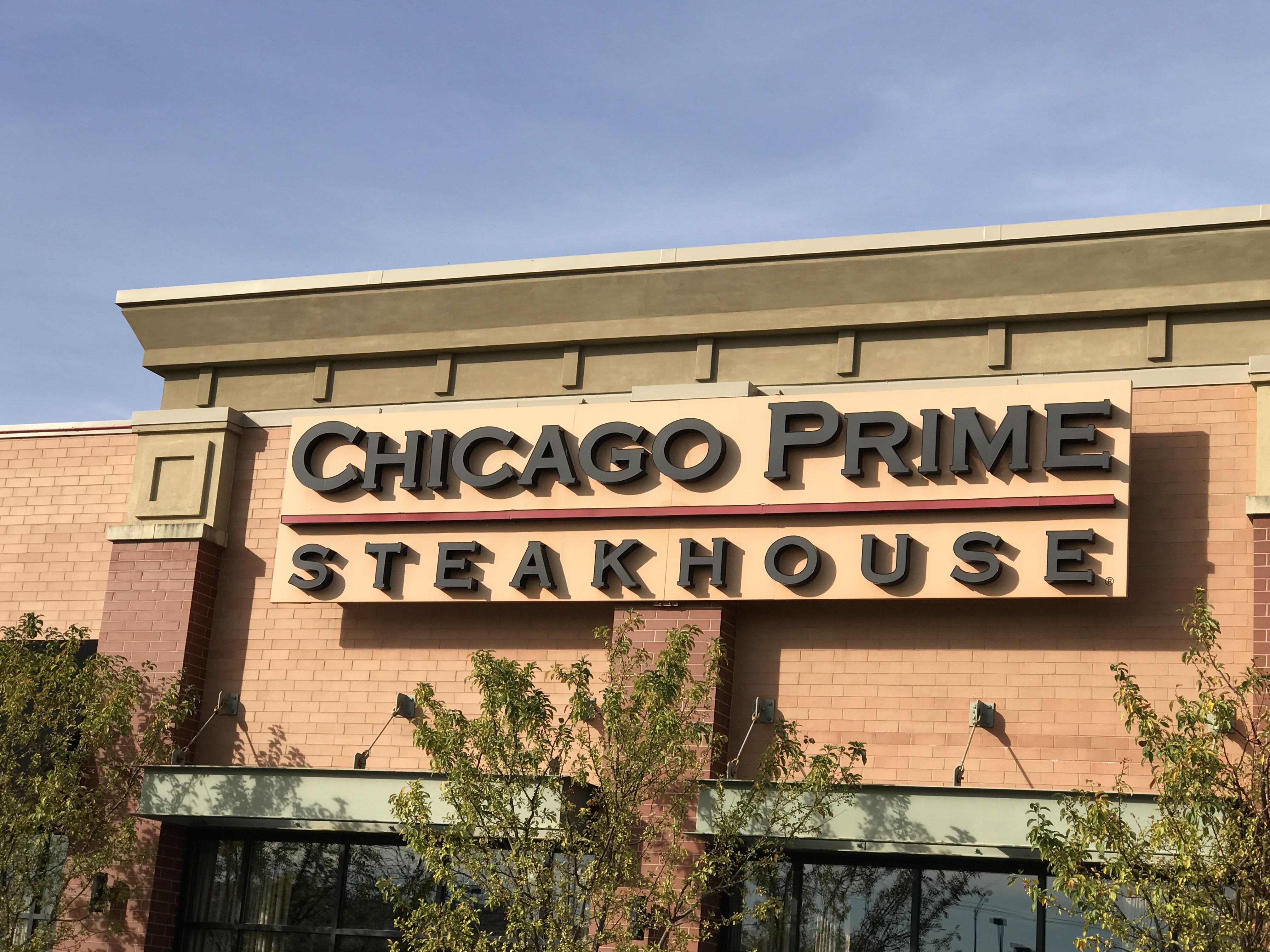 My Meet Chicago Northwest Restaurant week (did you remember to mark your calendar for February 23, 2018-March 4, 2018) foodie fun day super-preview continued with a magnificent dinner at Chicago Prime Steakhouse (1444 Algonquin Road, Schaumburg, IL).
As I was starting to write this post the one word that kept popping into my head was "WOW."  It was the word I repeated over and over after I finished my meal.  Does that have you intrigued…..well keep reading…….
Chicago Prime Steakhouse is the destination for every occasion.  If you want an intimate dinner with your sweetie in the main dining room, a little after work relaxation cocktail in the lounge or an exquisite gathering with private dining, this will become your new favorite place.  (They also have a cute little patio that they can close off and heat within reason during our winter months.)
The menu has all your steakhouse favorites but there were some innovative twists that just knocked my socks off.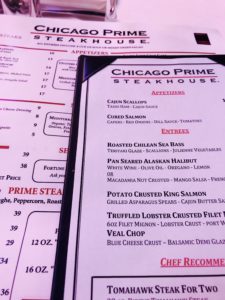 To start, the Carpaccio….oh..that carpaccio.  Paper thin slices of rare beef dressed with peppery arugula, a sprinkle of nutty Parmigiano-Reggiano, a crackle of fresh black pepper and I can't leave out that sensational Greek olive oil.  It was so simple and yet so flavorful.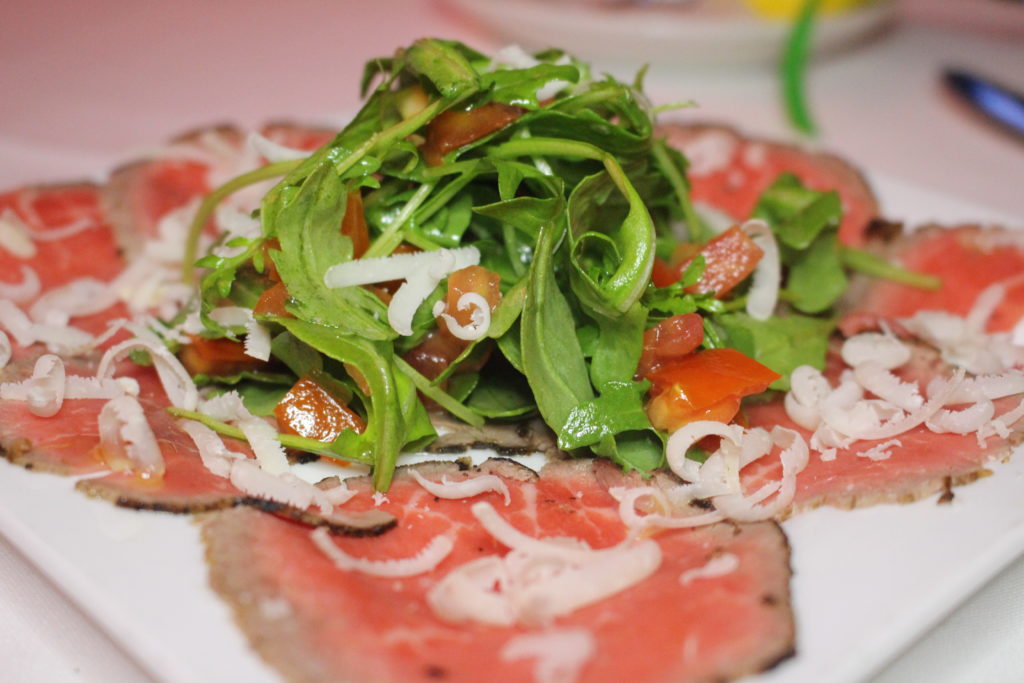 Chicago Prime Steakhouse was also nice enough to make me a tasting portion of the Shrimp Ceviche so I could try a little bit of everything.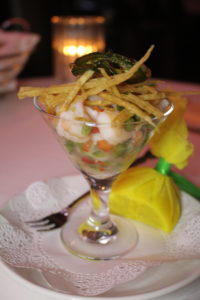 Ceviche is an art form of letting shrimp (or other seafood) cook itself in the acid of citrus fruit.This one had shrimp chopped into bitesize pieces and "cooked" in lemon juice, lime juice and a little splash of Kefir Lime Vodka.  The Kefir lime flavor was an awesome twist.  The citrus was tart but the Kefir Lime vodka addition kept it from being so sour it hurt your cheeks.  Toss in some finely diced peppers and this was a great start to any meal.
Fans of a good steakhouse salad will not be disappointed with the Mediterranean Salad.  It was a bright plate with big chunks of cucumber, locally grown tomatoes, red onion, Kalamata and the best feta cheese I've ever tasted. The amazing flavor was only enhanced by the use of fresh tomatoes and their natural juices as the dressing.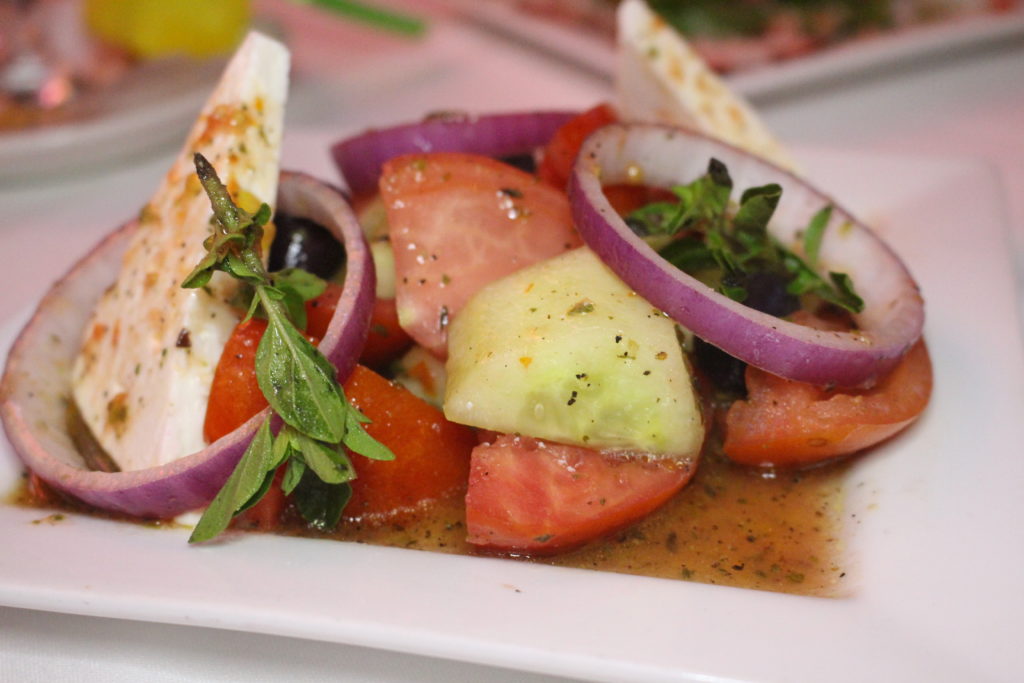 When you order your dinner, your server will present you with a beautiful array of steaks so you can see for yourself the stunning options for proteins.  The selection of Porterhouse, NY Strips, Filets and Tomahawks was enough to convert a vegetarian.  (Oh and that 24 ounce cowboy-cut ribeye…Holy Cow….literally…because eating that would be a religious experience.)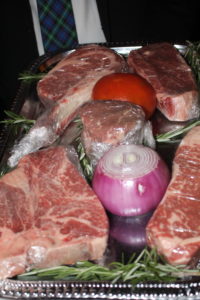 I was also impressed with all the variations to jazz up your steak or steak styles.  You can have them with maple horseradish, gorgonzola, Cajun, roasted garlic or peppercorns to name a few options.
When I was in town the chef had a Truffled Lobster Crusted Filet as one of his specials and special it was!  The filet was done to my liking (I wanted rare) and topped with a magical lobster truffle crust.  (I am still thinking it was a filet of unicorn because it was that good!)  The combination of flavors was accented with a delicious port wine reduction that sent me over the edge.  (Honestly, the staff got the giggles watching my reaction as this plate was set in front of me and I started eating.  I guess I didn't have a poker face to hide my elation.)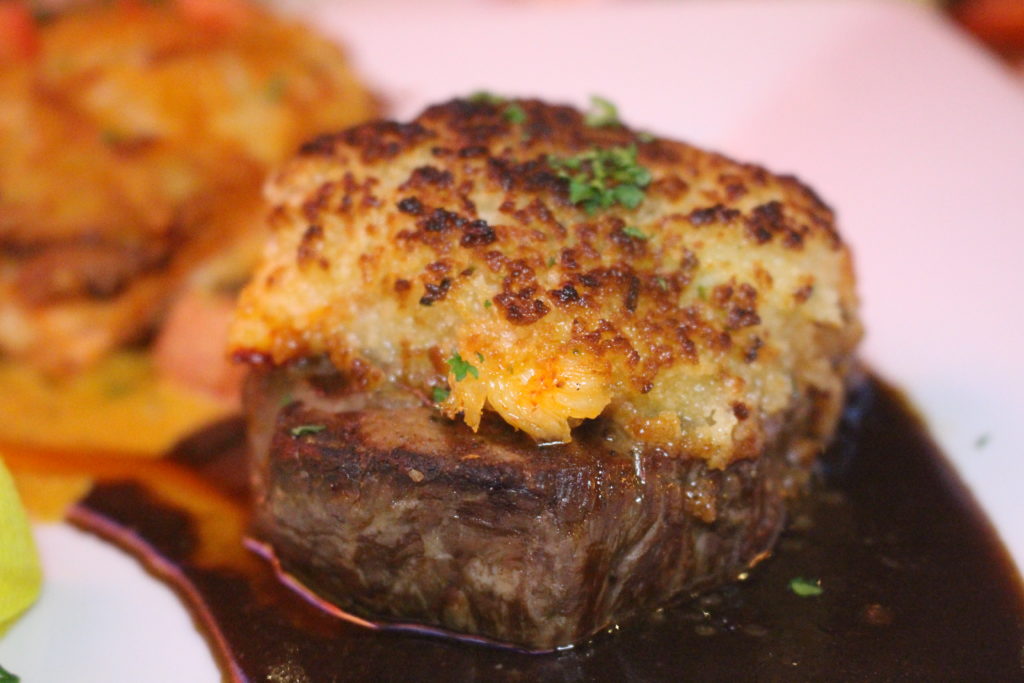 The enjoyment continued as I tried the Potato Crusted Salmon.  The salmon was executed beautifully with a crispy potato outside and a super juicy inside.  I really enjoyed how texturally it mimicked a crispy salmon skin…but it wasn't….it was POTATOES!!!!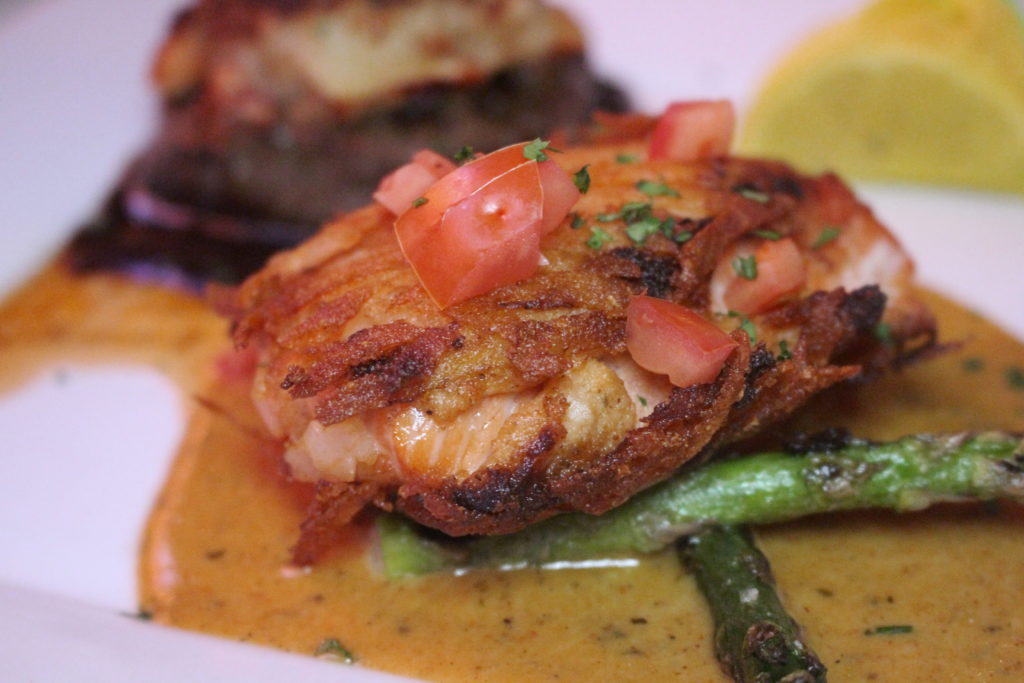 Finally, I had the dessert that all desserts will forever be compared to…the Cherries Jubilee.  I was cheery and jubilated when I was presented with a glass flaming with delicious vanilla ice cream doused with cherries in brandy and orange zest.  (This is one of those desserts you offer to share and then ask your spouse how work is going….as they go on about their day…you get your spoon in and devour it before they know they didn't get any.)  I loved that it wasn't super sweet and it really was the perfect way to end a great meal. (Okay, this is one of those embarrassing blogger moments where I have to admit that I started to eat my dessert before I took a picture.  I did get a video on Instagram if you would like to click this link.)
The entire menu and my meal displayed the attention to detail that Chicago Prime Steakhouse exemplifies and makes it a little different from everyone else.  (They even put my bottled water in an ice bucket…it made me feel fancy and special!)
And if you are in the mood for a sandwich or burger (which is composed of meat they butcher in house), there are plenty of options.
Chicago Prime Steakhouse is also booking now for the holiday parties and events and would love to work with you on a private lunch or dinner package within your budget.  (Call 847.969.9900)
Thank you to everyone at Chicago Prime Steakhouse for making this such a great dinner.  I left there feeling like I was dining with friends.  (And I can't wait to toss on a little black dress and come here with my husband.)
One more restaurant to showcase this week….how many of my readers are now looking at their calendars to plan a trip to Schaumburg?  Up next….Chicago Prime Italian….