How do you decide where you are going to go out to eat? Do you decide on a restaurant by the cuisine on the menu or a certain craving? Do you just have a place that is your go-to because it is a familiar name? Or maybe you don't have a reason other than it is your favorite place to eat?
I have recently learned the easiest way to discover my NEW favorite restaurant is to participate in the Chicago Northwest Restaurant week. (Don't worry…you didn't miss it…The promotion is running February 24-March 5, 2017.  I was given a little preview so I can give you all a heads up.)
If you've never heard of Restaurant Week, it is a designated period of time where a certain group of restaurants offer multi-course meals for a set price. Click Here to check out some of the menus that will be participating in Chicago Northwest Restaurant Week this year.
It is great way to try a bunch of dishes at few different places without breaking the bank. (Or it is a great excuse to go indulge at handful of your old favorite places!!!!)
So I decided that I am going to dedicate the next week to the Chicago Northwest Restaurant Week.  I hope some of my experiences will help you plan ahead and pick out some great places to eat at the end of this month. (Who knows…your new favorite restaurant might just be a reservation away?)
For me the NW suburbs of Chicago has turned into a destination spot because of the boundless number of restaurants, hotels, things to do and really easy parking!!! (I especially love the NW Suburbs of Chicago this time of year because I need a break from my cabin fever!)
To give you a little teaser on my next week, one of the restaurants I visited was Seasons 52. They will be offering both a lunch ($20) and dinner ($40) option during restaurant week. Here is the link to their special lunch menu (please keep in mind menus may change and tax and gratuity are not included.)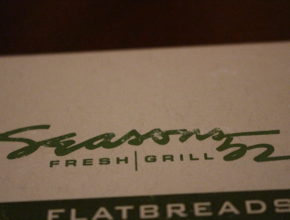 I will admit that Seasons 52 was ALREADY on my list of preferred places because of the wonderful seasonality of their menu and healthier options.  Since I am celebrating Chicago Northwest Restaurant Week, I wanted to start this the only way an adult REALLY wants to start a meal….with DESSERT!!!!!!!!!!! Check out the choices of Mini-indulgences (you get to pick one at lunch or two at dinner)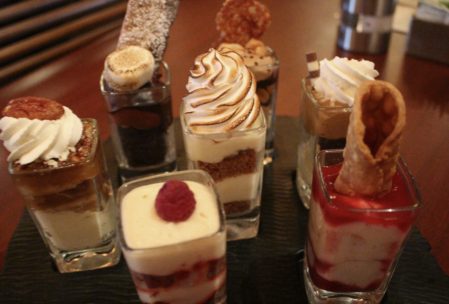 BELGIAN CHOCOLATE S'MORE chocolate cake, rocky road mousse, toasted marshmallow, chocolate-dipped graham cracker (Back Row Left)
MOCHA MACCHIATO mocha & vanilla mousse, chocolate cake, caramel sauce (Back Row Right)
CHOCOLATE PEANUT BUTTER TORTE Chocolate cake, peanut butter mousse, peanut tuile (Back Row Center)
RASPBERRY CHOCOLATE CHIP CANNOLI ricotta & mascarpone, chocolate chips, raspberry sauce, cinnamon cannoli shell (Front Right)
PECAN PIE (Seasonal) vanilla bean mousse, whipped cream, honey-glazed pecan (Front Left)
And my new favorite KEY LIME PIE with a pecan crust and toasted meringue!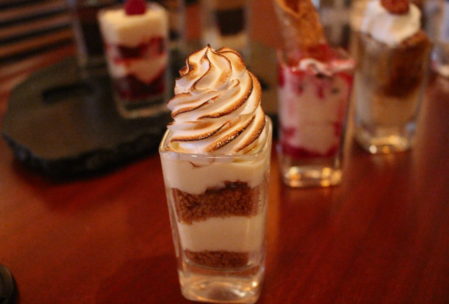 The mini-indulgences are a great way to satisfy your sweet tooth…and they are small enough that you don't feel guilty if you order an extra one….or two….or three.
Sunday I'll tell you about the awesome meal I had at Sam & Harry's located in Renaissance Schaumburg Convention Center Hotel (who I also have to thank for giving me a place to rest my head during this adventure. My bed was super comfortable and your staff made me feel like I was at home. That is……it was like my home if I was a princess because I got treated like royalty!!!)
I will warn you that the next few blogs are going to make you hungry because the folks at Meet Chicago Northwest really have some phenomenal restaurants participating this year! (And I left with more than a full belly…I left with a few new favorite restaurants).